Popsicle Stick Puzzle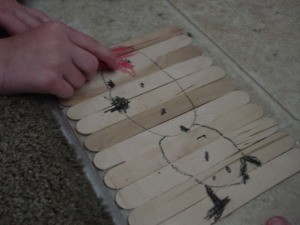 Kids can make their own puzzles. They are fun as gifts that they can make for others, as well.
Approximate Time: 5 minutes
Supplies:
Popsicle sticks (wide craft sticks recommended)
tape
markers or crayons
Instructions:
Lay a number of craft sticks side by side so that they look like a picket fence.
Place a strip of tape across the top and bottom of the sticks, to keep them together.
Use crayons or markers to draw a picture across the sticks.
Remove the tape, scramble the sticks, and see if you can put the picture back together!
By Kirsten from Logan, UT
Feedback
Post Feedback
Add your voice to the conversation.
Related Guides
Related Posts