Pruning a Crepe Myrtle Tree
Unless damaged by frost, a crepe myrtle generally doesn't require much pruning. This guide is about pruning a crepe mrytle tree.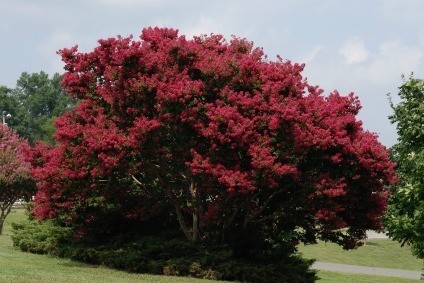 By Tom Loucks 1
I planted a crepe myrtle tree last fall, it is about 8 feet tall and does not appear to need pruning or shaping.
If I do not prune it will it have flower blooms? Or does it need to be pruned to create the flower blooms?
Tom
Hardiness Zone: 9b
By Tom from Thousand Oaks, CA
---
Most Recent Answer
January 21, 2011
Crepe Myrtle trees are planted for both the flowers and the beauty of the trunk. Incorrect pruning, "Crepe Murder" is the widespread practice of topping trees that should grow between 20 and 30 feet tall. This is incorrect and will eventually damage the tree, not to mention make it ugly most of the year. If you want to see over it, then buy a bush or a dwarf variety. Topping does not produce more blooms. Proper pruning removes unwanted trunks and branches from the inside. If you want to see through it, that's fine, but don't remove the top beyond reachable spent flowers.
---
I had my crepe myrtle cut back and now I keep getting new growth all the way up the trunk. It is a tree form and I don't want it to start growing except toward the top not from ground up on trunk. What can I do? I have cut them off, but they keep coming back. I live in Texas and there is a lot of sun.

By Pat R
---
Most Recent Answer
September 27, 2015
You've done irreparable damage to the tree by topping it. It will never be the same. You can let the suckers continue to grow and have a large bush. Or, you can remove the tree and plant another. Decide how high you want the tree to be and buy one that will grow to that height and width. Give it proper space and you may not have to ever prune it. But, if you do, them do it as you would a dogwood or any other deciduous blooming tree. There's a lot of good information on how to properly prune trees on the net.
By Nancy E. 1
I have a crepe myrtle tree that looks like it started growing sideways, is there anyway I can trim or prune it so that it will grow up straight?
I live in Zone 7-8 when is the best time for pruning it?
By Nancy from central AL
---
Most Recent Answer
September 27, 2015
There is no 'best' time. If you top it then you'll have sucker growth from below, and for every sturdy limb you cut back you'll have three or more weak whips sprout. If it's crooked maybe you need to remove a limb or two back to the trunk.
I have 3 crepe myrtle trees on the south side of my house. The bark on all 3 trees is gone, just dried up and fell off I guess. The plants seem tall and spindly with very little leaf or flower growth. What could this be and should I prune back the trees dramatically? Please let me know what I can do.
By Dawn B.
---
Most Recent Answer
I was told to clip the green berries off to produce more flowers. I thought those were the pods that bloom.
By Shirley
---
Most Recent Answer
I am not of the Pollard school of thought regarding crepe myrtles. I want a large open arching tree. I am also a neat-nik. If I remove the green berries (November) will I get fewer or more blooms? I prefer fewer blooms (less mess and berries), how do I achieve that?
By Gail
---
Most Recent Answer
September 27, 2015
I suppose that might work but how can you get to them? If you remove only the flower buds that should be fine. They are very messy trees dropping spent blossoms, seed pods, peeling bark, and leaves in the fall. But they're some of the most beautiful trees as well with their smooth shiny bark and sculptural limbs.
© 1997-2016 by Cumuli, Inc. All Rights Reserved. Published by
ThriftyFun
. Page generated on February 8, 2016 at 11:47:29 AM on 10.0.1.25 in 1 seconds. Use of this web site constitutes acceptance of ThriftyFun's
Disclaimer
and
Privacy Policy
. If you have any problems or suggestions feel free to
Contact Us
.