Also know as coriander this herb is delicious fresh or dried. This page contains recipes using cilantro.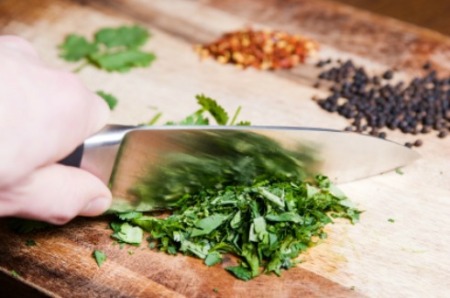 Ingredients:
2 Tbsp. fresh lime juice
1 Tbsp. white wine vinegar
1 Tbsp. Worcestershire sauce
1/2 cup coarsely chopped fresh cilantro
2 whole green onions, coarsely chopped
2 fresh jalapeno peppers, seeded and chopped
1 cup sour cream
1 cup mayonnaise
salt and pepper to taste
Directions:
Place lime juice, vinegar, Worcestershire sauce, cilantro, green onions, and jalapeno peppers together in a blender or food processor. Process until well blended and smooth. Add sour cream and mayonnaise. Process again until smooth and creamy, scraping down the sides of the container as necessary. Season to taste with salt and pepper. Cover and refrigerate until ready to use.
Source: Found at Allrecipes and it certainly is yummy!
By Deeli from Richland, WA
I just recently found my love for cilantro. I put it in almost everything. What are some of your easy recipes with cilantro? I chop some onion, jalepeno pepper, tomatoes, avocados, and squeeze some lemon on it. So delicious!

Sydney from Kailua, Hawaiii
---
Most Recent Answer
By guest (Guest Post) Flag
February 3, 2009
I too absolutely love cilantro! I never knew anything about it til I married a Hispanic man and I've always said, "How did I live so many years without cilantro?" It tastes so good in a good hot sauce, or as a lot of people call it salsa. It just adds to the rich flavor!
---
This dish tastes yummy served warm, at room temperature or cold. If you're not thrilled about cilantro, you can omit and still enjoy simple lime barley ;-)
Ingredients:
2 cups pearl barley
6 cups water or chicken broth
1/4 cup extra virgin olive oil
2 Tbsp. lime juice
2 Tbsp. cilantro, finely chopped
salt, to taste
Directions:
Rinse and drain barley. Place the 6 cups of water or broth in a saucepan, add the barley and bring to a boil.
Reduce heat to low, cover and cook until barley is tender and water is almost absorbed, about 45 minutes.
Meanwhile, whisk together olive oil, lime juice, cilantro, and salt to taste, cover and set aside for flavors to blend.
Fluff the barley, drizzle with the dressing, stir and serve.
By Deeli from Richland, WA
Ingredients:
2 tsp. ground cumin
2 lbs. ripe tomatoes, coarsely chopped (about 5 cups)
1/2 cup chopped red onion
2 Tbsp. plus 1/4 cup chopped fresh cilantro, divided
2 tsp. chopped chipotle pepper in adobo sauce
1 cup fresh corn kernels
1 cup ice water
2 Tbsp. lime juice, or to taste
1 tsp. kosher salt
1 cup low-fat plain yogurt
Directions:
To prepare soup:
Toast cumin in a small skillet over low heat, stirring, until just fragrant, 1-2 minutes.
Combine tomatoes, onion, 2 tablespoons cilantro, and chipotle in a blender or food processor. Puree until smooth. Transfer to a large bowl. Add the toasted cumin, corn, ice water, lime juice, and salt; stir to combine. Refrigerate until chilled, about 1 hour or until ready to serve.
To prepare cilantro yogurt:
Puree yogurt and the remaining 1/4 cup cilantro in a blender or food processor until smooth. Refrigerate until ready to serve (it will thicken slightly as it stands).
To serve, divide the soup among 4 bowls and garnish each with a generous swirl of cilantro yogurt.
Per serving: 128 calories
| | |
| --- | --- |
| Servings: | 4 |
| Time: | 1 hour 25 Minutes Preparation Time |
Source: http://www.Lifescript.com
By LRP from LWL, MA