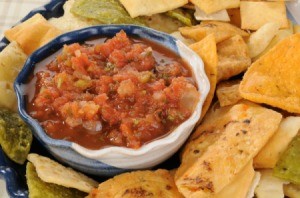 I am looking for a good salsa recipe without the use of cilantro. I love it, but my hubby does not. Are you aware of any herb or spices that can replace the cilantro that would give it an equally good taste? I do use the condiment of spices called Adobe, but it still doesn't give it the zing that cilantro does. Thanks ahead of time for any answers.
By Joes' Girl
Answers
Best Answer
Hi,
Here's a link to a Reader's Request for salsa recipes. There is one there with no cilantro but uses basil instead. I think that you could use parsley instead of cilantro in any of the recipes. It wouldn't add quite the zing of cilantro but wouldn't taste like it either.
- Susan
Best Answer
Hi ! Try celery, chopped very fine. This is very good and different. I make a good salsa, all ingredients in the blender. I won a local salsa fun contest with this one.
2 fresh tomatoes, or canned or both
4 - 6 jalapenos
garlic powder, not salt
lemon pepper
2 stems celery with a few leaves
onion
lemon or lime
salt to your taste
Blend in blender, blend tomato last cause you don't want it to mushy. Try your own measurements, don't overdo lemon pepper.
Enjoy.
- Ann

October 15, 2006
0

found this helpful
Best Answer
I would just set some aside before you add the cilantro. I do stuff like this all the time when cooking if something is not to someone else's taste. With Salsa its pretty easy cause you're just putting it all together, and letting it sit.

January 17, 2020
0

found this helpful
Best Answer
I can't abide cilantro. It tastes like soap to me. I usually substitute it with parsley. Using celery sounds like it might be good. Besides, it will add a bit of crunch.

October 3, 2001
0

found this helpful
When I don't use cilantro, I always use parsley in its place. It looks nice and has a good flavr to it.
Answer

this Question