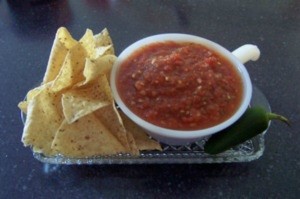 The following spice mix is made from dried spices. Nothing in this list should be fresh!
Ingredients
1/2 cup crushed red pepper flakes
1 Tbsp. dried parsley flakes
3 Tbsp. dried cilantro leaves
1/2 cup dehydrated onion flakes
2 Tbsp. minced, dried garlic
Mix all spices and store in an air-tight container. Use the following recipe when you want fresh salsa.
Salsa Using Dried Salsa Mix
1 - 2 Tbsp. of dried salsa mix (according to taste)
1 28 oz. can of diced tomatoes with juice
salt to taste
1 jalapeno pepper seeded (more if you want)
Blend to desired thickness. Will keep for 5 days if it lasts that long.
Source: One of my husband's friends.
Comments
April 1, 2009
0

found this helpful
I want to eat it, delicious food!
August 28, 2017
2

found this helpful
YUM! Love this recipe. It will save lots of money during garden season. I made my salsa with fresh tomatoes & onions. I just weighed the veggies & divided by 28 oz to figure out how much seasoning to use. I also added some lime juice at the end - love the mix because you can keep it simple or mix it up & can't go wrong. Thx for the recipe!