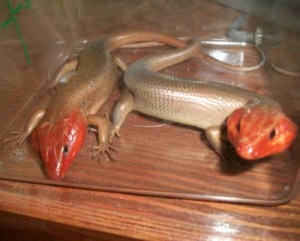 These pictures are of 2 red-headed (with greyish bodies) lizards that our Grand-Doggie found in north Florida when we were visiting our oldest daughter recently. When Sadie Belle finds something she is not familiar with, she will not hush until you go to see what it is she's found.
We believe the lizards were "courting", so they were easy to catch together long enough to take several photographs before we set them free to go on their "merry way." They had lovely sleek bodies which almost looked like scales, but were not scales at all. Pretty and shiny, and most definitely red-heads.
None of us had ever seen this type of lizard before. They are very interesting.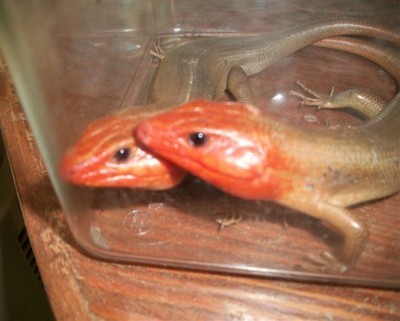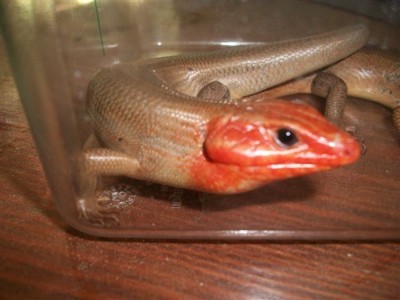 Editor's Note: If anyone can identify these lizards, please let us know in the feedback.
April 29, 2012
0

found this helpful
We found some lizards like that in Indiana.
May 29, 2013
0

found this helpful
I have a large male in the back yard in northern KY. It is good to know what it is.
June 30, 2013
0

found this helpful
I have been in NW Florida for almost three years. I have a male and female living under a cement block in a rock garden right outside my front door. They have been here for at least two years. I see them mostly in the spring.
April 8, 2015
0

found this helpful
Having lived in South Louisiana my entire childhood, I remember these skinks well. I would see one of them for maybe every 10 of the little green chameleons. They were at least 2x the size of them and/or the striped blue tailed ones, sometimes 3x the size.
When I was 10 or so, we hit one with the lawn mower, breaking his back near the base of the tail. We kept him as a pet, feeding him by hand with captured insects and turned an old fishtank into a habitat, heat lamp and all. He lived for several months, still mobile with his front limbs. He loved to be handled, as he was for the most part- went everywhere my mother went... even shopping! She loved that thing, and the feeling was mutual because he hardly ever turned red about the head. Broad Headed Skink, that's what we always identified him as.
nose to tail tip about 10 in. long.
Related Content
(article continues below)
April 9, 2015
0

found this helpful
My cat had one in his mouth - I coaxed the cat to let it go.... and the lizard did not move. I went inside for a few minutes and went back to ck on it and it was still in the same place - did not see any visible injuries. Then I saw it take a deep breath. I got a stick and sort of pushed his back legs and he moved a little - I kept pushing him along to get under some brush and he did. Hope he's not a fatality. Nature is awesome, so I half suspect he will survive. Hope so! He was beautiful.
April 9, 2015
0

found this helpful
Forgot to list my location - Baton Rouge, Louisiana, heart of the city. Wonder how this lizard made it's way to town (just posted that my cat had one in his mouth).
April 21, 2015
0

found this helpful
I just saw one of these jump out the bushes on my front porch. I'm in Rockyford GA. Is it poisonous? I have 3 small children plus I babysit 3 small children.
April 30, 2015
0

found this helpful
Spotted this guy in Orlando, FL.
April 20, 2016
0

found this helpful
I just found one on my back porch. I live in Jacksonville fl. He was very cool and not scared of me. He just sat there for a few minutes then went back in the woods
June 28, 2016
0

found this helpful
I saw that lizard on my porch at the my apartments
Read More Comments