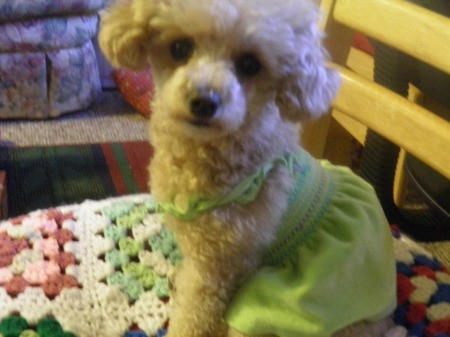 This is Reign. She thinks she's a princess, but maybe that is because she's spoiled and loved like one lol.
Your Pet's Age
3
Do you have anything else to share about your pet?
She's very sweet and loves to cuddle. I love to dress her up.
By Pixiedust7 7 839 07/27/20130 people found this helpful
Reign is a cutie pie! We used to put similar sunsuits on our poodles. We bred poodles for a few years, and when the females were weaning their puppies, we would cover them up with sunsuits in baby sizes to keep the puppies from nursing and allow the milk to dry up. A couple of our girls seemed to like their sunsuits and wore them proudly! Of course we cut out holes for the tail and for toilet purposes. I miss those dogs, but seeing the photo of Reign brings back nice memories. Best wishes to you and your little princess, Reign!