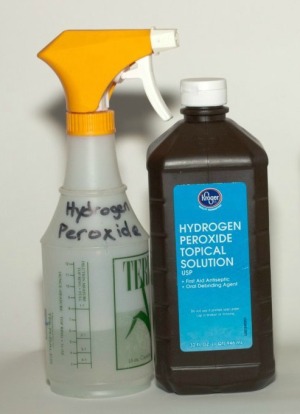 Blood stains can be a challenge to remove without damaging the carpet dye. This is a guide about removing blood stains on carpet.
Ad
---
Questions
Here are questions related to Removing Blood Stains on Carpet.
How can I remove really dark stains from tan carpet? Some are from milk and some were from when my Dad was ill and got blood on it.
By BLW from Anderson, IN
Ad
---
---
Most Recent Answer

By Dreamwvr [1]06/22/2011
Yup, the hydrogen peroxide works on blood. Use a 50/50 solution with warm water, sprinkle a little salt on the stain after spritzing, rub with cloth and voila!
My son was killed in my car. The Sheriff's Department gave me my car back, but I can see the blood of my son on my carpet. It has been 2 years.
By June from West Palm Beach, FL
Ad
---
---
Most Recent Answer

By cathy [2]04/02/2015
I am sorry that your son was killed. That is more than a tragedy. Try using hydrogen peroxide on the blood and then wash with vinegar.

What is the easiest way to get blood stains out of a carpet?
By Cindy Lou from OH
---
Most Recent Answer

By Beth [5]04/05/2011
Spot Shot! I love it! I use it on carpet stains and laundry stains. It takes old stains out too. Peroxide is good also, but Spot Shot doesn't require the blotting and reapplication.
How do I remove blood from carpet?

By Carol
My 2 dogs got into a fight, just about 1 hour ago. Can somebody please tell me how to get dog blood out of my carpet?
By Lynda
How do I get rid of an old blood stain on carpet?
By dp
Solutions: Removing Blood Stains on Carpet
Do you have knowledge about this guide topic? Feel free to share a solution!
Archives
Thrifty Fun has been around so long that many of our pages have been reset several times. Archives are older versions of the page and the comments that were provided then.
How do you remove blood stains from carpet?
---
Blood- Stain Removal on Carpet and Upholstery
(CLEANING INGREDIENTS MUST BE COLD)
1. Mix one teaspoon of a neutral detergent (a mild detergent containing no alkalies or bleaches) to a cup of luke-warm water. Blot.
2. Mix one tablespoon of household ammonia with a half- cup of water. Blot.
3. Sponge with clean water. Blot.
This article was written by Anne Field. MSU Extension (03/21/2005)
By ThriftyFun
Pretest, Pretest, Pretest
Always pretest carpet cleaning solution on a remnant. (03/21/2005)
By ThriftyFun
Removing Blood from Carpet
Here is a tip for removing blood stains from carpet that some people might be unaware of. My veterinarian actually told me about this when my dog cut her leg on glass. Use inexpensive hydrogen peroxide to remove the blood. I use a small squirt bottle to apply it just where it's needed. It's amazing how this simple solution just dissolves the blood immediately. However, be careful as this could "bleach" out colors. By Mary (03/21/2005)
By ThriftyFun
RE: Removing Blood from Carpet
Use hydrogen peroxide.. pour a small amount and let it soak for about 5 mins., Blot then clean as usual (03/22/2005)
By Lois
RE: Removing Blood from Carpet
Pour on a little Club Soda and let soak for a minute or two, then blot it up with a wad of kleenex. Do not rub - the kleenex will absorb much better than paper towels or cloth. Repeat if necessary. (03/23/2005)
By Joankay
RE: Removing Blood from Carpet
First rinse the area with cold water. Then hydrogen peroxide will finish the job. I promise (05/13/2005)
By ardis ilene barnes
RE: Removing Blood from Carpet
Using 3% hydrogen peroxide worked for me. Just pour a small amount and then blot. If it doesn't all come up, pour again and blot some more. The longer the stain has set in, the more blotting it takes.
Please remember to test a spot on your carpet to make sure it doesn't bleach it. My carpet was light and was ok, but a darker color could be bleached by the hydrogen peroxide. (02/01/2006)
By Ean
I cut my finger several weeks ago and blood got on my carpet. I have used a shampoo machine, also Resolve, but the stain still remains.
How do you remove dried blood from carpet?
By shytro from Escondido, CA
---
RE: Blood Stain on Carpet
You might try using a product called "Incredible". I buy it at my local Kroger grocery store in Houston, TX USA. I'd check at your local grocery store. You should be able to buy it at Walmart, Target, etc. too.
This stuff really is incredible. I've never had a stain that it didn't get out of carpet; it was a practically white wall to wall carpeting. It got out eye pencil makeup and plenty of other things I thought never would come out. Especially good as I was renting this particular condo, so I was panic stricken that I would be charged to replace wall to wall carpet or to pay a professional to get stains out. Good luck. (10/06/2009)
By metroplex
How can I get blood out of my cream wool carpet? My dog Meg is in heat.
By Lynne from UK
---
RE: Blood Stain on Carpet
Peroxide normally works once the blood is dried. But I would probably test in on the carpet in a spot that isn't seen, just in case. I've never seen it change the color of clothing or anything, but carpet is probably different. (04/10/2010)
By LuckyStar
RE: Blood Stain on Carpet
I would buy any of the number of enzymatic pet stain removers which work on all of the things pets could possibly to to a carpet. The enzymes work on the stain to remove it. If you can't find one let me know. I will send you link to several of them.
Blessings. Robyn (04/10/2010)
By Robyn Fed
RE: Blood Stain on Carpet
If you get to it quickly enough try a baby wet-wipe. They worked for me. (04/13/2010)
By AnnmacC
RE: Blood Stain on Carpet
Try using an ice cube. Let it melt, then blot. You may have to do this a few times. You might also want to try blotting with ammonia, but test on a hidden area first. (04/14/2010)
By PDG
How do you remove dried blood stains from a beige colored carpet?
By Diane from Abbottstown, PA
---
RE: Blood Stain on Carpet
Try hydrogen peroxide. That's how we get it out of our uniforms. (05/17/2010)
By hcannon
RE: Blood Stain on Carpet
I had dried human blood drops all over the carpet. At least 100 drops. You will need container of diluted dishsoap water solution (maybe a half teaspoon soap for 3 cups water), water sprayer, and small wet/dry vacuum. With the solution, wet down stain thoroughly with water sprayer bottle. About 30 seconds to a minute later, dip a half paper towel into the soapy water, squeeze about 2 tablespoons soapy water onto the blood drop. Let set for about a minute. Massage into carpet with fingers for about 15-30 seconds. Add about 10 spays of water. Massage again for about 10 seconds. Vacuum up. That's it. Since I had so many, I finally discovered that this formula did it on most drops. Adding the water at the end provides additional liquid for the blood to flow through into the vacuum. For big drops, maybe a little more massage work. Honestly, I was quite surprised that this worked so well. (07/17/2010)
By pecarino
My daughter's cat just had unplanned surgery and she is bleeding from her butt. She is in a new apartment and is concerned about getting blood out of carpet should it happen.
What is the best method for cleaning a large amount of dried blood from light carpet?