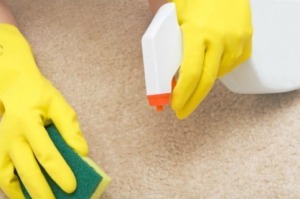 Questions
Here are questions related to Removing Mildew from Carpet.
Can you use ammonia to get rid of mold and mildew on carpet?
By Nancy
I have a 6 foot square oriental carpet. It got soaked in the last rain. It is starting to smell with first stage of mold appearing. I don't want to bleach the colors out. Will baking powder help? Will Lysol bleach it out ? What is safe and efficient?
By C.. A.
I spilled a bucket of water and Pinesol on the carpet. We have deep cleaned the carpet and it is still wet and now smells like mildew. How do I get the mildew smell out?
By Jennifer
---
Most Recent Answer

By Marie Brack07/16/2012
Pour straight white vinegar all over the affected area. Let sit overnight and then thoroughly dry the area by blotting with towels and blowing a fan over it until it's completely dry.
I would like to know how to remove mildew from carpet.
By Phyllis
---
Most Recent Answer

By Frugal Sunnie [11]01/04/2012
You can try using a vinegar and water solution in one of those rental carpet steam cleaners. The vinegar shouldn't affect the colour of the carpet but will kill the mold and the odor.

Use it instead of the shampoo they try to sell you, but do get the de-foamer and follow the directions if you have never used a steam cleaner on your carpet. Otherwise you'll be working far too hard to get the residue of the previous carpet cleanings out!

So you'll first do the de-foaming, then the vinegar and water (half and half), then the rinse. Should work, post your results, please?
I read suggestions on mildew removal and read that mildew is mold. If I treat the carpet area, (vinegar, baking soda, and antibacterial gel,) and the smell goes away, does that mean I am safe? Have I only deodorized or is the mold really gone? No smell, no worries?
By Jeff
---
Most Recent Answer

By Louise B. [5]10/08/2011
I don't know about the thoroughness of mildew removal in a rug. However, if you are using vinegar, baking soda , and antibacterial gel, none of these should be used at the same time. Vinegar and baking soda will neutralize each other if used together. And I have no idea what effect they would have on the antibacterial gel, but I wouldn't use them at the same time as it either. When I clean mildew off a shower curtain, for example, I just wash it in hot water and detergent. Usually that removes the mildew. I would start with a steam cleaning and shampooing of the carpet.

I also think that Deeli's suggestions about checking the floor and underlay are wise. If there is only mildew on the surface, shampooing might do the job on its own. Then I would go for the disinfectant. Either vinegar OR baking soda are good deodorizers.
I had my shag carpet "professionally" cleaned 3 days ago. Some areas are still damp and now have a mildew smell. The "technician" hasn't returned my calls. What can/should I do?
The shag carpet was not my choice, we are renters.
By Wendy from Bay Area, CA
---
Most Recent Answer

10/29/2010
You could go to the office and insist on talking to the owner of the business. Even if they make excuses why you can't talk to him, at the very least, once the technician heard what you were up to, he would probably call you and try to resolve the problem because he wouldn't want to get in trouble with his boss.
What cleaning products can I use with my steam cleaner for my mildew carpet smell problem?
By Cheryl
---
Most Recent Answer

By Melissa [1]09/05/2010
I received this information from a mold specialist. Best advice is to remove the carpet however if not sprinkle borax over your carpet. Borax kills mold. This is best to do before you have a problem but will help with controlling your issue and rid your smell. Let the borax sit for a while, walk on your carpet or whatever small particles will sink down into your rug and for those with out a problem keep you from getting one and those with a problem help to kill your mold problem. After at least 15 min vacuum it up, the more in your carpet the better. Still the best advice is to remove the carpet.
We have a air conditioning unit in our window and it leaked water and we did not know it. Now we have mildew on our carpet, how can I get rid of it?

Gogo from Louisville, KY
---
Most Recent Answer

By Joyce [5]09/07/2010
Nothing on earth kills mold, mildew, fungi, metal tarnish like good old olive leaf powder. Sprinkle it on carpet, let it sit a while, brush it in if you choose, and then vacuum it up! The olive leaf is one of God's greatest, all purpose creations, with a multitude of uses, far beyond just food!
Solutions: Removing Mildew from Carpet
Do you have knowledge about this guide topic? Feel free to share a solution!
Archives
Thrifty Fun has been around so long that many of our pages have been reset several times. Archives are older versions of the page and the feedback that was provided then.
I live in a two bedroom apartment and my water heater broke over the weekend and my a/c went out as well. The maintenance man came out and used a dry vac to suck up the water but since there wasn't any air conditioning for two and a half days the apartment now smells like mildew and mold. Any solutions?

Sarah
---
RE: Removing Mildew Smell From Carpet
Have you tried Febreeze? It works on most anything. Another good option may be baking soda, sprinkle generously, allow to sit for a few hours and then vacuum up. May require more than one treatment. Hope this helps. Danndgal (11/28/2004)
By Danndgal
RE: Removing Mildew Smell From Carpet
Try removing that Mildew Smell from your Carpet by placing a large bag of charcoal in the middle of the room. Make sure you open the bag and let it sit for three days. This should remove any unwanted oder in any room. It works good for unwanted smells in vehicles also. (11/30/2004)
By Daisy
RE: Removing Mildew Smell From Carpet
Fill a spray bottle with water, add about 2 teaspoons of pure vanilla extract and spray the affected area and the smell should go away. Depending on severity of the mildew smell, may require two applications. Hope this helps you. Used car dealers use this trick to remove odors from cars before selling them! Good Luck (11/30/2004)
By Bevie1
RE: Removing Mildew Smell From Carpet
White vinegar and water. Works on pet, vomit stains/spills too. Vinegar naturally deodorizes the smell. After blotting and allowing it to dry, I would spray some Febreeze on it. This might take a few applications. Mildew is hard to get rid of. Health wise I'd check into finding out that it isn't harming your environment. (12/03/2004)
By Jennifer
RE: Removing Mildew Smell From Carpet
I would pour some baking soda directly on the area & leave it there for several days. After that, vacuum it up. It should at least HELP the smell, even if it doesn't remove it all together. (12/31/2004)
By FrugalFriend
RE: Removing Mildew Smell From Carpet
I would try the vinegar spray but I would also use Lysol. It kills germs and bacteria. Mildew means mold of some sort is present so until you kill it it will continue to grow and cause odor. (02/21/2005)
By Barbie
RE: Carpet odor & grimmy feeling on carpet
Hi, I moved into my condo 6 months ago and cleaned my beige carpet twice already. Some parts of the carpet feel grimy or gooey and smells. Also, a few spots are hard and yellowish. Any thoughts please. Thank you. Lees (06/12/2005)
By Lees
RE: Removing Mildew Smell From Carpet
Oh wow...just be very cautious. You should really get rid of the carpet and padding beneath it for you and your families health. We had storm damage from Cindy and Dennis! We've got brand new carpeting in our bedroom and living room now. You don't want to mess with mold. Perhaps you have a nice wood floor beneath the ruined carpet. Please have it checked out. (07/26/2005)
By HolJen
RE: Removing Mildew Smell From Carpet
Honestly if I were you and if this incident is not your fault I would complain to management about it and seek out a transfer to a new apt in the complex. It is worth a try at least. Either attempt with vinegar to rid the smell or find a new home. (07/26/2005)
By texasteacher
RE: Removing Mildew Smell From Carpet
I have heard to sit little bowls of bleach in the area, change it every 2 or 3 days. Of course if you have a pet in the house, that could be dangerous to it. (07/26/2005)
By Beverly
RE: Removing Mildew Smell From Carpet
Try Vanilla, on cotton balls. I do know it works for smelly campers with bonfire smoke all over and also for a smelly fridge, that we had stocked with crab to bring home, talk about a smell! YUCKIE, The vanilla took it right away in just a couple of days. You should contact the manager/owner of the apartment complex though, seems like it would be his/her responsibility to clean the air for you! (07/26/2005)
By rosa
RE: Removing Mildew Smell From Carpet
Stanley Steamer makes a bottle of Odor Out for carpets. It works wonders. I have used it on Urine spots, vomit, mildew, spilled milk that soured in the carpet. (09/10/2007)
By Stephanie
We have fairly new wall-to-wall carpeting in our living room. It is thicker pile called "California Berber", it is only about three years old.
What can I put on carpet that has been wet and now stinks?
By pbawdon
---
RE: Removing Mildew Smell From Carpet
If it has a mildew smell, then it's got mildew, which is mold and mold is a health hazard. And it grows and spreads even in to the sub-floor and up into the walls, even if the carpet feels dry. Sorry to say, but it's most likely best to get rid of it and for sure get rid of the padding and find out how to treat the sub-floor, etc. to kill any possible mold that might have spread before replacing with new carpet and padding. :-( (07/29/2009)
By Deeli
How do you get rid of mildew smell? Is it good to be inhaling it everyday? We have the smell coming from our carpet in the office. It rained and got soaked, so now it smells.
By Janice from HI
---
RE: Removing Mildew Smell From Carpet
Nope, not healthy at all. If it smells like mildew it is MOLD and it will make you sick. Even if you don't have allergies, it can make you start to have reactions, such as burning eyes, coughing, headache, runny nose and fatigue.
The only solution is to rip the carpet up and throw it away and fix the leak. Let me guess, the building you are in has a flat roof? I cannot for the life of me understand why they build buildings with flat roofs. Why can't they put a slight slope? It surely can't be THAT expensive. School buildings are the worst. (11/19/2009)
By sweetie6116
We moved into a brand new town home about 2 months ago. Recently we started to notice a cat urine smell in one area of our lower level. I am concerned about mold and mildew. Not sure what to do.
I would like to know how to remove the mildew smell out of my carpet. It was caused by a water spill. Thanks.