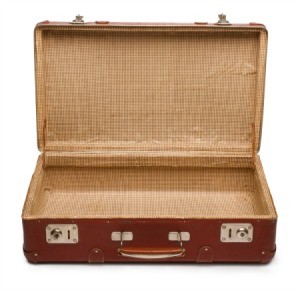 Suitcases spend a lot of time stored away until they are needed for your next trip. Sometimes the storage conditions are perfect for the growth mold, mildew, and bacteria. This is a guide about removing odors from a suitcase.
Ad
---
Questions
Here are questions related to Removing Odors From a Suitcase.
I just got a suitcase from a second hand store and I cannot remove the nasty smell. It smells like old vomit or moldy milk. How can I get rid of the smell?
By booboo kitty from Jacksonville, FL
Ad
---
---
Best Answers

By Louise B. [5]07/20/2009
I would wash this suitcase out first, and then try all the different odor absorbers. It may be that something has been spilled in the inside in the past, and never suitably and thoroughly cleaned. Leaving it in the sun to air out after washing would be good too.

Things don't get a sour milk or vomit smell from being stored in musty garages or basements. Something has been spilled in that suitcase to make that smell.
---
Best Answers

07/18/2009
I've heard clay kitty litter absorbs odors really well so it might be worth the try to get a small bag of it, dump the litter in, close it up for a few days and then dump it out. Of course, wipe the inside of the case well to remove the litter dust. If it still needs a bit of freshener, by all means use Febreeze but don't close the lid until the Febreeze has completely dried.
---
Best Answers

By Zack (Guest Post)01/09/2009
I have been using a product called BioWorld Odor Neutralizer that has worked well for all odors. It is very strong and I haven't found an odor that it hasn't taken care of yet!
---
Best Answers

By KenG12/02/2008
Definitely. I use FRIDGE IT activated carbon odor absorbers in my luggage and storage bins. They are unscented and work great to eliminate odors. I just put one or two in each suitcase to keep "old" smell out. Works like a charm. I get these right on line at www.innofresh.com. Easy to order and they ship really quickly.
How do you get rid of the musty smell in luggage?
By Sondra from FL
Ad
---
---
Best Answers

By Douglas Smith [3]06/01/2011
I just handled the problem with musical instrument cases, which are specialized luggage. Leave them open and spray daily with a few drops of tree tea oil in warm water. It's taken two weeks or so but the rank mold odor is almost completely gone.
---
Best Answers

By Louise B. [5]02/01/2011
Other things that are good for odors are baking soda and coffee grounds. Set a dish of one or the other, or both inside the suitcase and leave for a few days. You might also try one of those silica gel packs that comes with purchased items to remove moisture.
---
Best Answers

By Lori01/31/2011
Try soaking a couple of crumpled up pieces of newspaper in regular vinegar, put them inside and close it up for a few days. It worked for me. Good luck. Regards, lori
---
Best Answers

By Danialle [3]01/29/2011
Try putting Fabric Softner sheets in suitcase and closing it up for a few days.
My travel mug, filled with flavored coffee, opened in the outside pocket of my new nylon luggage. How can I remove the flavored coffee smell?
By Debra K.
Every time we go to visit our kids, we pack our suitcase and when we get there our clothes have musty smell. The suitcase and clothes don't have the odor when being packed.
By Jean
Solutions: Removing Odors From a Suitcase
Do you have knowledge about this guide topic? Feel free to share a solution!