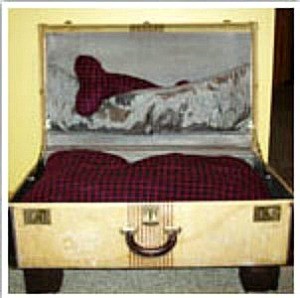 I saw this on the Creative Home Arts Club site. It was too cute not to share.
Perfect for your on-the-go, fashion-forward pooch and charming enough to accent any room in your home, the suitcase dog bed is more than just a soft place for Spot to rest his head.
Recycle an old hard-sided suitcase or buy one that complements your decor. Change out the lining, paint or add printed or textured paper to the exterior, and you've got a piece of art that any dog can curl up with.
Create an even more customized look by using fun fabric to sew a pillow, a small blanket, and matching toys. Elevate the bed by adding four wooden block legs and have fun painting them to match your accents.
Stylish and functional, the suitcase dog bed is sure to attract more than just your dog's attention. Not a dog person? Try a smaller suitcase cat bed with a comfy cushion and matching catnip-stuffed toys for your feline friend. (Getting the cat to travel is a challenge for another day!)
Share this idea with a pet-loving friend and get ready to hit the road in style!
By Pico from St. Paul, Alberta
Editor's Note: Here is a link to the site:
Comments
By Shelter Worker (Guest Post)
September 18, 2008
0

found this helpful
Top Comment
Nice idea but DANGEROUS unless you include some sort of very secure locking mechanism to prevent the accidental closure of the suitcase on the pet. At the right angle with a solid lid accidental closure it is possible for your idea to break a pet's leg or give a serious injury.
It isn't just that the top could smack your dog in the head or badly injure a leg, ear, etc; the side hinges could really snag your pet's tail, skin or leg if it's possible for the dog or cat to knock the top down. Unless you have a secure locking mechanism we all know pets will find a way to do something we didn't think possible! :)
I would also hesitate before attaching legs. The side board of suitcases are NOT very thick even in the old time models. You will have to extremely careful when screwing in legs so they are secure enough but the pointy ends don't poke through as part of your pet's bedding. No amount of cushion will make it comfortable if they are avoiding 4 pointy things.
You could try glue for attaching legs but it just won't be secure enough to outlast your pet climbing in and out on a regular basis. Again, you could think of pet safety before crafting and attach a solid base with some glue that would not only stand up to lots of climbing in and out; it would also support the bottom of the bed which over time WILL otherwise sag if the pet is over 10 lbs or so and the bed is attached to 4 corner supports.
You'd be hard pressed to notice the bed sagging under the cushions and a bad sagging bed is just as bad for your pet as it would be for you. Also, don't forget to cover the clasp/locking mechanisms with secure padding in the event that your locking mechanism for the hinges isn't as good as you thought.
You wouldn't let young kids play unsupervised with folding chairs for the same reasons; so for your pet's sake make the effort to be safe and responsible first.
September 19, 2008
0

found this helpful
Top Comment
I was getting ready to throw out an old soft-sided suitcase with a broken zipper last year when I turned around and saw my dog had gotten into it and was sleeping! I cut off the top and lined the suitcase with his quilted bed and he is happy as a bug in a rug!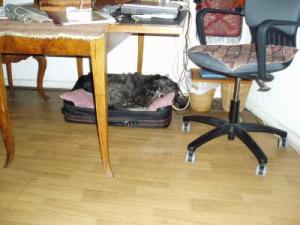 Once while packing for a trip, my dog got into the soft-sided suitcase and fell asleep. After I got back from the trip, I noticed that the zipper had broken so I went ahead and cut the top off and added a cotton-covered foam mattress and Cookie loves his new, free dogie bed! I keep it under my work desk so while I am working he can be close and comfortable.
By Lisa Austin from Ossa-Lagadas, Greece