Finding parts for a kitchen tool can sometimes be a challenge. This guide is about replacement parts for the Vadalia Chop Wizard.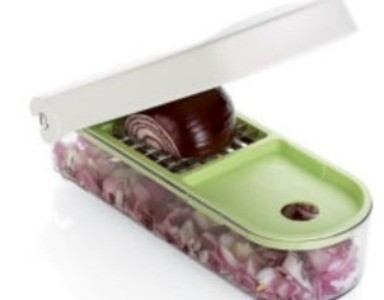 I lost my little tool that cleans the groves on the lid of my Vidalia Chop Wizard. Where can I buy another one?
By Paula
---
Best Answer
December 8, 2015
I would try calling the company directly at 1-800-284-4628. It sounds like they will ship out replacement parts for a few dollars. If anyone tries this, please leave feedback about how it worked. :)
---
I ordered a Vidalia onion chopper (Vidalia Chop Wizard) when they were first on the market, but at that time, they didn't have the small cube part. Can I just order that small cube cutter?
By fbs
---
Most Recent Answer
By Nightsong 39 85 Flag
August 5, 2012
I also got one with just the larger cutting grate. I found hat it does real well to cut the onions or whatever once. Put them in another bowl. then cut again . This gets the pieces real small. I once cut 20 pounds of onions for a church function and it didn't take much time at all. My sister had one with both grates an I tried to use the smaller one and found it hard to push down.
---
By kathy 1
I purchased a Vidalia Chop Wizard at Linen N' Things. I am on my second base of the unit. I love it though. I broke the hinges off chopping cauliflower. I have ordered replacement parts before, my question is can I order on-line instead of mailing in a re-order form. It would be much simpler, and faster. It is a great tool for chopping veggies for pizzas and salads and I use it a lot.
By Kathy from WI
---
Most Recent Answer
By Judy Katsma 1 7 Flag
December 29, 2010
I had the same problem so I did a search on ebay and found a listing for parts
---
Where can I get a plastic replacement dish for my Chop Wizard and what is the cost? I have broken 3.
By Archer B.
---
Most Recent Answer
How can you get a cleaning brush?
By JP
---
Most Recent Answer
My Chop Wizard plastic container cracked. Where can I get another one?
By Stella R.
---
Most Recent Answer
By J'Marinde 14 41 Flag
August 17, 2014
Go to Google and type in search Vidalia chop wizard replacement parts.
My small cutter broke. Where can I buy another one?
By Janet
---
Most Recent Answer
By lakshmidurga500 1 Flag
December 27, 2014
My small cutter broke. Where can I buy another one in India (Vijayawada)?
I love the Chop Wizard so much I have purchased 3 of them and it is always the plastic container that breaks. So instead of buying the whole thing, where can I get one and what is the price?
By Joan from Crawford, TN
I need to replace the plastic dish that holds the chopped items. The dish got cracked.
By Gary
The top portion of my Chop Wizard hook was broken while using. Where exactly in India/Bangalore it is a replacement available?
By Pcs rao from Bangalore, India
By Pauline H. 1
Can I get just the bottom part, on the second one? I need the bottom. The hinge broke off the bottom that catches the food.
By Pauline H.