If you are looking for a new crafting medium, try ribbon. There are many decorative and useful projects you can make with various types of ribbon. This is a guide about ribbon craft ideas.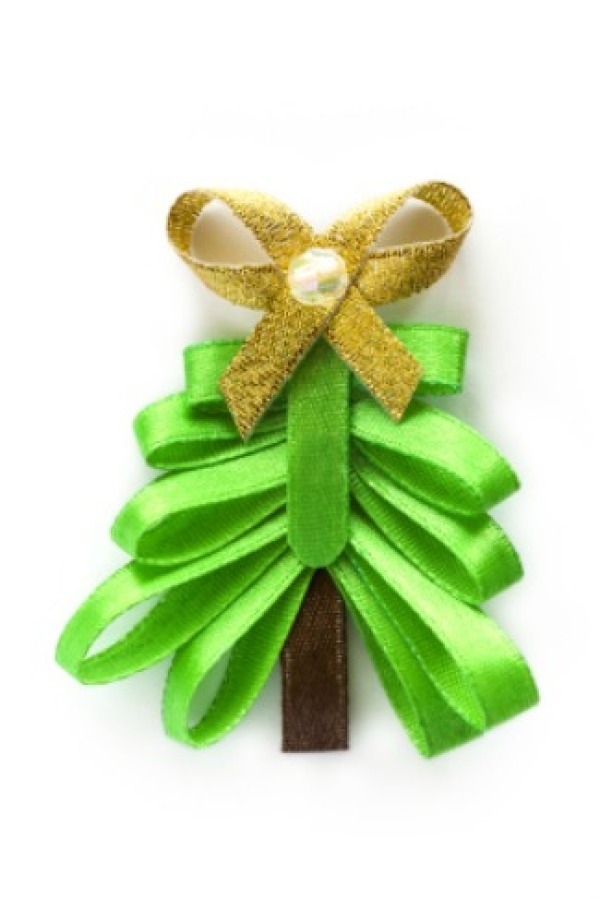 Filter

: All Articles
Sort

: Relevance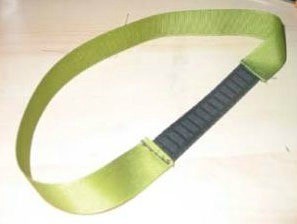 Approximate Time 30 minutes
Supplies:
1/2 yard of 3/4 - 1/2 inch wide elastic in a color of your choice
different styles of a yard or more length ribbbon in 1/2 inch and 1 inch widths
scissors
buttons (optional)
thread
sewing needle
measuring tape
Instructions:
I have tried three different styles of ribbon head bands. You will have to decide which one works best for you.
Simple Strap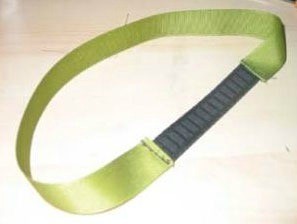 Measure your ribbon a little over 1/2 a yard around your own head or head of the person you want it to fit so there is about 1 - 2 inch space between the two ends. Alternately you can actually measure the head with the measuring tape and use this as a guide to cut your ribbons.
Cut ribbon to that size.
Cut a wide piece of elastic just slightly longer than the 1-2 inch gap you measured between the ends of the ribbon on your head.
Hem the two ends tightly over so it doesn't fray, attaching your piece of elastic to each hemmed side. You may either attach the elastic at the time of hemming or after.
Single Strap with Long Ends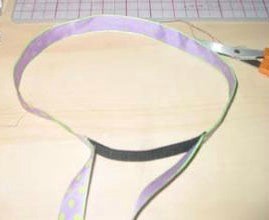 Measure a 1 yard strip of ribbon similar to the single strap method, but do not cut it.
Take a similar sized piece of wide elastic and attach it at the that point on the ribbon to both ends of ribbon leaving two long pieces to hang down. You may then hem the loose ends up slightly or leave them.
Loop and button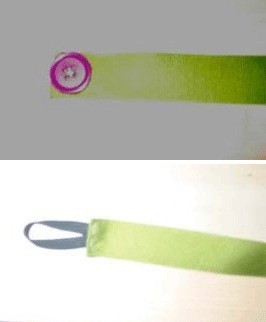 Measure slightly over a 1/2 yard of desired ribbon around head leaving 1-2 inch gap between ends at back of head (cut it to this size).
Hem each end over slightly.
Sew an attractive button to one end. Sew a 2 inch loop of thin elastic to the other side, creating an elastic button hole. Wrap around head and secure loop to button.
Voila!
By Mara from Seattle, WA
I am looking for some simple craft ideas for colorful Bedford bendable ribbon. I bought it at a garage sale so have no patterns or ideas.
I have 1/8, 1/4, 3/4, and 1 inch wide metallic bendable ribbon in red, white, pink, blue, and green. I want to use it for a craft project for my resident's in a nursing home. I need simple and easy ideas for a fun project. Can anyone help me?
By Karen K.
Answer
Was this helpful?
Helpful?
Yes
Hi. I bought a magazine from a garage sale with an idea using the bendable ribbon, but I'm having trouble finding the ribbon. One of the easy ideas is to take 18 inches of 1/4" red and 18 inches of 1/4" silver (or white) and wrap them diagonally around a pencil. Bend them into a candy cane shape, then use 9 inches of 1/4" green to make a bow and attach it.
Another idea is to make a wreath using a 24 inch piece of the 3/4" green ribbon. Wrap it around a pencil to make a spiral, then grab each end and turn one clockwise while turning the other counter-clockwise to make a larger spiral. Make a small cut 1/2way through each end, then interlock them to form a circle. Make a bow using the red ribbon and attach it to the wreath.
Both ideas look really easy and really cute to use as an ornament or just a decoration. Hope this helps and is easy to understand :)
Reply
Was this helpful?
Helpful?
Yes
I am making cards that have a ribbon on the side to attach the blank paper insert. The ribbon is tied and stays in place relatively well but I was thinking of putting hairspray over the ribbon to keep it firm. Has anyone got any advice or other suggestions. Taa.

Renee
Answer
Was this helpful?
Helpful?
Yes
By guest (Guest Post)
Flag
Hello Renee, I own a scrapbooing store in South Florida and we are currently using alot of ribbon on our pages. We like the "X" from xyron, it can be found at many scrapbooking stores or at Michaels craft stores. It is very simple to use and you may find it is the best thing ever for making a sticker out of small things. Best of luck to you!
Reply
Was this helpful?
Helpful?
Yes
Read More Answers...
I am the program manager at an after-school program for girls ages 6-14, and we just received a big donation of assorted ribbon (different colors, widths, some are wired, etc.). I am looking for creative craft projects using ribbon. Any ideas? Thanks!

Lori
Answer
Was this helpful?
Helpful?
Yes
By guest (Guest Post)
Flag
A tree. Using a cone (Styrofoam or plastic or even recycled) just cut strips of varying sizes. Work from bottom to top.
Reply
Was this helpful?
Helpful?
Yes
Read More Answers...
Ever purchase a puzzle you can't get to for a while? I did, and since the "Libra Lady's" birthday is coming up and I won't be here, I thought it would be nice to give her the front so she can enjoy it.
I simply cut out the photo, punched holes around the perimeter, and threaded pretty ribbon through them. To punch holes evenly, which is vital to it looking nice and even, you begin with a hole on each corner. Then, do one in the middle of the top and bottom, and the sides, using a ruler to measure. Then, simply keep doing that, halving each space till the desired spacing is done.
You can also crochet them but it's harder and takes longer. If you do, you will need a hook small enough to go into the holes and crochet thread is recommended.
I thought this was worth sharing, so enjoy!
Source: Been doing this for a long time.
By Poor But Proud from Salem OR
Comment
Was this helpful?
Helpful?
Yes