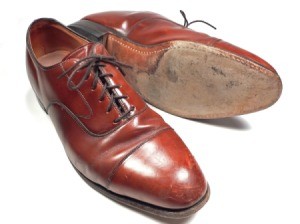 When your leather footwear gets scratched you need to find a way to cover or remove the marks. This guide is about removing scuff marks on leather shoes.
Ad
---
Solutions: Removing Scuff Mark on Leather Shoes
Read and rate the best solutions below by giving them a "thumbs up".
When I was a small child, I remember my mother raiding my crayon box to color in nicks and scuff marks on her brightly colored high heels. Well, these days it may be colored leather tennis shoes, a leather vest or fancy cowboy boots, but the idea still works. (Especially if you have a box of 64 colors!)

First heat the area with a blow dryer, that way the color of the crayon actually melts into the leather. Finish by buffing with a soft cloth or soft paper towel.

By Cyinda from Seattle
Here is a great way to cover up those scuff marks on a pair of shoes that you still love! Cover the scuffs with a "Sharpie" or any permanent marker in a shade that matches. This will make your shoes look like new again - and is much cheaper than buying another pair (especially if they still have a lot of wear left).

By Carol from Landisville, PA

Editor's Note: If you have leather shoes that are brown or black, keep some shoe polish on hand for those colors. It works well on scuff marks. The tip above can be really helpful for shoes that are a color other than black or brown, or for shoes that are not made of leather.
Give a "thumbs up" to the solution that worked the best! Do you have a better solution? Click here to share it!
Questions
Here are questions related to Removing Scuff Mark on Leather Shoes.
How do I remove or cover a scuff on white leather shoes?
By Jeanette from Akron, OH
AnswerWas this interesting? Yes No
Ad
---
---
Most Recent Answer
By joanelaine1 1 02/04/20130 people found this helpful
I have new line dance white boots, wore them yesterday and they had black scuff marks on them from the soles. I rubbed them with the nail polish but it took the white off and back to the leather. Must be inferior white coating but expensive boots so I'm upset. Next time I'll try the magic eraser. However, I have old white boots that were marked and the nail polish cleaned them beautifully. Don't know what to do with my new white boots, I've dabbed the parts where the whole white colour has gone with a little white shoe paint, not ideal but it will have to do.
---
How do you remove scuff marks on orange shoes and yellow high heels?
How do you get scuff marks off leather boots?

Janelle from Oxford, Alabama
AnswerWas this interesting? Yes No
Ad
---
---
Most Recent Answer
---
I got this scuff mark on my black leather Jordan's. I'm wondering if I should use Mr. Clean or nail polish remover on it? Please help.
By MvT from St. Paul, MN
AnswerWas this interesting? Yes No
---
Most Recent Answer
By Maryeileen 76 1,143 01/30/20100 people found this helpful
You could try using an indelible pen, like a Sharpie.
---
What is the best way to clean black scuff marks off red shoes? Shoe polish isn't working.

Ellen from Tucson, AZ
AnswerWas this interesting? Yes No
---
Most Recent Answer
By val girl 1 09/27/20110 people found this helpful
Removing the scuffs depends on what the shoes are made from! I was always getting black scuffs on my white nursing shoes and the only thing that worked was scrubbing with a soft scrub product. A few weeks ago I was searching the Web for ways to prevent scuffs and I found a product called SKUFF. I ordered the gloss finish and it was easy to apply to my shoes after cleaning with the enclosed towelettes. It's been two weeks now and the couple of tiny scuffs that showed on the shoes were easy to just wipe off with a wet rag. The shoes are still a beautiful white!