Whether you are trying to shrink a too big pair of shoes or something else made of leather, it can be confusing trying to find the best method. This is a guide about shrinking leather.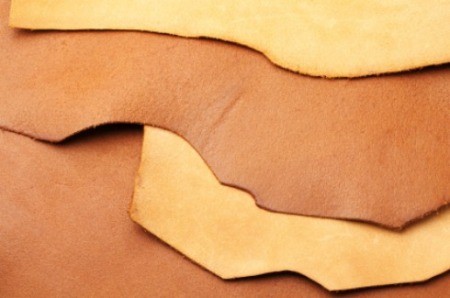 How can I shrink my daughter's shooting glove so it will fit her better?
By Perry
---
Best Answer
By Eileen M. 56 240 Flag
February 24, 2014
You can try (no guarantees, but worth a shot anyway), wet the glove in warm water, get it really wet, and have your daughter wear it until it dries. She should move her hand around a lot while it dries, and just keep it on her hand. Then it will (hopefully) shrink to fit. Otherwise, she could just use the finger guard thingies that are not a full glove.
I just bought new leather boots online and the foot part is just slightly too roomy? Can I shrink just the foot and not the calf part?
By Christi
---
Most Recent Answer
February 3, 2014
Google how to get cowboy boots to fit. I believe that they are thoroughly soaked with water, then worn until dry. This way, the leather will shrink as it dries and conform to your foot. I'd try just soaking the part you need to fit, and not too long - you don't want to ruin the boots. After dry, definitely waterproof them.
---
I have a gun holster that has shell loops that are to big. How can I tighten it up without getting the holster/belt also?
By William S
---
Most Recent Answer
By Carol W. 6 94 Flag
September 20, 2013
Wouldn't bigger ammo solve the problem? Perhaps lining the loops with pockets of cheesecloth would work.
---
I have seen different places on the web about shrinking leather by soaking it in water. Another place mentioned that the water will penetrate better by adding some alcohol to the water. Anyway, I'm afraid that if I soak only the top upper (or shaft) part of my boot that I want shrunk (because I have a large foot, but a small/thin calf and the top of the boot has a large gap around the calf area that looks ridiculous) that it might discolor and be a different color than the bottom (the boots are red).
Anybody had any experience with shrinking colored leather like that and also how much shrinkage can I expect? Also it won't do me any good "wearing" the boot while it dries because it's not a matter of it conforming to my leg, I just want it to be smaller around (besides I don't think it will shrink enough to hug my leg anyway!). Just wondering how much it may shrink and if it will be worth taking the chance on messing up the colors (top vs. bottom of boot)? Thanks for any comments!
By Beth
---
Most Recent Answer
June 1, 2013
I really don't think that wetting the top part of a boot will shrink it enough for your purposes - Have you thought about having them taken in by a shoemaker?
---
By Alma 4
My sister gave me a new pair of expensive sandals. The vamp of the shoe is too deep for my thin foot. I need to shrink down the leather part. Please help!
By Alma B from Shelbyville, IL
---
Most Recent Answer
By Lizzyanny 9 1,251 Flag
May 12, 2012
Another option is to buy Moleskin in the foot department of your local drug store. Line the vamp on the inside where it doesn't show with a piece fo moleskin which you have cut to fit. It will tighten up the space and last for the life of the shoe.
---
By Cemerle 1
Does cold water or hot water shrink leather?
By Cemerle from Memphis, TN
---
Most Recent Answer
By Cyinda 214 1,287 Flag
February 20, 2010
Hot is the worst, but any water can shrink leather if it's dried to fast. Like for example, if you put wet leather in the sun to dry, or if you used a blow dryer, the heat could make it shrink. This is one reason why they put newly tanned leather tightly laced to board to cure. In the old days when people wanted to break in their leather boots, they'd sometimes soak them in water then wear them until they were almost dry. This way they would conform to the shape of their feet. But I wouldn't recommend this!
But the answer is, use cold to lukewarm water (never hot!) & It's best to let the leather dry slowly & at room temperature. After washing your leather use a leather conditioner to help re-soften & re-condition the leather again.
Also: You will often hear that mink-oil is bad for leather, but it's not actually bad for the leather, what happens is, the mink oil will more quickly break down the cotton thread (at the seams) that is used to sew the leather together.
---
My leather boots are too big and keep slipping from the knee. Any suggestions on how I can shrink the leather so they stay put?

Thanks,
Megan Sanford from , London, England
---
Most Recent Answer
July 16, 2009
I took my new leather boots that were too big and soaked them in a bucket of plain water for abt. an hour. Then....put them on my feet and wore them all day.
Somehow, they molded to my feet just perfectly. this was recommended to me by a friend who'd tried this before on the advice of someone else. And, although I was very dubious, thinking the water would RUIN my new ostrich quill, expensive boots, I tried it cause boots were 'slipping' so much on the heels.....and problem was solved. It's kinda cool how the boots mold to your very own foot shape.
---
I just got a pair of Jack Rodgers sandals from a friend whose foot is a bit larger than mine. How can I shrink the strap and not the whole shoe?
By Mary Ellen
---
Most Recent Answer
July 21, 2014
Is it a strap that goes over the top of your foot, or around the heel?Either way, if your If the strap is fabric, could you sew across it low on the inside of the shoe to make it shorter? Try safety pinning it to check for fit before you sew the tuck in the strap. If the strap is long enough, you could make it an adjustable strap by cutting one end free, and applying stick on Velcro patches to the shoe and strap. Hope this helps.
I have found that mink oil has a water proofing benefit. I have western style boots and gun belts and have been first using saddle soap for cleaning. Then I heat the leather and apply mink oil. Reheat leather until the mink oil has soaked. I've been doing this for about 40 years and have had no problems with thread or leather. My leather gear is still with me and the thread is strong as ever. Still in use are my Chippawas (hand sewn in America) and Tony Lamas as well as my Western leather vests, holsters and belts, still in great condition. I know I only apply it once a year, near the snowy months. Coon Oil/grease I also know was used as far back as the early 1800s, but I have never used it.
By Fst/Sgt Eugene Ranson Ret.
I just got my Doberman I nice thick, studded leather collar. I knew it would be too long, but there was quite a bit of length on the holed end. So I put my own hole in as far up as I could. The collar is still about an inch or 2 from a perfect fit.
I'm thinking of shrinking it, do I just soak it and let it dry? And will shrinking it make the studs or anything fall out?
Only need to shrink an inch or 2.
By Ken
---
Most Recent Answer
I bought a leather bracer at the Rennissance festival that fits my arm, but not my wrist and I don't want to cut it because the design is so beautiful. What can I do to make it fit? Please don't say padding because my wrists are already huge.
By Cassandra
I have a pair of very expensive long leather boots. They are laced at the bottom and have a zipper. They are equestrian boots (just to let you know). The foot size fits snugly, but the calf size is just too big, about 5cm to big for my leg.
Any help on how to shrink?
By Skye
I would like to know if anyone knows how to shrink leather boots?
John
Answers:
RE: Shrinking Leather Boots
Have you thought of just wearing thicker socks? They take up a lot of extra room. Try that and see if that helps.
(07/18/2006)

By DEE
RE: Shrinking Leather Boots
Get the boots wet and sit in the sun until dried. (07/18/2006)

By JMRoss
RE: Shrinking Leather Boots
Soak them down from the inside with white vinegar and leave them somewhere quite WARM to dry. The vinegar makes the leather pliable, but it's the heat that shrinks them. Also, ill-fitting shoes can be "broken in" quickly by walking around in them for about 15-20 minutes wearing vinegar-soaked socks (or until they feel comfortable). Leave them to dry a COOL place afterwards to prevent shrinkage. The vinegar smell will disappear as soon as the shoes are dry and the vinegar has the added benefit of removing odour and disinfecting too. We were quite poor when I was a kid and when we were on the brink of outgrowing our shoes, my mom made us walk in them with vinegar socks for a bit and the shoes would fit for a little while longer before we needed new ones. Hand-me-downs that were too big got the shrinking method. (07/21/2006)

By feemayl