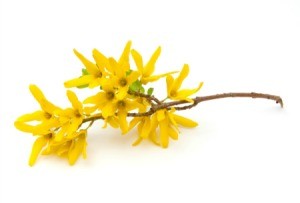 A hardy, perennial shrub that can be propagated from a clipping. This guide is about starting a forsythia from a cutting.
Ad
---
Questions
Here are questions related to Starting a Forsythia From a Cutting.
I heard you can take a forsythia branch and it will take root in a bucket of water. I would like to have this bush in my yard. Can it be done this way to start the root process?
By Susan from Catonsville, MD
Ad
---
---
Most Recent Answer

By mary [6]04/02/2011
Yes, you can pick some branches and enjoy the yellow flowers, then the flowers will fall off and green leaves will appear. Keep water in the vase and roots will start. When there are enough roots on each stem, they can be planted.
I have these bushes at work and would like to make a hedge using them. Can I root them to do so?

Hardiness Zone: 7a

Helen from Baltimore MD
Ad
---
---
Most Recent Answer

By Helen [2]06/11/2007
its not forstyia, its just a green hedge that is quite nice does anyone know how to root it or what it is called?

I would like to start more lilac bushes and forsythia bushes. Can it be done successfully? Also a friend has a large rhododendron that they don't want. We want to move it to our house. What's the best way and the best time?
Barbara
---
Most Recent Answer

By anne [58]06/04/2012
Bend forsythia branches to the ground and cover with soil. Water often. Roots will form and then you can cut it from the mother plant and transplant. I've also started them from cuttings placed in water and put out of the sun till rooted. Dig up baby lilac bushes that come up close to the mother plant and move to desired spot.
Solutions: Starting a Forsythia From a Cutting
Do you have knowledge about this guide topic? Feel free to share a solution!