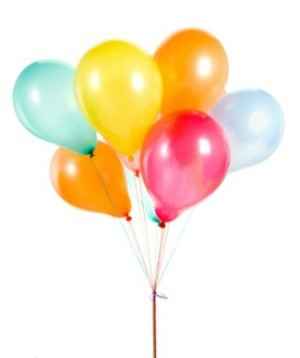 A surprise birthday party is not just for younger folks. Make someone's 50th memorable. This is a guide about surprise 50th birthday party ideas.
Ad
---
Questions
Here are questions related to Surprise 50th Birthday Party Ideas.
I need some ideas on a 50th surprise birthday party for my husband. There is a catch, it is on 31 December, and he is a pastor so our church service for New Year's eve will start at 22h00. Please help I want to make it special. I can have it on the 30th though.
By Elna from Johannesburg, RSA
AnswerWas this interesting? Yes No
Ad
---
---
Most Recent Answer
By BirthdayPartyBabble.com 2 12/26/20100 people found this helpful
Here's my take on a 50th Surprise Birthday Party: Invite the party boy or girl to your house. Using garden stakes, create a timeline along the path to your front door noting 10 (1 for every 5 years) special moments in his or her life. The timeline will give the person a sense that something is up, but won't give them enough time to bolt. When you answer the knock at the door, be sure to hold up the last garden stake with the date and "So and so's Surprise Birthday Party!" written on it. It's fun to keep the garden stakes, and even use them in the garden.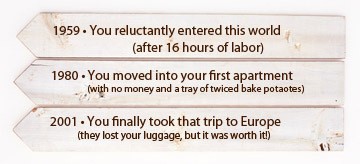 My husband is turning 50 and I would like to surprise him with a good party. Any ideas?
By lbasque from Kitchener, ON
AnswerWas this interesting? Yes No
Ad
---
---
Most Recent Answer
My husband is turning 50 on the Boxing Day! I would like to throw him a surprise party. As it's a busy time of the year, I can't think what to do for him! I might even be late to arrange something. Any ideas please?
By Ayca T. [1]
My husband is turning 50 next year and I would like to surprise him with a nice party. We have a big family with little kids included. He likes a variety of foods and he is a big comic book collector and movie buff. Any suggestions or ideas?
By Yvette
I am trying to organise my hubby's 50th birthday surprise. I need to keep the cost down as much as possible. There will be no alcohol because we don't drink. He loves bright colours, yellow, blues, colours that stands out.
By Rita from Christchurch
Solutions: Surprise 50th Birthday Party Ideas
Do you have knowledge about this guide topic? Feel free to share a solution!
Archives
Thrifty Fun has been around so long that many of our pages have been reset several times. Archives are older versions of the page and the comments that were provided then.
I need some ideas for a theme for my mother's 50th Surprise birthday party. I don't want to use the same old sayings. Her name is April.
Angela_lynn25 from Grand Rapids, MI
---
Surprise 50th Birthday Party
Request:
My family is throwing my mom a surprise party for her 50th Birthday. We have rented out our local Country Club and have everything planned and organizes. ALL we have left is figuring out how to get her there? Any suggestions would be greatly appreciated.
Brooke from TN
Answers:
RE: Surprise 50th Birthday Party
Well, if you've decided on having it on the day of her party, she's going to suspect every place you take her to will have a surprise party just waiting for her. You could have it the day before, you know, so she's least suspecting. You could say that you met some new friends and they invited you and the family to play golf, (or whatever they do there) and she's invited as well. Then take her there and surprise her. Anyway, hope this helps. Steven S.
Post by lorac456
RE: Surprise 50th Birthday Party
On my 50th, my daughter simply asked if she could take me to lunch at a wonderful Mexican food restaurant and I said, "sure". We had a wonderful time and, although my party was in my own home, I was totally shocked and surprised.
I have to admit, I didn't suspect a thing although I should have when I wanted to stop at a craft store and she "just had to go to the bathroom too bad to stop". Invite her to lunch or dinner, depending on the time of day the party is scheduled or some special time together.
Post by Luvyabye
RE: Surprise 50th Birthday Party
For my mother's 80th Birthday I told her that we were going to a surprise birthday party for the mother of a friend of mine (who my Mother had met and really enjoyed her company). When we arrived my friend was standing outside and told us we had to hurry in because her mother would be there very soon and she was going to bring her in. She also said everyone was waiting with the lights out already so she rushed both of us into the party room. The rest is history.
By guest
RE: Surprise 50th Birthday Party
Well April rhymes with thrill, grill, till, nil, bill. When I had my husbands 50th I had all the guests write a memory of him from years ago or about an attribute. My daughter read them at the party and the birthday boy had to guess who wrote each item. It was loads of laughs and still he likes to read them and reminisce about the good ol days. (03/22/2006)
By Edie
RE: Surprise 50th Birthday Party
For my mom's 50th party we got her down there by making a fake invitation from one of my dad's friends. We slipped it into the mail box and when she saw it, we convinced her to go. When she got there she was so surprised. (12/10/2006)
By Emma
RE: Surprise 50th Birthday Party
I am planning a surprise 50th birthday party for my mother in March and I am planning on putting a photo album together of pictures throughout her life with little captions. I have also asked each guest to bring a photo they like of my mom and be prepared to write a caption on a note card to place in the photo album.
Also, I am putting together all the events such as top movies, books and TV shows as well as news events. I have found most of this information online. I will then type this information on some sort of quality paper to put in a book of some kind for her. I may even add it to the photo album. Good luck. (02/05/2007)
RE: Surprise 50th Birthday Party
I am throwing my sister a "hot mama" theme for her 50th and we are serving all kinds of Mexican food and the guests will dress like senoritas, cowgirls, cowboys, banditos, etc. We ordered Mexican decorations and 50th birthday decorations, too. The cake is strawberry margarita cheesecake. We'll play salsa music. (03/07/2008)
By Arlene
RE: Surprise 50th Birthday Party
My brother is turning 50 in 2 weeks. My sister-in-law has rented a party bus that will hold 25 people. We're all getting in the bus and taking him on a trip down memory lane, sort of like a "rolling" roast, so to speak. We're having a blast just planning this. Can't wait for the party. (06/16/2008)
By BJ
I am going to be throwing my mom a surprise 50th birthday party and need some ideas for food, favors, and games. Any suggestions?
I am throwing a surprise 50th birthday party for my husband, who recently retired from the Air Force. The party is this coming weekend and I need ideas for party favors for the guests. I am really crafty, but I need "quick, inexpensive" ideas for the guests.
They will be mainly former military employee's of my husband. Help. I just want to have something for them to take home. My colors are black, white, and dark lime green. It's his first party, ever!
By Ramona W. from Charlotte, NC
---
RE: Surprise 50th Birthday Party
My idea is to have die cast model planes as a token or party favor. They cost around ten dollars each on this website, but they are Air Force models. Other sites I've checked run higher. Maybe they will ship next day for you if you're interested.
futureflyersclub.com (10/26/2009)
By Lorelei
RE: Surprise 50th Birthday Party
Does your husband's former unit or department (fill in correct term) have a saying that is preferably an "in" phrase or a joke that they all recognize. Go to your local small printer (may be called "offset" printing) and see what it would cost to get notepads made up with a slogan or shield or the unit's name. 5x8 is a good size, color maybe. This is the most inexpensive guy thing I can come up with. Good luck and have a wonderful time. (10/29/2009)
By tennesue