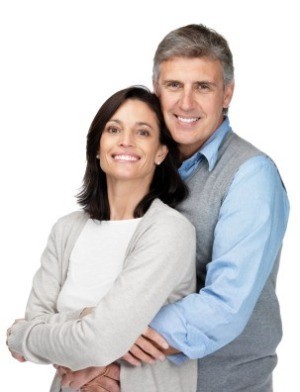 Maintaining a healthy marital relationship can be a challenge for many couples. This guide contains tips for a successful marriage.
Ad
---
Solutions: Tips for a Successful Marriage
Read and rate the best solutions below by giving them a "thumbs up".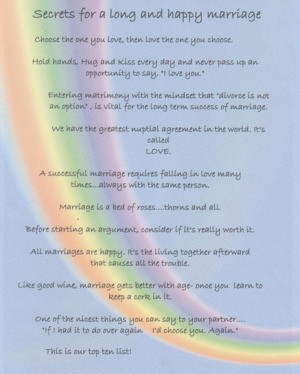 My granddaughter surprised me with a last minute invitation to her wedding. I wanted to give them a special gift and card. The gift was easy, because I always have hand crocheted afghans put away to give for special occasions, but I didn't have time to shop for a special card.
I had been teasing the couple about making their marriage last as long as mine. (51 years tomorrow for Paul and I), so I made her a special card that listed "Secrets for a Long and Happy Marriage." I used a pre-printed paper and a pretty font, and rolled it up and tied it with a pretty ribbon and attached it to the package.
By Harlean from Hot Springs, AR

Editor's Note: Here is a transcription of Harlean's text if you have trouble viewing her image. You can also click on it for a larger version.
Secrets for a long and happy marriage

Choose the one you love then love the one you choose

Hold hands, Hug and Kiss every day and never pass up an opportunity to say, "I love you."

Entering matrimony with the mindset that "divorce is not an option", is vital for the long term success of marriage.

We have the greatest nuptial agreement in the world. It's called LOVE.

A successful marriage requires falling in love many times. . . always with the same person.

Marriage is a bed of roses . . . thorns and all.

Before staring an argument, consider if it's really worth it.

All marriages are happy. It's the living together afterward that causes all the trouble.

Like good wine, marriage gets better with age - once you learn to keep a cork in it.

One of the nicest things you can say to your partner . . . "If I had to do it again, I'd choose you. Again."

This is our top ten list!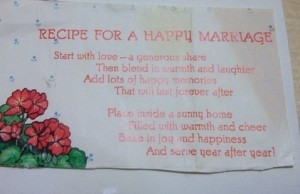 Just being sentimental. ;-)
Ingredients:
Start with Love ~ a generous share
Then blend in warmth and laughter
Add lots of happy memories
That will last forever after
Directions:
Place inside a sunny home.
Filled with warmth and cheer.
Bake in joy and happiness.
And serve year after year!
Servings:
60 years in August 2012
Source: I found it long ago on gift wrapping paper I had saved. I used it for a bookmarker in my cookbook
By Great Granny Vi from Moorpark, Ca.
As my husband and I approach our 40th wedding Anniversary this week-end, I have experienced friends and family asking me to share our tips for a lasting relationship. I enjoy entering your tip contest. This morning as I opened the ThriftyFun email, I thought why not write down the tips I have shared this past week with others.
We have learned to have a sense of humor, laughing at our mistakes.
We have a date night and make it special. It has been as simple as a picnic in the park or a rented movie and popcorn while sitting together on the sofa.
We have both learned not to try to change each other, instead we pray about it.
We both pursue our God given talents and gifts.
We don't argue, there are a list of things we have decided to disagree on.
We both give each other encouragement and sincere complements.
We try not to take each other for granted.
We sit down at the dinner table together and discuss our day, even though our children are grown.
We celebrate time spent with our children and grandchildren.
We both work at staying in good shape and looking nice for each other.
I guess the bottom line is being committed to each other.
By Bobbie from Rockwall, TX
Recipe for a Happy Marriage: To an overflowing cup of love, add faith in God and faith in each other. These ingredients will help dissolve bitterness or misunderstanding. Never let bitter spirits brew overnight. Sweeten with laughter and understanding. Prayer is necessary to hold these ingredients together and should be added daily. Tears may also be added when necessary, and sifted together with respect and hard work towards a common dream. Sprinkle generously with hugs and kisses. Keep this fresh by stirring 24 hours a day. Serve with a loving heart. YEILDS: One happy Husband.

I wrote this to my niece for her Wedding Shower, many years ago.

By Sharon,Ky
Give a "thumbs up" to the solution that worked the best! Do you have a better solution? Click here to share it!
Questions
Here are questions related to Tips for a Successful Marriage.
My nephew is getting married and I live on a limited income so I am looking for a poem about marriage to cross-stitch as a wedding gift. I want something that is more or less words of wisdom.

Babygirl from Overland Park, KS
AnswerWas this interesting? Yes No
Ad
---
---
Most Recent Answer
By Sarah (Guest Post) 05/31/20070 people found this helpful
Try Psalm 20. It also works for graduations.


---