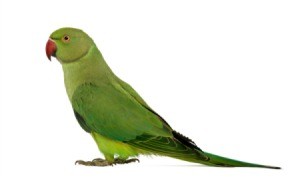 Understanding your parakeet's behavior will make for a much more pleasant bird rearing experience. This is a guide about understanding parakeet behavior.
Ad
---
Questions
Here are questions related to Understanding Parakeet Behavior.
My parakeet seems to be gagging herself and vomiting. She positions herself under her perch, one foot on the bottom of the cage, one on the perch and she sticks one 'toe' down her throat until gooey half digested food strings out of her mouth. Has anyone else experienced this?

Deb from Kauai, HI
AnswerWas this interesting? Yes No
Ad
---
---
Most Recent Answer
By Alan (Guest Post) 12/16/20080 people found this helpful
You might want to try changing her food. My parakeet started to exhibit the almost continual gagging and then spitting food/vomit symptoms that would go on for a quite awhile. I had also experienced this with previous birds I've owned where I put it off to 'love offerings'. This time I immediately changed her diet and the gagging stopped. Been over a week now and it hasn't restarted. Good Luck!
---
My budgie has become very angry with me and I don't know why.
By Bianca from Chicago, IL
AnswerWas this interesting? Yes No
Ad
---
---
Most Recent Answer
By Chris Richman 10 106 02/23/20100 people found this helpful
Budgies, like any creature, can go through times of moodiness. Be patient, gentle and loving with your budgie and hopefully the mood will improve. Robyn Fed has some good ideas and links as well. Is your bird aggressive to everyone, or just you? And have you changed anything(cage location, new toy) that might be making your bird nervous and acting out from insecurity? If you have a good avian vet, they can be a good resource and there are lots of bird forums with good advice as well. I like ThePerch.net.
---
I have a parakeet that just recently started acting funny... climbing and clinging to the side walls of the cage and the top of the cage, picking at it's back side like there's no tomorrow. It sometimes seems hyper. It's feathers are a little ruffled, but it's been eating like crazy and drinking like crazy. It doesn't seem to be pooping as much as it should... Any ideas?

Only1 from Rochester, NY
AnswerWas this interesting? Yes No
---
Most Recent Answer
By Austin (Guest Post) 01/07/20090 people found this helpful
We had 2 parakeets but we lost one. Would it be okay if we got another parakeet? They told us that it was they were both brother's, but one was a girl. we are just wondering if we got another bird would our male parakeet get along with the other bird? Or would he dominate the other bird. or would he be happier with some to play with. it would be a new born bird also, so we can raise it right, we also have another question my bird is *grooming* and he is squeaking extremely loud when he cleans like he is biting himself or he get startled.
Thank you.
---
Our 2 year old, male parakeet has been holding his wings slightly away from his body. It looks like he's warm, but the house is 75 degrees. Vet states that all looks okay. How can we tell if he has a heart ailment? What else might be causing him to do this? We are very worried.
By JillyD from Sacramento, CA
AnswerWas this interesting? Yes No
---
Most Recent Answer
---
While I was away, for 6 weeks, my male budgie stayed with a friend whom he knows and who loves him. He was molting and it was suggested to my friend that she sprinkle a few drops of flax seed oil in his seeds about 2 times per week.
Before I took him home, yesterday, my friend told me that he has almost stopped singing and talking. This began about 3-4 weeks ago, she thinks.
His "nose" has changed color to 2-tone colors of bright blue by his nose air vents and the rest is now an off-white color and almost appears (this could be my imagination) to be a little swollen or protruding.

Is any of this normal? He's 3 1/2 years old.
By Gerry from Las Vegas, NV
AnswerWas this interesting? Yes No
---
Most Recent Answer
By Diane 1 21 12/15/20090 people found this helpful
First, your little budgie is a male. The part of his 'nose' that turned blue is called the cere.. If it is blue, violet or shades of, this maens he is a male. If the cere is beige, brown or sort of fleshie colored, it is a female. The rest of the beak is called a mandible. Upper and lower. Different species of birds have different color mandibles. The main thing you shound watch for is changes in his 'poop'. If it's runny or odd color, check with your vet. Your birdie may have stopped talking because he missed you. Give him a little time to adjust to being 'home'.. If you're still not comfortable, check with an AVAIN (bird) vet. I hope this helps. Diane www.LaziBirds.com
---
I just got two parakeets, one girl and a boy. My girl parakeet bites herself; why does she do that? I also noticed that my boy bird puts food in my girl bird's mouth. Then he rocks back in forth like he's dancing. Why do they do that? This is my first time having birds.
By Paulina
AnswerWas this interesting? Yes No
---
Most Recent Answer
By Tapestry Lady 2 197 08/21/20110 people found this helpful
The boy feeding the girl sounds like mating behavior, you might read up on what to look out for if some babies are on the way! :-)
---
Why is my parakeet biting?
By Elizabeth
AnswerWas this interesting? Yes No
---
Most Recent Answer
By Lana Kutynsky 6 4 04/20/20110 people found this helpful
It could be that your parakeet is showing affection or that he/she is scared. I let my parakeet bite my nails to show that I am not here to attack him. When I call her name she flies right to me. :O)
---
My boy parakeet seems to be feeding the girl. What does that mean and is she getting all her nutrition she needs?
By Michy from Chicago
AnswerWas this interesting? Yes No
---
Most Recent Answer
By heather inwood 13 214 05/25/20130 people found this helpful
It could be a mating ritual - you don't mention the age of the birds. Google information about parakeets or Google parakeet breeders & contact them as they are full of useful information.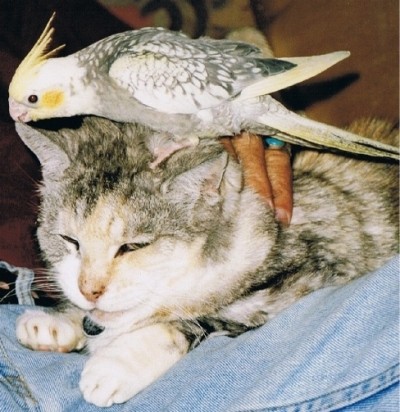 My budgie keeps throwing her eggs out. What do I do?
By Stephen from Manchester, Lancs
AnswerWas this interesting? Yes No
---
Most Recent Answer
By animalmcburger 1 16 02/15/20120 people found this helpful
I know this may sound stupid but are you touching the eggs? I know you're probably not so the next thing is maybe get it a new nest. Find some raw hay or whatever and don't use your hands. Gloves would leave a scent too so maybe use a couple of twigs like chop sticks.

Also, half way through writing this, a thought came to my mind. Does your budgie have a mate? If not, it's just throwing out the eggs because no male has come along and mated with her to fertilize the eggs. Also, if you do have a male, make sure it's a male. Could be 2 females laying duds.
Solutions: Understanding Parakeet Behavior
Do you have knowledge about this guide topic? Feel free to share a solution!