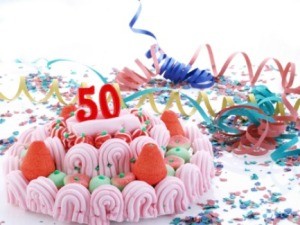 Planning one of the milestone birthday parties doesn't have to be stressful. This is a guide about unique 50th birthday party ideas.
Ad
---
Solutions: Unique 50th Birthday Party Ideas
Read and rate the best solutions below by giving them a "thumbs up".
When I turned the big 5-0, my sister did something for my birthday that was very exciting. For this occasion, I received a large box in the mail. When I opened the box, I found not one or two large gifts, but rather 50, yes 50, much smaller, wrapped gifts. I was surprised to say the least. The gifts were not expensive by any means, but it was so much fun to open all the little ones. She made me feel very special. I thought this would be a great idea to pass on.

By Marie from West Dundee
My wife has organized the gathering of folks for my 50th birthday but has drawn a blank for how to make it interesting in a semi-dignified way. I've read the ideas here and have spun off from them these thoughts:
Get jars or containers and stick 50 of the same thing in each of them. However, in many of them, you could have gift cards. As people leave, you could give them one of these containers thereby a) assuring yourself of getting rid of them by night's end and b) giving people a chance to win something.

Make a list of things you've done in your life along with a few lies. People have to talk to each other and compare notes about what they know of you. Make each person's card different. Not hard to do if you do it in Excel, a little more work in Word. People have to submit their cards when they have written for all the items on their card whether the items were lies or truth. Prize awarded at some point. Downside is there is a bit of time involved checking people's cards but I'm just presenting the concept, details have to be figured out.
By dmorr [1]
Give a "thumbs up" to the solution that worked the best! Do you have a better solution? Click here to share it!
Questions
Here are questions related to Unique 50th Birthday Party Ideas.
My husband is turning 50 and I want to throw him a surprise party, but he hates being reminded he is turning another year older. I am trying to think of a creative theme that does not involve a number associated with the celebration. I would love to hear your ideas.
By JLKK
AnswerWas this interesting? Yes No
Ad
---
---
Most Recent Answer
By Sara Easthouse K. 1 06/27/20150 people found this helpful
You could do a theme on a favorite event or something he really enjoy in his life. Some guys like football. You could have party theme be about football. People could come dress up as his favorite team or their favorite players of all time. Girls could dress up as players, cheer leaders or owners.

Another idea is a 70's theme people can come dress up in the style of the 70's. You then could have a dance with DJ playing 70's music and all his favorite music and bands of that era. You could even get in touch with some of his buddies of the 70's who was in school with him. It could be fun evening not focus on age. You could even play a game this your life with all great memories having old friends and family suprise him.

The last idea is take him out for romantic dinner not on his birthday and surprise him with tickets for vacation for two a place he always wanted to go no one there would know its his birthday unless he wanted to tell them. You could call it a second honeymoon if you want or rent a house and have the family surprise him with an old fashion vacation. They are the best memories of all time.
---
I will be celebrating my 50th birthday in June. I need birthday ideas for what to do? I want something different, not the usual theme parties, etc.
By Linda
AnswerWas this interesting? Yes No
Ad
---
---
Most Recent Answer
By Rebecca 1 02/20/20110 people found this helpful
For my husband's 50th, before the party, we had family and friends from all over the country phone in memories, stories, and birthday well-wishes. All the stories were stored onto a keepsake CD which we played at the party. We arranged for all this at a website called LifeOnRecord.com

It was a huge hit, and my husband was really touched by the folks that had recorded their messages, even if they couldn't be there.
---
I would like ideas for a 50 birthday party for my mom, its going to be next month and would like ideas like for centerpieces, food and drinks.

Thank you,

Lily
AnswerWas this interesting? Yes No
---
Most Recent Answer
By susan 1 1 03/20/20090 people found this helpful
We are trying to put together a 50's theme for our whole town we live in. Sock hop, old cars, etc. Any ideas for fundraisers with the 50's theme in mind?
---
Today is my mom's birthday and I'm at school asking friends on what to do. My mom loves birthday parties; she plans one for me all the time, but my dad said she can't plan her own. She loves animals, but I already drew her favorite animal on a card. She always works hard and helps me with everything even when I don't deserve it. What should my dad and I do?
By Kaitlin
AnswerWas this interesting? Yes No
---
Most Recent Answer
By April 187 451 03/29/20130 people found this helpful
Spoil her. Take her to dinner, or cook and clean up dinner at home. Give her a back rub, spend some time with her. My kids still (even as teens) make me coupons for car clean outs, cookies, back rubs, foot rubs and such that I can cash in during the year.
---
I would like suggestions on things to surprise this person. Any suggestions to help make her day worth remembering? And any ways to be just a little mean. Funny sayings also would help.
Thanks.

By Barbara
AnswerWas this interesting? Yes No
---
Most Recent Answer
By Sandi/Poor But Proud 449 2,079 06/01/20120 people found this helpful
Here's another cool idea I pop in when people ask what to get people...give them a fake newspaper.

This link is just one of many when you google "fake newspapers".

http://www.simplypersonalized.com/f ... azines-covers/fake-newspaper-covers/

It's nice to make up cool stories about how someone saved the day or how much better the world is with them in it...things like that. If the recipient loves to frame things, buy two, then they will have that option on both sides.

I think this is so very special and unusual that it will be the hit of the event!
---
What ideas can anyone suggest? I am having a 50th birthday party in a couple weeks, but unfortunately my parents could not afford to have photos taken when I was younger, and I seem to always be behind the camera, so there are very few photos to show. What can I do instead of having photos to show on the day?
By Glenys
AnswerWas this interesting? Yes No
---
Most Recent Answer
By Sandi/Poor But Proud 449 2,079 10/04/20130 people found this helpful
Have some fake newspapers made and make up or use real stories about your lives. There are many to choose from if you google "fake news papers". If you can only afford two however, do get two. That way you can frame the fronts and backs. I hope this helps.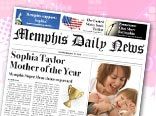 I need games for a ladies 50th Birthday Luncheon held at my mom's home on June 24th. The party is for my sister.

Catherine from HUntington Beach, CA

AnswerWas this interesting? Yes No
---
Most Recent Answer
By Sandy (Guest Post) 05/12/20060 people found this helpful
Ok, here's a fun one and it'll get everyone interacting with each other. Get notecards and put the names of famous people (or infamous, the funnier the better) on them. When each guest arrives, you pin one to their back, and they have to circulate the room asking everyone questions about who they "are", but only questions that can be answered by YES or NO. Use names like AnnaNicole Smith, Oprah, barbara Walters, etc, names that the age group would be somewhat familiar with. You don't want them too easy, but not too difficult either. It really is alot of fun, and gets strangers talking and laughing with each other.
My husband is turning 50 on December 17. I don't have much money but I would like to do something special for him. We don't have many friends to invite to the party, but I would still like to make that day special for him. Any ideas?
By ashleemartin1211 from Tulsa, OK
I am planning my husband's 50th birthday party in February, but I'm having a hard time coming up with an original idea. He is a chef by profession. I would greatly appreciate ideas for centerpieces and other decorations. Thanks in advance.
By Latisha
Archives
Thrifty Fun has been around so long that many of our pages have been reset several times. Archives are older versions of the page and the comments that were provided then.
I would like some unique idea's for a man's 50th Birthday. I don't want to have the usual over the hill black balloons etc. Something a little more cheery is what I'm looking for. Any ideas?
Thanks
Scooter from TX
---
RE: Unique 50th Birthday Ideas
What about rock and roll night, with everyone dressing up. You could also serve food to match. (02/12/2005)
By marsbar
RE: Unique 50th Birthday Ideas
This is in response to the request for fresh 50th Birthday ideas. One year the wife of a friend had a 50th birthday party for her husband. We wanted to give an unusual gift. We brought some fresh grapes and a bottle of olive oil as our gift to the husband. We also presented him with a tape which all the guests listened to. It was the comedic story of Dionysus and his love of wine and women and how things changed as he got older. We laughed so hard, we cried! You could put this in the context of a wine and cheese party and celebrate all the good things about aging.
Brejean from NB, Canada (02/12/2005)
By ThriftyFun
RE: Unique 50th Birthday Ideas
When my brother turned 50, we had an "Over the Mountain" party. We printed mountain banners from the computer, and made a camping scene in the corner of the room, with sleeping bags, lanterns, and a fake campfire. We invited the guests to dress in hiking clothes, with backpacks and hiking sticks. Centerpieces were bandannas and mess kits, cans of beans, mountain pie irons, etc. Everyone loved it, and we got tons of great comments! It's a very masculine theme, and a lot more upbeat than the "over the hill" idea. (02/12/2005)
By zballoongirl
RE: Unique 50th Birthday Ideas
Something we've done is given that person 50 (60, 70, 80... whatever age!) items to celebrate each year. For our friend who turned 50, we gave her 50 "old person" items bought at the dollar store, gotten for free or "recycled". This included things like big pill boxes, Depends, fiber, etc. We screamed with laughter at each opening. (02/12/2005)
RE: Unique 50th Birthday Ideas
What about a 50s party as in 1950s. The 50s had great music and everyone could dress in poodle skirts and leather jackets, a sock hop type thing. (02/14/2005)
By austin95mom
RE: Unique 50th Birthday Ideas
We through a party for my mom's 50th with a Flashback party. We researched events that took place the year before (whilst in womb), the year of, and the year after her birth. We found items that fit, record albums from the thrift store, hula hoops, saddle shoes, but also items that were important to history and politics and science. We used the items as centerpieces on the tables and we placed cards underneath each item and we played trivial pursuit (shout out version) as a group. Which was enormous fun. We only played relevant music and we even learned the older dance moves and taught the guests. We had period items of clothes around and everyone truly got into the spirit. My mother cried at the end of the night and said that besides the birth of her children she had never felt so loved and cared for. That's about the highest praise any daughter could hope for. Good luck. (02/14/2005)
By Suzanne S.
RE: Unique 50th Birthday Ideas
How about "50 Years Young"? or "Aged to Perfection"? Both of those are upbeat themes. Maybe do a collage of photos of his life, include school photos, military pictures, wedding photos, old drivers licenses, and the cars he once owned. (02/14/2005)
By Cheryl from MO
RE: Unique 50th Birthday Ideas
Start with 50 pennies, then 50 nickels, then 50 dimes, then 50 quarters, then 50 1/2 dollars, then 50 $1.00 bills. Give them on consecutive days with the 50 $1.00 bills being on the actual birthday. (04/05/2005)
By Ken
RE: Unique 50th Birthday Ideas
How about a 50 and Fabulous or 50 and Fantastic party? (04/09/2005)
By Toni K.
RE: Unique 50th Birthday Ideas
My little sister gave me a great 50th gift. First she helped my daughter print up and frame a plaque listing 50 reasons I love my mom, then she hand painted 4 wine glasses with different designs and all having the number 50 on them somewhere, and finally she gave me a jar filled with tiny handmade envelopes containing messages with 50 happy thoughts for me. I love my little sis! (08/19/2008)
By jendayi
Unique 50th Birthday Ideas
My wife was thrilled with her 50th birthday gifts. I gave her a gift each day for 50 days leading up to her birthday. They were mostly small things with a few larger ones thrown in. The last was a spa day. Believe it or not, it is not the easiest thing to do, gather up 50 gifts, that is. (09/22/2008)
By Jeff
Any suggestions on my finance's 50th birthday in September?