Any suggestions on my finance's 50th birthday in September?

By JB from Cincinnati

Answers:
Unique 50th Birthday Ideas
Have a 1960's party. Decorations, costumes, music, refreshments. Just the way a party would have been done the year he was born. (09/17/2010)
By Suntydt
Unique 50th Birthday Ideas
My husband wears plaid shirts all the time flannel, cotton whatever, so for his 50th everyone was asked to wear some type of plaid shirt, pants what ever they had, We had a really good laugh! (09/17/2010)

By susan
Unique 50th Birthday Ideas
http://www.google.com/search?hl=enandq=fake+newspapersandaq=fandoq=
Doing a fake newspaper is so much fun. This is the google link to dozens of sites. Make up your own stories and blend them with the things that happened that day!

If you can, make sure to get two. That way, they can frame each side without losing the "news." (09/20/2010)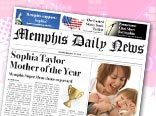 Unique 50th Birthday Ideas
For my husband's 50th, I typed up a list of "50 things I Love About You." I wrote about happy memories, things he did for me, his character, when I've been proud of him, etc. Then I cut up the list and hid each strip of paper all over the house (make sure you number the list, so you'll know when he finds all 50).
I taped one to his beer in the fridge. I taped one on the lawnmower. I put one inside his work shoes. They were everywhere! It took him over a week to find all 50! It was so much fun and he felt so good reading all those kind things about himself. Have fun! (09/21/2010)
By Lee Taylor
Unique 50th Birthday Ideas
My best friend of 46 years is turning fifty in January. I'm having a huge sleepover with girlfriends from high school, church, elementary school, neighbors, etc. We will be sharing appetizers, chocolate, wine, beer and soda. Playing Wii Dance Party, pictionary, pool, fooseball, chatting about the good old days etc. We will have a big fondue donut breakfast in the A.M. then all go out to the outlet mall to shop post Christmas sales. I bought awesome "purse" ornaments at Nordstrom's as take home gifts too. Best of all no kids or husbands for 24 hours. (12/24/2010)
By lisa
Unique 50th Birthday Ideas
Here's my take on a 50th Surprise Birthday Party: Invite the party boy or girl to your house. Using garden stakes, create a timeline along the path to your front door noting 10 (1 for every 5 years) special moments in his or her life. The timeline will give the person a sense that something is up, but won't give them enough time to bolt. When you answer the knock at the door, be sure to hold up the last garden stake with the date and "So and so's Surprise Birthday Party!" written on it. It's fun to keep the garden stakes, and even use them in the garden. (12/26/2010)