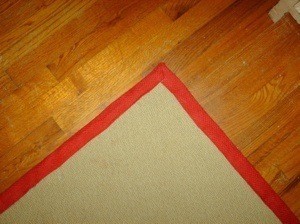 Affordable carpet remnants can be found at thrift stores and carpet discount outlets; however, it's extraordinarily expensive to have a carpet bound with carpet binding. It cost anywhere from $300 to $500 to have a large remnant bound professionally. I came up with this handy and functional idea that's not only cheap, it's highly durable as well.
Plain or colored burlap can be purchased for around $1 or less per yard. Calculate the amount you'll need by measuring all sides of carpet remnant. Give yourself some extra yardage for "oopsies". Cut strips of burlap that will fold both over and under the sides of the carpet. Secure with hot glue. (I used a commercial grade glue gun). You'll have a professional look for mere pennies.
If the burlap starts to separate from carpet, simply glue back in place. A commercial grade glue gun prevents this altogether and creates a permanent bond.
By April from Albany, GA
July 21, 2009
0

found this helpful
I really like the look. Especially with the colored burlap. Where do you purchase colored burlap? Thank you. Kathy
July 21, 2009
0

found this helpful
What a great idea! There's a carpet remnant sale just down the road from me this week, so I'll go over and see what I can find.
July 22, 2009
0

found this helpful
Thank you so much for this idea. I've been waiting a long time to find out how to bind the carpet pieces I have, and using the hot glue makes the project so much easier. Thanks again.
November 13, 2009
0

found this helpful
I often use carpet scraps for cat scratching posts. This idea will help make them last longer. Excellent. Thank you
February 19, 2010
0

found this helpful
Thanks for the Information, I made 2 runners and a large 4x6 rug all for $20 from left over carpet remnants I had. Simply visited a craft store, bought some of what I think is Burlap or used to make outdoor chairs, fold it over the edges and glued it down. Looks great and is functional. No one is none the wiser I made it until I told them.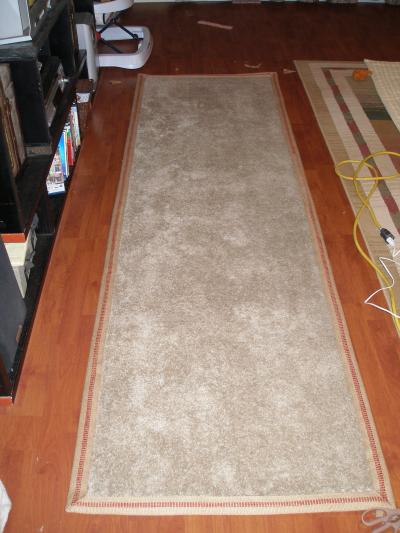 How can I bind my carpet remnants myself?

Nelwyn from Bunkie, LA
Answers:
Binding Carpet Remnants
I ve heard that some people use heavy weigh fishing line and a hook needle to do this. You would have to have very strong hands to pull it through and make it stay tight. When I worked at a floor store, we had to send them out because tt takes a very powerful machine to do this. There is this link that may help or you could check local floor covering stores to see if they offer something similar
http://www.instabind.com/ (11/14/2006)

August 20, 2016
0

found this helpful
About 6 years ago I bound a 'temporary' (haha) runner with black duct-tape around all 4 edges. It is a low-pile brown carpet. I had intentions to get a 'real' runner when it wore out. Well, it's still looking great, even with heavy foot traffic in our laundry room.
How do you hand bind carpet remnants? We just got new wall to wall installed and I would like to bind some remnants for area rugs.

Joyce from Danville, NH
Answers:
How do you hand bind carpet remnants?
I did this with berber carpeting so I don't know if longer carpeting would work. I simply took biased tape and hot glued it to the back side and then to the front.. I did this for a runner on our up-stair's steps (all bedrooms are upstairs). We are a family of six and in 2 years we have not had a problem.

Hope this helps. (10/05/2006)

By Mommy