August 14, 2014
0

found this helpful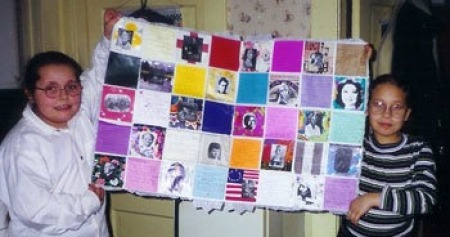 This is a guide about craft uses for contact paper. Contact paper, whether the type with a printed pattern, clear, or translucent all can be used in a variety of craft projects.
Read More...
Recently (this morning) I did my first project using contac paper. I covered an oatmeal container. I found a roll of "white marble" looking paper and couldn't resist it. And now I'm hooked on the stuff. I'm going to cover the little computer diskette box I keep my pens in, but can anyone tell me more uses for this pretty paper?
Jayne
By guest (Guest Post)
January 16, 2005
0

found this helpful
I have many uses for contac paper here is the list
1.cover a shoe box for picture,cards,or anything else.
2.cover my son's school books to protect them.
3.used for kitchen&bathroom wallpaper in rented house.
4.coverd old scratched up end table top with granite/stone one and can be used for old counters and back splash.
July 10, 2005
0

found this helpful
A friend of mine at work uses pretty Contac paper to cover her manila file folders. There very distinctive and, of course, gorgeous!
By guest (Guest Post)
July 23, 2005
0

found this helpful
I just covered an area under my sink with black and white check Contac paper. After less than a week it has gotten scratched just from putting a plastic container on it. Has anyone tried putting varnish on Contac paper?
By guest (Guest Post)
February 26, 2006
0

found this helpful
I wonder if I could paint contact paper and then put it over my apartment kitchen cabinets? Also is it easy to remove from them and will it ruin the cabinets?
By guest (Guest Post)
May 7, 2007
0

found this helpful
Jayne, I use Contac wallpaper to decorate between my upper and lower kitchen cabinets. I have a kitchen/family room with fireplace, etc. When I want to change the color scheme, I just look for favorite colors in Contac wallpaper and change the colors. I get lots of compliments on it. I enjoy the fact that it is inexpensive and yet so satisfying. I do the wallpapering myself. Maybe you might like to try it. Mary mecjr @ earthlink .net
Read More Answers