If you have a lot of empty cookie or packaging tins lying about the house, consider reusing them. This is a guide about reusing tins.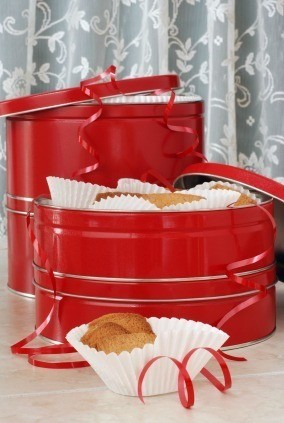 Filter

: All Articles
Sort

: Relevance
What can I do with those left over cookie\candy tins? I know that there have to be some type of crafting I can do with them but I need ideas!

Sheila from NC
Answer
Was this helpful?
Helpful?
Yes
At a garage sale my friend and I purchased some large tins. I keep DVD's tv guide in my as the tin looks good in corner in living room and when some unexpected person shows up I toss any stuff into it. She used hers for tools and odd items.
Reply
Was this helpful?
Helpful?
Yes
Read More Answers...
Got some cute cookie tins? Looking for a shortcut to some gift wrapping? I always seem to be running behind and find myself furiously cutting and taping wrapping on Christmas Eve!
Last year I remembered the nice cookie containers I'd received a couple of weeks earlier at our annual cookie exchange. The cookies were in the freezer and the tins were washed and tucked away out of sight. So I took them out of storage and put them to use as "gift boxes" for small items, gift certificates, etc.
It worked out so well that I'm definitely going to use some again this year! The more unusual shapes are great. This year I'm including a star-shaped tin and a tin with a lid that opens like a treasure chest.
Saves paper, tape, and ribbons, puts those pretty cookie tins on display once again, and it's a great way for everybody to recycle them year after year!

By Janet from Howell, MI
I received a variety of teas in small tea tins for Christmas last year. I enjoyed the tea tremendously, now I have 8-10 small tins that I would like to "recycle" into a craft item.

Any suggestions?

JOSE from Tennessee
Answer
Was this helpful?
Helpful?
Yes
By guest (Guest Post)
Flag
Hello, Just like yourself I had some Tea tins given as pressents to me a few years back not wanting to throw them away i painted them with enamel paint in various colours and made flower paterns on them filled them with wrapped candies and put a ribbon around the tins and gave them away as pressents, christmas is coming you can put any design you want to on them for any occasion. Annie
Reply
Was this helpful?
Helpful?
Yes
Read More Answers...

I recently moved from a larger to a smaller apartment. I love the decorator tins I get from thrift shops. They are an essential part of my kitchen/dining room decor, but this time, I had only enough room for one of them. So, I decided to stack them. I even have a canister with flowers to "crown the stack". I think they look really cute.
These tins were found in many places, sans the popcorn, and for just .25 each. I love them and this was a way of not keeping them in storage.
Hope that inspires someone! N-JOY!
By Sandi from Salem, OR
Comment
Was this helpful?
Helpful?
Yes
With the holidays approaching, its a great time to repurpose those cookie tins. Square and rectangular cookie tins (top and bottom) make great drawer organizers which can be very expensive when bought at the store. They can also be used in tool boxes, in art boxes, for crayons, and for other more "industrial" strength purposes where a regular box might not hold up.
By Amy from Dublin, OH
Comment
Was this helpful?
Helpful?
Yes
I save the tins with cute, vintage looking graphics after cleaning out my cupboards to make desk sets and refrigerator magnets! After cleaning them out, I can either add a strip of magnetic tape to the back of them to hold my roll of stamps, pens and post-it notes or just place them on my writing desk. The tins would make a cute gift too, perhaps for Mothers Day.
I also make refrigerator magnets out of business cards, postcards or brochures I pick up on vacations as cheap mementos.