Uses for Popcorn Tins
Solutions
Share on ThriftyFunThis page contains the following solutions. Have something to add? Please share your solution!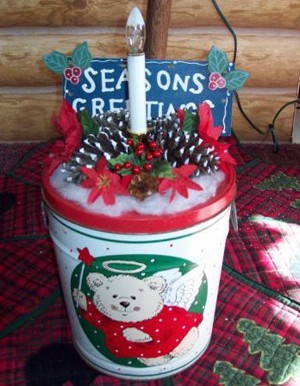 Reuse those Christmas popcorn tins to welcome your holiday guests and place it by an entrance or anywhere to make them feel welcome and add holiday charm to your home.
Here, I used a bear Christmas printed tin but you can reuse all those ones you have with any scene with a holiday theme simply by adding holiday decorations and and a battery powered light. I hot glue all my items on well so I can also raise up the lid.
Use the inside for storage. I store scented pine cones fire starters, every once in a while before guests come, I raise the lid momentarily, and it gives the house a very welcome scent.
I display mine under my Christmas tree until it is filled with gifts then I move it too my doors entrance either inside or out. These make great gifts as well, Enjoy. Happy Holidays
Approximate Time: 30-60 minutes or less depending on the already decorations you may have available
Supplies:
Empty popcorn tin
Hot glue gun and glue sticks, or epoxy
White acrylic paint
Small paint brush
Decorations to add to the top of the lid, anything will work so be creative:

holiday decorations left over from other projects
polyfill batting for snow, pine cones from the yard
silk poinsettia flowers
fake holy berry
pictures
a battery operated plastic holiday candle (bought at the dollar store)
an old wooden sign (bought in a yard sale for 25 cents)
Instructions:
Simply hot glue or epoxy all the decorations of your choice to the tin cans lid the way you like.
First, lay down polyfill fiber batting to the lid for snow and then glue it on.
Add battery candle stick to the center and glue it in place at its base.
Add pine cones around the candle stick in a circular motion, and glue them on as well.
Add holiday pictures of holly berries & silk fake floral poinsettias tucked in between the pine cones
Nail on the wooden holiday sign to the tin cans outer top edge.
Then paint the top of the candle stick bulb and the tips of the pine cones with white acrylic paint to simulate snow to complete a wintry snowy scene
Place this near a door entrance or anywhere you like to welcome your guest with a warm holiday cheer.
By Julie from Tennessee
Using the empty popcorn containers for storage of holiday things or if you need a small trash can for a room. You can spray paint the container and add whatever embellishment you want to match the decor!
By Kathy from Owensboro, KY
Over time, we have been gifted several themed popcorn tins. They have worked great for storing our Christmas tree decorations in. The one with angels on it, holds all our angel ornaments, while the one with snow covered homes stores all our special homemade ornaments. The one with Santa and his sleigh store all our Santa ornaments, while the one with the old classic cars on it stores all our sports themed ornaments.
My all time favorite has antique dolls on it and holds my mini doll ornaments. We have one with snowmen on it that holds all the Christmas coloring books and crayons for when our grandsons visit. These are then stored in rubber totes. After the tree is all decorated, we just set all the pretty tins around the room, for extra holiday beauty. Easy peasey when its time to pack them all away again.
By Sue Lowe S. from Taylor, MI
I use mine to keep yarn in. There is one by my chair and some in my craft room. It stays clean and pets can't bother it.
Read More...
I use large popcorn tins I receive at Christmas to store my large bag of dog food. They keep the food fresh and away from unwanted critters.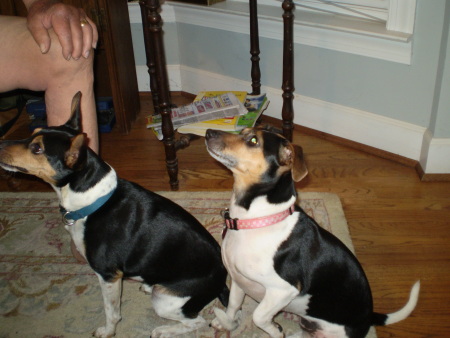 Read More...
We always used them for storing toys like my son's LEGOs and my daughter's Barbie clothes.
Read More...
Get those empty popcorn tins from Christmas with snow men and other Christmas stuff on them. Put them to good use.
Read More...
Use them on the porch or deck in summer as an ashtray for people who smoke. Fill with sand or cat litter. Use a litter scooper or an old strainer for cleaning it.
Save the lid to cover when wind comes up or rain, or when not in use.
Read More...
Once I recycled my popcorn tin as a trash basket, I wondered what I could do with the lid. I decided to use it to catch any water that drained out of my large houseplant. I put some felt furniture protectors on the bottom, so it wouldn't scratch my coffee table.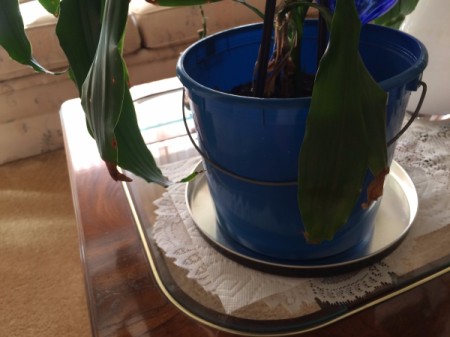 Decorative gift food tins can be repurposed in a number of ways. A simple one is to put it to use as a trash can. This is a page about using a popcorn tin as a trash can.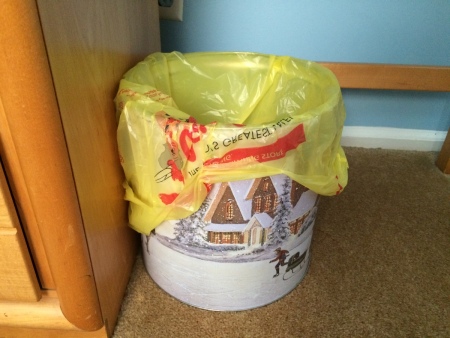 Archives
ThriftyFun is one of the longest running frugal living communities on the Internet. These are archives of older discussions.
This is the time of year those pretty, colorful tins are available with 3 kinds of popcorn inside. They make wonderful inexpensive gifts as most people love to eat popcorn. Afterwards, these containers can be used to house most items around anyone's home. They're very useful items.

They can be used at someone's fireplace or wood stove to hold kindling. They can be used to hold magazines or knitting supplies by someone's arm chair or sofa. They can hide away your Christmas lights until next year. They can hide small to medium sized toys, etc., plus being decorative to your home, at the same time. Just attach the lid and no one has to know what's inside,or just leave open, all to your liking. Or use the empty tin to hold a gift for your special someone.

By Terri H. from NV

Answers:
Uses For Popcorn Tins After The Popcorn Is Gone
One of those large popcorn tins will hold a good sized bag of dry dogfood. I used a smaller one for doggy treats. My cockamation would stand and look at that one till I took out a treat for her. (12/04/2007)

By Marty Dick
Uses For Popcorn Tins
One of the spare popcorn tins I had left I used for a friends' wedding as a place to deposit greeting cards/gift certificates. Because I was covering it with fabric (brocade), I sanded the tin, thoroughly cleaned it, and used double stick carpet tape to adhere the fabric to the tin. I recycled the original lid and made a large diameter, but not too tall, cone made of poster board for the lid and place to deposit the greeting cards. I covered the poster board cone with brocade too. I embellished the edges with strung pearls, added silk flowers and a couple of doves. It was quite beautiful and useful, and reusable! (12/04/2007)

By Shirley
Uses For Popcorn Tins
Both of my kids use old popcorn tins for the wastebaskets in their rooms. (12/04/2007)

By Mary Ellen
Uses For Popcorn Tins
I have used such a bucket, only it is a Halloween bucket, for years to hold the Halloween treats... it does tend to gain some rust with the years (I've used it for about 9 Halloweens now), but the outside is still an added treat to the trick or treaters. Works great. (12/04/2007)

By jaxinman
Uses For Popcorn Tins
I use the popcorn tins for storing my dog food too.I store my homemade laundry soap in one, too. I think I was lucky. I got 1 at a garage sale for free. Then I got one for .25 cents. Love them for storage. (12/04/2007)

By SUZIN
Uses For Popcorn Tins
You can use them to store birdseed and as flower pot covers for large plants. Use them to store hurricane/bad weather supplies(just grab and go). Fill with emergency supplies and keep in the trunk of your car. (12/04/2007)

By joan pecsek
Uses For Popcorn Tins
I line them with a plastic bag and use them as wastebaskets. We've also used one to hold a bag of ice melt. (12/04/2007)

By Maryeileen
Uses For Popcorn Tins
The smaller versions are good to put chips in for a party. (12/05/2007)

By Sarah
Uses For Popcorn Tins
I've used the popcorn tins as traveling toy boxes for the kids while camping. Each kid had their own tin and was expected to take care of the toys it contained. (01/01/2008)

By Echo Moon
Uses For Popcorn Tins
I cut holes spaced around the sides to make a hen and chicks planter. Turned out pretty good. (01/05/2008)

By J in NE
Uses For Popcorn Tins
Popcorn tins are wonderful! I have used them for many of the purposes already mentioned. This year I am filling them with popcorn, cocoa, movie-type candy, cookies, other snacks, a $5 Blockbuster video card, and a family game for our friends. I have saved all brown paper that I got this year and will use our small shredder to make the filling for the container. Very inexpensive and a fun gift to open and enjoy for the entire family!
I also use a pretty winter scene tin to store my homemade powdered laundry soap. (10/25/2008)

Uses For Popcorn Tins
I think it would look cute as a snowman. Paint it out and make some kind of hat for the top. Tie a scarf around, so many cute things you can do! As far as garbage cans go, paint it out in a fun color for a kids room and add dots or wallpaper as trim or stick on flowers and such have fun with it! (11/30/2008)

By Kim
Uses For Popcorn Tins
Since we recycle Christmas bows from year to year, the tins make a great storage container for them without letting them get smashed, plus the typical holiday decor on them lets me know what is inside. You could also put name tags in with the bows. (12/12/2008)

By ginger
Advertisement