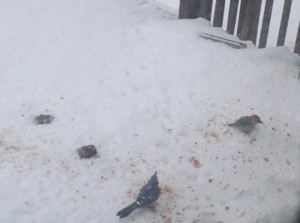 Make some really good friends this winter of the birds that visit your yard or nest nearby. With all the snow we have and more to come, the birds (with no help from their people friends) have a hard time. Toss leftover bread, cake, broken down chips or other leftovers out to them. They will love you for it.
You could also turn the bird treat into a quick craft for kids by coating an apple or a pinecone with peanut butter and then rolling in crumbs or feed! Then, stand silently out of the way with your camera ready and you will love the photo ops!
By melody_yesterday from Otterville, MO
February 12, 2010
0

found this helpful
Although the apples, peanut butter and feed are great ideas for the birds, the bread is not. Bread does not have nutritional value for birds.
If a small bird fills up with bread on a cold winters evening it may not survive till morning as it will not have gained enough energy from the bread to fend of the cold.The bread won't provide the necessary protein and fats necessary to keep their little body warm. Save the stale bread for your meatloaf.
January 6, 2014
0

found this helpful
Very bad advice to feed bread or cake to birds in the winter. The empty calories in these foods can actually kill them. Stick to seeds and nuts and suet.
To make bread crumbs, toast the heels of bread and chop in a blender. You can use any bread that has gotten dried out; just keep in refrigerator until you have enough bread to make something (make sure it isn't moldy).
I use it to put in my soup. Place in oven at 375 degrees F until it start to get dried out. Remove from the oven. Try them in your soup. It is delicious. This saves a lot of money, and you don't throw away food.
By mamacrafter from TN
March 25, 2011
0

found this helpful
I dry anything even remotely related to bread, such as buns, muffins, pancakes, wraps, etc., etc. The crumbs are then used for breading meat, as an extender in meatloaf or meatballs or as a moisture absorbent layer in a cake, between fruit and cake base. Not to worry about a little sweetness in your crumbs - it goes well, even with your meats. Consider that onion soup mix, that popular seasoning pack, also contains caramelized sugar. Looking into cooking during the war years or during the depression would no-doubt give numerous other ideas as to bread crumb uses. Trying not to waste is a good thing. Sometimes we waste just because we can, and that is not wise modeling.
I am looking for ideas for using leftover bread, either slices or bits and pieces. I already make croutons and dry and crush as bread crumbs. What else?
By Anne-Marie from NM
February 12, 2011
0

found this helpful
You can make breakfast bread pudding as well as savoury or dessert. Or Place buttered slices over cooked vegetable or veg and meat then sprinkly cheese on top and put in oven. French toasts with egg, dry off in oven on low heat, use as melba toast Alternative uses, use bread rolled up in balls to clean off marks from wallpaper or cut into fingers to clean venetian blinds.
February 12, 2011
0

found this helpful
My mother would butter it, cube it, and put it in stewed tomatoes, with a touch of sugar. She would stir it in lightly when the tomatoes were hot and bubbly. It was actually real good. You can do this with fried apples, too.
For stuffing mix, put the dried bread cubes in a big, resealable bad. Add dehydated onions and herbs, and powdered chicken or beef boullon. When you want stuffing, make it like you do Stove Top. It's better than store bought.
February 15, 2011
0

found this helpful
Thank you to all responses and your suggestions as well as link to previous archives messages.
February 15, 2011
0

found this helpful
I save it until I have enough for bread pudding. There are many recipes on line for this.
February 18, 2011
0

found this helpful