Uses for Old Pantyhose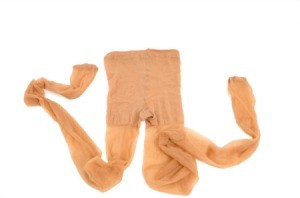 Even with a run or snag your panty hose can continue to be useful in many ways. This is a guide about
uses for old pantyhose.
Solutions
Share on ThriftyFunThis guide contains the following solutions. Have something to add? Please share your solution!
I use worn out pantyhose to separate my onions. I put an onion in the toe of the pantyhose then tie a knot in it. Then I add another onion, tie another knot and so on until I run out of a pantyhose leg. Then I take the leg(s) of onions and hang it from a hook in my pantry (or closet, whatever).
When I need an onion, I cut it off from underneath the next knot. It's quick, it's easy and it keeps dried onion peelings from getting all over your floor
By Kimberly
July 24, 2015
0

found this helpful
Brilliant thanks.
Read More Comments
Do you hate panty lines as much as I do? I have tried the "thong" approach, and let's just say, they are not for me. I created an answer that also recycles too. When I get a run in my pantyhose, I don't through them away; I cut off about five inches off the bottom of the legs. I hold the pantyhose together so that they will be even after they have been cut.
When I want to wear a pair of slacks, I reach for my footless pantyhose. The benefits are that I get that extra, much needed tummy support, (After birthing four kids, who wouldn't!) I can wear sandals, and most important to me, I don't have the panty lines. The pantyhose can also be used the same with walking shorts too. I just cut off more of the pantyhose legs and they give me the same support and no panty lines.
I hope you try it and enjoy the same benefits I have without buying those expensive undergarments which still tend to leave panty lines in one place or another.
By Laura R. from Tampa, FL
Read More Comments
Cut up old panty hose into small strips and use those to tie tomato plants to the stakes.
Read More...
June 13, 2005
0

found this helpful
Need an extra large rubber band? Cut around the elastic top of an old pair of panty hose. Two of these crisscrossed, work fine when bundling newspapers. Use one to hold a bag in place in a garbage can.
Read More...
I've discovered that when collecting rain in your rain barrel, you can put a leg from a pair of pantyhose over the end of your downspout. It keeps the water clean, especially if your gutters have any debris in them. I hold the pantyhose material on with an elastic band, which makes it easy to remove and rinse off when it gets dirty.
Read More...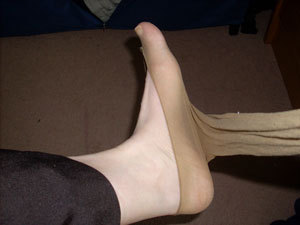 Make your own "no show" socks. Cut the panty part off the pantyhose. Stretch the open end of the cut off stocking over your foot. Cut off the excess stocking off, leaving a seam allowance of 1/4 inch.
Read More...
To protect your garden produce from insects or animals that love to sample, cover each (squash, lets say) with a length of panty hose. Close the top and bottom of the hose by knotting or tying with string so there are no openings for critters.
Read More...
February 7, 2005
0

found this helpful
Use old, clean pantyhose to gently adhere plants to stakes while they are growing. Simply stretch pantyhose and cut both legs into rings.
Read More...
Related Content