Using Rubber Gloves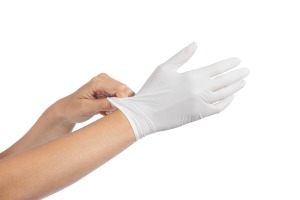 This is a guide about
using rubber gloves
. There are many ways to use latex gloves to keep your hands clean and protected.
Solutions
Share on ThriftyFunThis guide contains the following solutions. Have something to add? Please share your solution!
I'm right handed and while using rubber gloves, I wear out the right hand glove before the left one. When I have two perfectly good left hand gloves, I turn one inside out and instantly I have a right hand glove to go with my other left hand glove. A little bath powder sprinkled inside the glove makes it comfortable and easy to get on and off. Works for me.
By hate litter from NC
Instead of keeping my rubber gloves in the kitchen drawer, I hang them on the stove, using magnets. That is where they stay until I use them again, which is two or three times a day. Since I started doing this, I have noticed that my rubber gloves last a lot longer.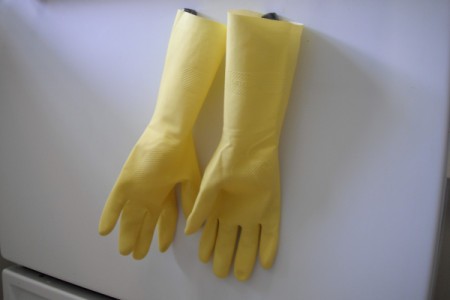 Comments
November 28, 2016
0

found this helpful
Top Comment
I have concluded that they need to be completely dry before storing them or the rubber will soften. Just drying them with the dish towel and then storing them in the drawer caused them to deteriorate faster.
The gloves I am wearing now have stretched and have actually gotten too big for me. Usually, by this time, I have long punched a hole in them or they have torn. Time for me to switch to a new pair. This pair has served me well.
Maybe I can use them over a pair of gloves for working outside this winter.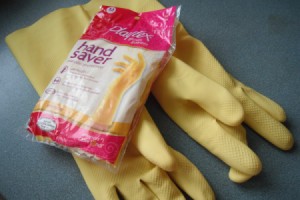 Go to Sally's Beauty Supply and buy yourself a box of beauticians' rubber gloves. Put them on before mixing meatloaf ingredients and other foods that are best mixed by hand, and save yourself from very messy hands and food under your fingernails.
Use them also when painting, cleaning (especially toilets), changing soil in houseplants, and many other messy tasks. It's also easier to grasp slippery things with them on. If appropriate, you can wash them with soap and water while they're still on your hands and use them again, or if used for nasty chores, throw them away; they're cheap enough.
By beechiegirl1953 from Fair Oaks Ranch, TX
I have found the best thing for removing dog hair from furniture is rubber gloves. The texture in them helps pick up the hair easily so you can vacuum it off. The dollar store has 2 pair for $1.00.
By Susan from Gaylord
To take the hot turkey from the pan, use a new pair of rubber gloves. For the amount of time you will be holding the turkey, the heat does not go through and you have a tight hold on the turkey so you won't drop it or it won't fall apart (like mine does) before it gets to the cutting board. Keep on smiling!
Source: Me. When I was looking at the overcooked bird.
By msweed from Ontario, Canada
When potting plants, I use the thin type rubber gloves that you can buy in a box and toss when finished. Works great for weeding too because you can "feel" what you are doing much better. I am not as inclined to pull something other than a weed if I have them on.
By Elaine from Iowa
Here is an easy way to put on rubber gloves. Just sprinkle baby powder inside the gloves. They will slip on very easily.
Questions
Ask a QuestionHere are the questions asked by community members. Read on to see the answers provided by the ThriftyFun community or ask a new question.
Do you wear rubber gloves, and what for?

Matt from Seattle, WA
June 24, 2008
0

found this helpful
I wear rubber gloves for ALL dish washing and ALL wet cleaning. Obviously, I don't wear them for dusting or sweeping! I have a pair only for dishes and another pair for dirty cleaning.
June 24, 2008
0

found this helpful
I don't use "rubber" gloves, but I have disposable ones around for any messy job, especially in the kitchen. I REALLY HATE getting meatloaf mix, bread dough etc. under my nails!
June 24, 2008
0

found this helpful
I don't wear rubber gloves for anything. I find them cumbersome and can clean things better with just my bare hands.
But I do wear those disposable clear plastic gloves when I have a painting project. And I wear cloth garden gloves for gardening and yard work.
June 24, 2008
0

found this helpful
I wear rubber gloves for washing up the dishes and also as I look after my parents I use a pair for doing the laundry as I never know what I'm going to find among to dirty clothes - also for other cleaning jobs and for cleaning out the cats littler trays
June 24, 2008
0

found this helpful
Like bluealt I use mine for painting...when I have small wooden pieces to paint, I find it easier to put on the gloves, put the paint on the glove and then use my hand to paint with...much easier than a brush for small items. I get them in a large box from Home Depot.
Read More Answers
Photos
Share on ThriftyFunCheck out these photos. Click at right to share your own photo in this guide.
I've tried just about every tool on the market for grooming my cats. Having spent upwards of $30 for the Furminator, I found that although it does a good job of removing fur, just a simple, soft, rubber brush does just as well and obviously feels better to my beasts.
The Furminator had them howling and in "escape mode" at first stroke. And that was with the lightest possible pass over their fur. I don't know if its the static electricity the device generates or the sharp teeth that literally pulls hair out, no matter how lightly one applies the comb.
My two cats are older rescue cats with a calm nature. It is not like them to fight any kind of grooming or attention. They are happy to lie calmly as I run a soft rubber brush over them. I collect just as much fur, with no fuss, no distress, and no need to hold them down.
Save yourself some money and discomfort for both you and your pets. Go with a simple pliable rubber brush. Your feline fellas will feel loved and cared for and look forward to their twice weekly grooming.
By lostonitall from Cincinnati, OH
Related Content