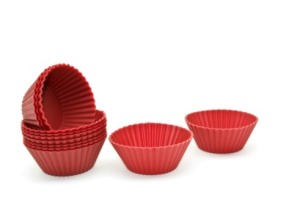 Silicone bakeware is easy to clean and store making it a must for many cooks. This is a guide about using silicone bakeware.
Ad
---
Solutions: Using Silicone Bakeware
Read and rate the best solutions below by giving them a "thumbs up".
Anyone who uses silicone baking mats or silpats to bake sticky cookies or to make candy knows that, once you wash them in hot, soapy water and rinse them, you might be stuck as to where to dry them thoroughly before storing. My solution is to simply put the damp mats right back into the oven on oven racks. Most likely, the oven will be warm from baking anyway, and the mats dry nice and flat in no time.

By Ginny [26]
Silicone pans can be difficult to handle when full of batter or dough. So when using silicone bake ware I put the silicone pan on an upside down cooling rack before filling it with batter or dough. The cooling rack allows the heat to circulate properly and makes the silicone pan easier to handle. I turn the cooling rack upside down to prevent the "feet" of the rack from getting caught on the oven rack when sliding it in and out of the oven.

By Nicoletta from San Diego, CA
I have found that using silicone mats for baking is the best. However, these sheets aren't the easiest things to store when you are done with them. So my solution to this dilemma was to use an empty paper towel roll and roll the silicone sheet up and stuff it inside. I find that way I can simply slip it into a drawer or cupboard.
By Tania
Give a "thumbs up" to the solution that worked the best! Do you have a better solution? Click here to share it!
Questions
Here are questions related to Using Silicone Bakeware.
I bought a silicone baking pan and was wondering if I need to grease it? Do I have to put a cookie sheet under it when I bake with it? It seems so flimsy.
By Sharon from Long Island, NY
AnswerWas this interesting? Yes No
Ad
---
---
Most Recent Answer
By susan winship 4 405 11/24/20100 people found this helpful
Don't grease them. Do put on a cookie sheet for stability.
---
I just bought a blue, flexible, fluted bowl with a funnel in the middle, as used for angel food cake. I bought it at a thrift store and thought it was a Jello mold, but someone told me it is for baking cakes. Can anyone advise me how to use this? I am afraid of it melting in the oven. I believe it is made of silicone. I look forward to your replies. Thank you.
By Mary
AnswerWas this interesting? Yes No
Ad
---
---
Most Recent Answer
By Sandy Kinney 24 12/14/20110 people found this helpful
I have one of these blue silicone bundt cake pans, too. I really like it. Do NOT use no stick spray. The cake comes out very nicely after it is baked. Be sure to put it on a cookie sheet or pizza pan when you put it in the oven. It is too flexible to just be on the oven rack.
---
Do I have to use cooking spray on silicone bake pans before I bake a meatloaf?

By Jan
AnswerWas this interesting? Yes No
---
Most Recent Answer
By Stephanie 151 239 02/10/20150 people found this helpful
Nope! The beauty of silicone is that it's completely non-stick.
Would you grease a silicone bread pan? I am making zucchini bread.
By Jan H from north TX
Archives
Thrifty Fun has been around so long that many of our pages have been reset several times. Archives are older versions of the page and the comments that were provided then.
I would like to know if anyone has had any experience with the silicone bakeware. I had a loaf pan given to me, but with no instructions. Do you have to grease it at all? Does the food you bake come out easily or break into pieces? I'd kinda like to get a muffin tin if they would come out OK. I would appreciate any info.

Barb from Liberal, MO
Feedback:
RE: Using Silicone Bakeware
I have a set of Silicone Backware and I don't care for it. I find it difficult to use as you must put a cookie sheet under the silicone to keep it stable. I find that things stick to it just as with "normal" bakeware. I can't seem to scrub it clean as it's too "soft" to hold on to easily.

Personally, I don't like it. I bought it on sale so I don't feel too bad, but I would not buy anymore pieces.

Bonnie (01/07/2009)

By Fulinn
RE: Using Silicone Bakeware
I have silicone bakeware and I really like it. My instructions said not to spray it with Pam or any other type spray, but to grease it with butter. I have used it for corn bread, meatloaf, cake, and other things. (01/09/2009)

By Phyllis
RE: Using Silicone Bakeware
I agree that it is not very good. The loaf pan doesn't hold it's shape and the muffin tins stick badly. I gave mine to the kids to play with. (01/09/2009)

By catastrofy
RE: Using Silicone Bakeware
I enjoy using my silicone bakeware. I have the bundt pans and use them to make my cakes in. I haven't noticed any bad taste and cakes come out easily. I have the small star pans that I use for kid's birthdays.
(01/10/2009)

By Karen
RE: Using Silicone Bakeware
I don't understand all the negative replies. I've had mine for several years and I love it. I do use a cookie sheet under all my silicone products. I still use liners with my cupcakes, but that's a personal preference. The instructions were to spray with Pan before using the first time, but after that just normal hand washing keeps it perfect. (01/10/2009)

By duckie43
RE: Using Silicone Bakeware
I have the cookie sheets and I love them. I lay them on top of the metal pans and have no problem doing that. I have the muffin ones too, they are hard to clean, but otherwise work OK. I lay the sheets in the bottom of my sink and use the Dawn grease cutter cleaner on them. When dry I roll them up and use either toilet holders or paper towel cardboard to store them. Nothing ever sticks. (01/10/2009)

By MsWolfe
RE: Using Silicone Bakeware
You must always grease it. I use a brush dipped in olive oil for greasing. When the pan cools off, it is safe to turn upside down and remove the contents. I put the bakeware in the top rack of dishwasher. It usually needs a little extra wiping right after coming out of the dishwasher. Depends on what I baked in it.
I know that they advertise that it doesn't require greasing, but that's not good advice.

When I bake banana bread or muffins, after removing the loaf I leave it turned upside down, letting the heat rise up through the loaf, to continue heating. When it cools, I can slice. (01/10/2009)

By cookwie
RE: Using Silicone Bakeware
I use a silicone cake pan at work almost every day. I spray it with Pam and it cleans up very well. I also have silicone cupcake bakers. They're great. (01/11/2009)

By Rosee
RE: Using Silicone Bakeware
I have several brands of silicone bake ware and I love them all. I do not use any spray. I use only butter. The baked goods come out beautifully and they wash as easy as can be. I do butter them each time I use them. It is easy to do. Put a tab of butter on a piece of paper towel and start smearing the heat from your finger tips does a wonderful job of softening and allows for a smooth spread.
We do, muffins, cupcakes, pound cakes, cheesecakes (cool and then freeze just pops right out). Regular cakes. Great products. Love them. (01/12/2009)

By caraing
RE: Using Silicone Bakeware
Sounds like there are two sets of responses in this thread. One for the silicone bakeware which is flexible and another for the silicone lined bakeware that is not.

The flexible silicone bakeware performs wonderfully with most of the limitations mentioned above. The new silicone surface stainless steel bakeware is much different in that it has the features of traditional bakeware with the non-stick features of Teflon, but with none of the drawbacks. This is the stuff that I would suggest.

yogiwan
(01/14/2009)

By yogiwan
I am trying to make cupcakes in a silicone pan and every time I go to remove the cupcakes, they are still sticking and tearing apart. I have it with and without cooking spray to no avail. I am letting them cool, but inside they are still a little warm. How long should I let them cool? What am I doing wrong?
By Susie
Feedback:
RE: Using Silicone Bakeware
Try using paper cupcake liners. My silicone bake-ware sticks really badly! (12/22/2009)

By catastrofy
RE: Using Silicone Bakeware
I just bought 2 pieces of silicone bake-ware; muffin tins and the small cake pan. I decided that I didn't want to mess with a knock off brand, so I went to an expensive place to buy them. They work great for me. I don't mind the cookie tin that I need to set them on. They are very easy to clean, and the food will pop right out. I sprayed one with Pam, and forgot to spray the muffin "tin" but it worked fine without spray. I will use them a lot. (12/22/2009)

By Karenhope
RE: Using Silicone Bakeware
Please note: plastic, silicon, Teflon, etc., all break down when heated. These chemicals find their way into your food. Is this something you want your family to eat? If Teflon is over heated the fumes will most likely kill a bird, kind of sad if you have one as a pet. Just because they make a product does not mean it's 100% safe. As women we need to protect those we love. (12/22/2009)

By Amandablue