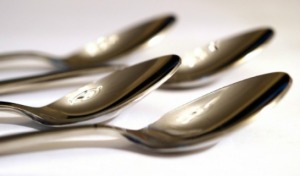 Make sure your silverware is clean and easy to put away. This guide is about washing silverware in the dishwasher.
Questions
Here are questions related to Washing Silverware in the Dishwasher.
How should silverware be put in the dishwasher? Should the silverware be put in handle up or down?
By Larry
Are there any baskets that could be used to wash a whole load of silverware in our dishwasher for a large church gathering other than just the small basket provided with the dishwasher? The complete load would be silverware.
By Ron O
Can washing dishes in the dishwasher with stainless steel ware cause graying on everything? Also graying inside the dishwasher?
By Roberta D.
Should silveware be washed in a dishwasher?
By Ray from Ontario, Canada
---
Most Recent Answer

By Louise B. [5]02/13/2010
I wash all of my cutlery in the dishwasher. I don't pre-rince anything either, unless it is egg that has dried on. Sometimes a few pieces come out with food still stuck on, but that is usually if the dishwasher is exceeding full. I use stainless steel cutlery all the time, and silver plated cutlery occasionally. All go through the dishwasher perfectly fine.
Solutions: Washing Silverware in the Dishwasher
Do you have knowledge about this guide topic? Feel free to share a solution!
Archives
Thrifty Fun has been around so long that many of our pages have been reset several times. Archives are older versions of the page and the feedback that was provided then.
It's okay to wash your silverplate items in the dishwasher, just not with any of your stainless steel items. It doesn't hurt the silverplate, but it will pit the stainless steel.
By Brenda Cole
Editor's Note: Here's a note about washing silverware from the Silver Superstore website.
"Dishwasher Tips: Before you use the dishwasher, wash your silverware by hand the first four or five times of use. This will prevent the minuscule amount of copper from forming brown spots on your sterling. Rinse all excess food off of the silverware, and do not let sterling and stainless pieces touch. Avoid lemon-scented detergents, those containing chlorides, and use slightly less than recommended. Remove the silverware before before the dry cycle, and hand-dry with the soft cloth."
They also have more silverware cleaning information at: http://www.silversuperstore.com/silver_care.html
When you put your silverware into your dishwasher, try grouping it in each compartment by the type. That way you can take out a section at a time and put all the spoons away together, and the same for forks and knives as well. Makes emptying the dishwasher go a lot faster!
By Robin from Washington, IA

---
RE: Grouping Silverware in the Dishwasher
I almost never do this, as spoons and forks have a nasty way of "nesting" and then they come out dirty with food stuck between them. I have taught the kids to separate them well so that this doesn't happen. (05/24/2006)
By susabelle
RE: Grouping Silverware in the Dishwasher
I once thought that would make my life easier but NO, it is not easier. They nest just as Susabelle said. (05/24/2006)
By meoowmom
RE: Grouping Silverware in the Dishwasher
I agree about the nesting. In fact, most articles and your dishwasher handbook will tell you to be careful of this. When we load silverware, we just go down the rows - putting a fork in each one, then a spoon, then a knife (you get the picture). That way, they are staggered and have a better chance for the water to get to them for cleaning. (05/24/2006)
By ccarnow
RE: Grouping Silverware in the Dishwasher
putting the spoons together can sometimes cause problems when the spoons stick together (07/01/2006)
By wyoKrista
Nesting Spoons
I'm sorry but I don't believe in this theory of "nesting" spoons. I believe that the force of the washing thingymebob keeps them spoons from staying stagnant in the silverware dishwasher tray thingy. (09/29/2006)
By Allen