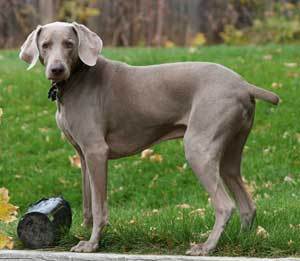 Breed Description:
Combining endurance and speed, the Weimaraner is an outstanding hunting dog breed. Alert, graceful, with dignified features and a kind expression, the Weimaraner dog breed is blessed with an excellent sense of smell and an effortless, smooth gait.
Group: Sporting Group
Purpose of Breed: Tracking large game
Country of Origin: Germany
Average Size: Ranges from 22-27 inches tall and 70-86 pounds. Color(s):Typically range between shades of mouse-gray to silver gray.
Coat Type: Coats are short, smooth and very dense. This dog breed is an average shedder and requires minimal brushing to keep its coat looking neat.
Grooming: The short sleek coat of the Weimaraner requires moderate amounts of brushing to stay in top form. This breed requires standard care for eyes, pads and nails. Ears should be examined and cleaned regularly.
Exercise Needs: Like most large hunting dogs, Weimaraners need substantial amounts of physical exercise and mental stimulation to maintain their health.
Temperament: The breed is alert and friendly. An energetic and strong-willed hunting dog, the Weimaraner needs an active owner that will take the time to properly train and socialize it. In addition to being a good hunting partner, the alert and responsive Weimaraner also makes an excellent watchdog. This breed is protective and loving toward its family, and if socialized properly exercises ample patience with children. Other family pets, however, may or may not be seen as prey and should not be left alone with this breed unsupervised.
Common Ailments: Susceptible to hip dysplasia, entropin, dermoid corneal cysts, Von Willebrand's Disease, Factor XI deficiency and gastric torsion.
Life Expectancy: Avereages 10-13 years.
Trivia: President Eisenhower owned a Weimaraner named Heidi while living in the White House.
More Information: Weimaraner Club of America
March 5, 2009
0

found this helpful
Speaking from firsthand experience, there is absolutely no reason why a first time dog owner couldn't raise and care for a Weimy, successfully.
It is just like any other important decision -- do your research thoroughly before jumping in. Read about owning and caring for dogs in general and read some books on the breed itself. Talk to and visit several breeders, asking plenty of questions.
Finally, be honest with yourself! Are you impatient? Do you find it hard to be consistent? Are you a professional couch potato? Do you prefer your 'alone time'? Then perhaps this isn't the breed for you.
However, having said that, if you answered, 'yes' to any of the questions listed above, you should strongly reconsider getting any breed of dog.
Weimy's are clever, loving and incredibly energetic. They require plenty of socialization, daily excersise and have a strong need to be part of the pack. Your consistency is a must because they are clever and will every now and then test to see if the boundaries/rules are still intact.
Just do your research and be honest with yourself. You can't go wrong. It took us over a year before we made our decision and we couldn't have made a better choice. She is a wonderful addition to our family!
NOTE: If you can, get a copy of ALL ABOUT THE WEIMARANER by PATSY HOLLINGS. It is a great first step to learning about the breed. Good luck!