These beautiful, energetic dogs are raised to track big game. This guide contains weimaraner - breed information and photos.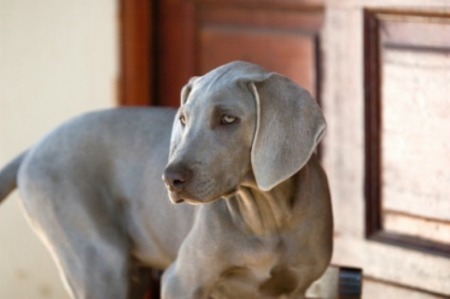 Pooter is a one and a half year old Weimaraner. My husband and I were walking through the French Quarter of New Orleans, one Christmas. We saw a man with a box full of weimaraner puppies. All girls and one boy. We took the boy. $100 for a pure breed is good, but they had no papers (not important to us).
We took him to the vet for a checkup. He told us all the "little issues" Pooter had. Inverted eyelashes (they fixed themselves?), a congenital spinal issue that does not allow him to run, sit or walk like most dogs (It doesn't matter to us.) The vet said that Pooter has no idea he has a problem, so it's not a problem. We loving refer to him as "special."
He likes to play with his giant stuffed lamb and chew on his kong. He does love to eat anything. He loves fresh veggies and fruit. The vet says to keep away from onions and chocolate, but I am sure he would eat that too. His favorite is avocado and red bell pepper. He loves bananas and green grapes.
He came into our life fore a reason. A few months after we got Pooter, our older Shepard, Baby, passed away from bone cancer. It devastated my husband, since he had helped Baby come into this world. Pooter will never fill that dog bed, but he is quite entertaining and loving. We are lucky to have him in our life.
By tallblondenurse from Troy, Montana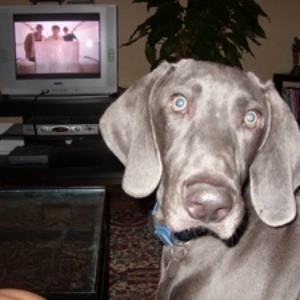 By GOGOSWIFE 2
Roxie is a 7 month old Weimaraner. We got our pet the end of July 2011, 4 days before we were to go in and deliver our third baby. She loves to fetch, all day long. She loves to run for the ball or stick non-stop. She is so smart. She is good with commands like sit, lay down, shake, and is getting better with roll over.
By GOGOSWIFE from TX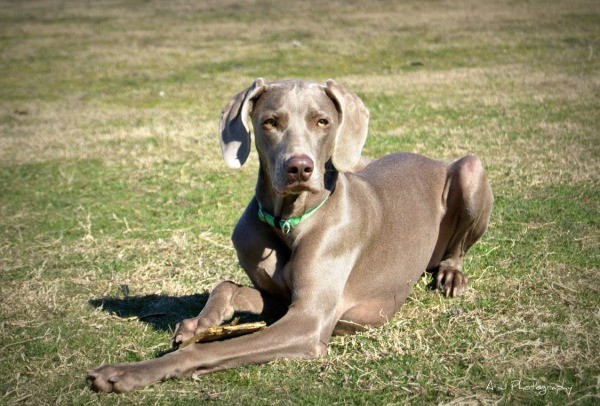 Tawny is 6 this year and she is a Weimaraner. Tawny came to us from a free ad in the local paper.
She loves to play tug-of-war with her brothers/sister (there are a total of 4 dogs in the family.)
Tawny is the perfect example of the free dogs out there. Why buy one when eventually, with patience, you can get just about anything you are looking for in the free ads.
By Ragteller from Tofield, AB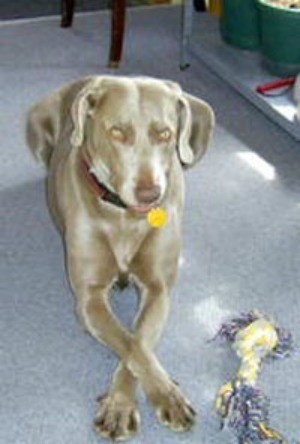 By EllenB 793 1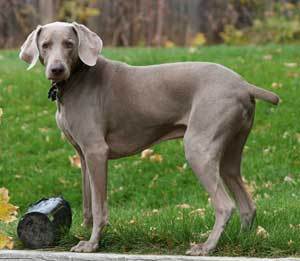 Breed Description:
Combining endurance and speed, the Weimaraner is an outstanding hunting dog breed. Alert, graceful, with dignified features and a kind expression, the Weimaraner dog breed is blessed with an excellent sense of smell and an effortless, smooth gait.
Group: Sporting Group
Purpose of Breed: Tracking large game
Country of Origin: Germany
Average Size: Ranges from 22-27 inches tall and 70-86 pounds. Color(s):Typically range between shades of mouse-gray to silver gray.
Coat Type: Coats are short, smooth and very dense. This dog breed is an average shedder and requires minimal brushing to keep its coat looking neat.
Grooming: The short sleek coat of the Weimaraner requires moderate amounts of brushing to stay in top form. This breed requires standard care for eyes, pads and nails. Ears should be examined and cleaned regularly.
Exercise Needs: Like most large hunting dogs, Weimaraners need substantial amounts of physical exercise and mental stimulation to maintain their health.
Temperament: The breed is alert and friendly. An energetic and strong-willed hunting dog, the Weimaraner needs an active owner that will take the time to properly train and socialize it. In addition to being a good hunting partner, the alert and responsive Weimaraner also makes an excellent watchdog. This breed is protective and loving toward its family, and if socialized properly exercises ample patience with children. Other family pets, however, may or may not be seen as prey and should not be left alone with this breed unsupervised.
Common Ailments: Susceptible to hip dysplasia, entropin, dermoid corneal cysts, Von Willebrand's Disease, Factor XI deficiency and gastric torsion.
Life Expectancy: Avereages 10-13 years.
Trivia: President Eisenhower owned a Weimaraner named Heidi while living in the White House.
More Information: Weimaraner Club of America
By Yana 3
Poncho is 4.5 years old and a Weimaraner. I got him at a pet store, 8-2004.

He likes swimming. He is very loyal and smart

By Yana from Brooklyn NY
Rogue Marie is an 8 year old Weimaraner. Rogue was orphaned at 5 weeks old, and came into our life very small, very scared and very unannounced. We quickly became mommy and daddy and she, our little girl. She fills our life with so much energy and so many laughs, it's hard to stay down too long!
Rogue's vocabulary is incredible. She can actually differentiate her toys. For example if she brings you her bear, you can tell her you want the "guitar." She'll go back and bring you the stuffed guitar :)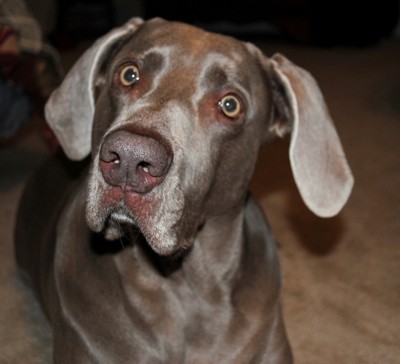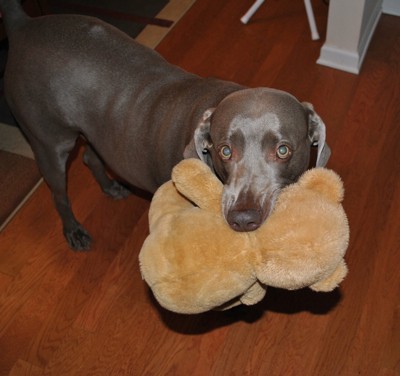 By Carol
Cassie is about two, and mostly weimaraner. Living in the country, it's not unusual for a dog to show up in our yard. Since we can't afford to keep every dog that shows up, we just refuse to feed them. Eventually they'll look for another place.
But this dog decided she wanted to live with us. One day, about 3 days after she showed up, I was straightening up my gardening wagon and heard a rustling sound behind me. When I turned, she was in the bag of Sevin eating her heart out.
Of course I got her out and found hubby and told him that we have to either call the pound (They charge $60 to pick up strays) or feed her. He asked me what I wanted to do - and I said, "Feed her."
Of course, the next day I took her to the vet for 'necessary conditioning' and the regular stuff! She's become a constant companion and really loves her home. She loves everybody, and is very gentle and patient with the grandchildren. She was very, very easy to train.
The vet says God dropped a diamond in my lap. She plays with our cats and loves to tree squirrels. I've never known her to catch or hurt one. She just loves to see the squirrels run up a tree. Cassie stays with me almost constantly. Doesn't matter what I'm doing, she's right beside me. When I'm working in the garden, she lays right at the edge (she knows her limit). If I'm sleeping, she's sits (or lays) and my feet until I awaken. When she wants something to eat or a treat, she'll sit at my feet and ''talk' to me. As soon as I acknowledge her need, she's happy.
By Norma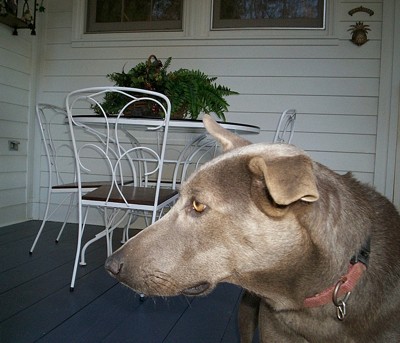 Foxy Roxie is a 4 month old Weimaraner. We got our dog from craigslist, 4 days before we had our baby. She likes to play with her ball and chew on bones .
By AJ from TX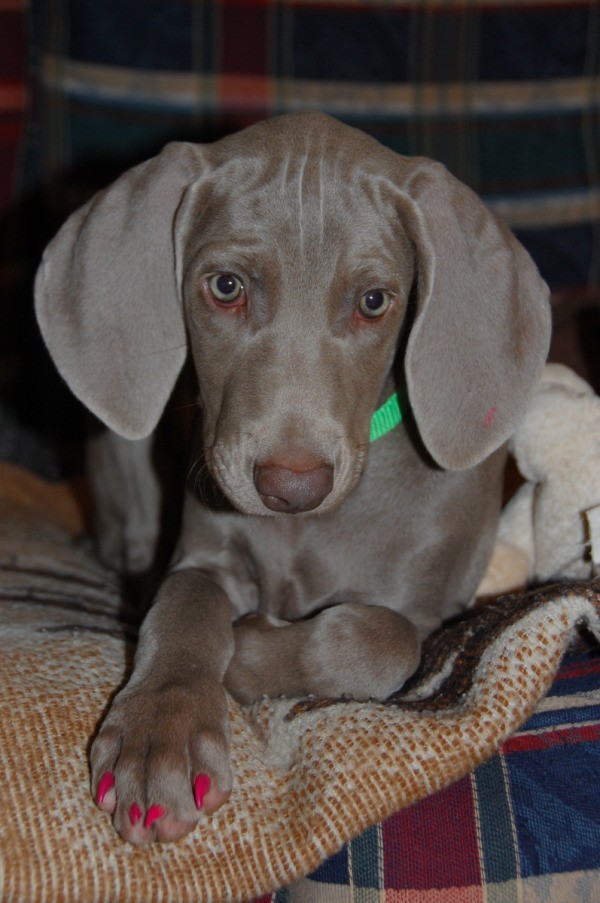 Roxie is a 1 year old Weimaraner. We got Roxie when she was 10 weeks old, 4 days before we had our third baby. She loves to fetch and watch over our kids when they are outside. She is a wonderful addition to our family, she fits in great!