Winterizing a Dog House
Dogs that use a doghouse during the winter months will appreciate your efforts to winterized their house, making it warm and cozy. This is a guide about winterizing a dog house.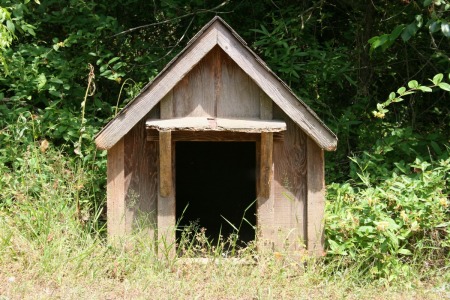 I have been feeding 8 feral kittens. Only one will come to me. I have an old doghouse that some of them are sleeping in. How can I winterize it? I live in Ontario and we get cold winters here. Has anyone used a heat pad from home depot? Supposedly you can heat it in microwave and place it in cat bed and will keep warm for 12 hours. I'm not sure that it will work.

Any suggestions will be helpful as we are going into the cold season soon.

jewels55
September 22, 2005
0

found this helpful
Best Answer
Get some straw bales and pile them around the house, with just a little opening in the front. Put some old blankets inside first though. Maybe even put some of the straw inside the house. Straw is a great insulator and will keep the kittens warm during the winter. They will cuddle together in the old dog house during the winter.
September 23, 2005
0

found this helpful
Best Answer
This might sound silly but we used to have an outside dog and we lifted the dog house up on concrete blocks and put a water bed heater on the floor of the doghouse and then put a thin layer of plywood over that. Then we put the thermostat on about 70-75 degrees and our dog stayed warm all winter. We live in Michigan and the winters get VERY cold! There were days that we wouldn't see our dog all day cause she stayed all warm and toasty in her doghouse.
August 16, 2008
0

found this helpful
Best Answer
I had an older dog that I had to move outside as he was losing a control.
I built a plywood dog house with Styrofoam sandwiched in a double floor made of presswood in a 2 x 2" frame. I added a staggered entrance. That is to say an extended roof and double wall. The walls were separated far enough to let my dog walk between them. The outer wall had the opening on the left and the inner one the opening on the right. The inner one was covered by a piece of hanging carpet to further cut the drafts. Inside I installed a heat lamp with a thermostat. The dog would sleep so that the heat lamp would aim at his haunches and keep him warm. As the dog house was on my patio next to my sliding glass doors, I installed a window from a garage sale so that he could stay in visual contact while warm in his house. It's a good idea to seal the joints with sealant and insulate the walls and roof to further cut the drafts and aid in saving energy.
September 25, 2005
0

found this helpful
Another idea is to get a large styrofoam cooler with lid at your local store, they should be on clearance at this time of year but they are inexpensive to begin with. Turn it upside down so the lid is on the bottom and then cut an entrance hole into the side. You may want to temporarily secure the lid somehow so that it won't get separated if the cooler should get knocked over, just make sure you can get it back open to change the bedding. Styrofoam is an excellent insulater, just try placing the back of your hand on it, you will feel the warmth. Add an old towel or soft throwrug for bedding, even newspaper. I'd definitely raise this up off the ground a couple of inches, so that it is not in direct contact with the ground, and with the cooler on a board or something similar to prevent the cooler's bottom from cracking due to the weight of the "growing" kittens. A nice plus is that styrofoam is also waterproof. For additional insulation you can cover the whole cooler with an old blanket or two, but do that only if the cooler is sheltered from the rain and snow as you would not want a heavy, wet covering on top. Hope this helps & bless you for caring to make a difference!
September 26, 2005
0

found this helpful
My brother is allergic to dogs so my family can't have one, but my sister and I have kind of neighborly adopted the neighbor's outdoor dog. The owners are fine having us walk him and play with him because they are busy and feel bad that they don't spend time with him. He is a Labrador Retriever.

He has a dog house, but I am not sure if it is enough. He is cold now and it hasn't even snowed yet. We live in Utah. There is no way that he could spend winter inside my neighbor's house. They have a baby and the dog is big, not house trained, and ruins everything in his path. Is there anything I could do to make the doghouse warmer?
November 7, 2015
0

found this helpful
There are many good suggestions in another link called Winterizing a Dog House on this website, which is to the right of this posting, as I am looking at it. Several of them suggest giving the dog some hay or straw bedding, which keeps them warm very well. You could also Google the question and get ideas for insulating his dog house. E-How and Instructables might have articles on this too. The poor dog needs a new owner, who will care for him properly, house train him, and let him stay in the house, but I'm glad that you and your sister care for him, at least. Good luck, and please continue to see to his needs - please don't lose interest.
Editor's Note: Here is the link that is mentioned above:
November 7, 2015
1

found this helpful
Preferably straw versus hay is best and it may take 2-3 bales for a large dog. You might get some from a farmer cheaper than going to a craft store or other business supplier. Staple plastic bought off the bolt at Walmart can be bought for small price and will cover the dog house exterior to help block biting wind and any snow/rain from seeping in. You can also nail down at the top of doghouse a carpet sample to cover the entrance and still allow the dog to enter/exit easily. These samples can be bought for a low price at any carpet store and request to buy one or two. Even putting down a carpet sample on the flooring will help some too. This will help block out additional wind/rain/sleet/snow and keep dog warmer. The dog house entrance should face against the wind; not toward it as well. You could also put a knitted sweater on the dog to keep it warmer while it's outside the doghouse. Our dogs notice the difference when they go outside without a doggie coat versus nothing and they are glad to have their coats on. All these things will help to keep the dog much warmer on the coldest of days and check the dog's drinking water several times a day to make sure it's not frozen. All this should be done by the owner of the dog, so I commend you for trying to improve upon the dog's standard of living.
Related
You are viewing the desktop version of this page:
View Mobile Site
© 1997-2016 by Cumuli, Inc. All Rights Reserved. Published by
ThriftyFun
.
Page
generated on October 21, 2016 at 11:38:38 AM on 10.0.1.156 in 3 seconds. Use of this web site constitutes acceptance of ThriftyFun's
Disclaimer
and
Privacy Policy
. If you have any problems or suggestions feel free to
Contact Us
.