Making Homemade Deodorant
Deodorant doesn't have to full of chemicals and not smell the way you would like. It doesn't have to be expensive reduce or eliminate body odor. This is a guide about making homemade deodorant.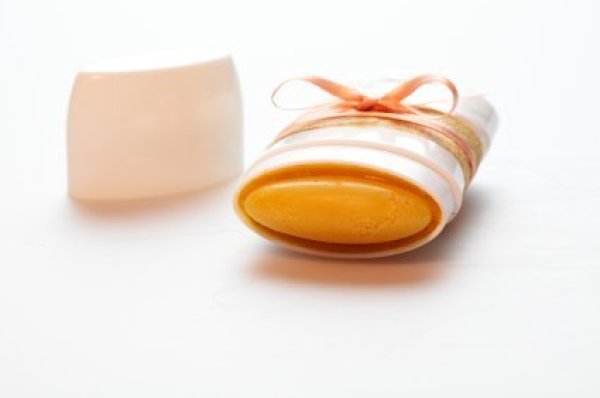 Filter

: All Articles
Sort

: Relevance
Did you know that sweat doesn't stink? Odors come because old sweat forms a breeding ground for bacteria. To avoid odors, you just have to keep your armpits clean! Use this between showers and after exertion. Shake the bottle before each use and pat dry afterwards. Spray whenever needed on your neck, chest, and armpits.
And just think of all the heavy metals you're no longer absorbing under your arms every day from the store bought kind! You may use this alone, or with a natural solid deodorant as well.
Total Time: A few minutes
Yield: About 1 cup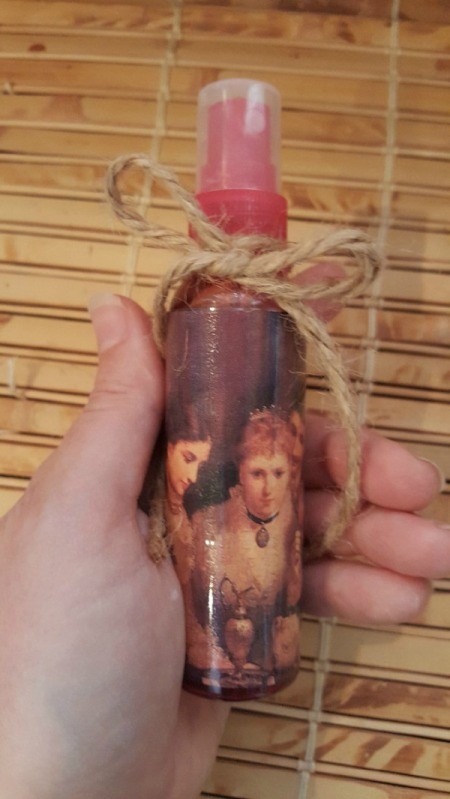 Supplies:
1 cup hot water
1 Tbsp baking soda
24 drops lavender, rosemary, or tea tree essential oil
small fingertip spray bottle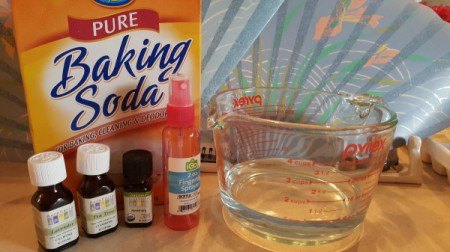 Steps:
Add your baking soda to a measuring cup with hot water. This will help to dissolve the soda.
Add 24 drops lavender oil. Mix everything well.
Using a funnel, pour some of your mixture into your spray bottle. This is a fine mist bottle and can be purchased at Walmart for less than a dollar.
I decided to cut a picture from an old magazine and tape it to the front. Prettier that way! :) A great place to get free outdated magazines is your local library.
Store the remaining liquid in a jar until you need to re-fill your bottle.
Shake again before each use and enjoy!
Source: Modified from a recipe I found in a book.
I have been keeping a bowl and mixing hydrogen peroxide and baking soda and using it as deodorant. I have never been fresher. Mix a small amount into a paste. I buy the value size on both at Sam's Club. I am at seven months and might get a year out if it. I used to use a deodorant costing 5.99 every two weeks.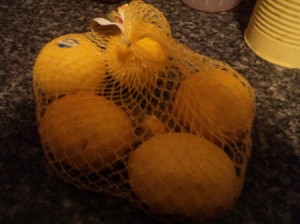 I have been reading alot of stuff about deodorants and how they clog your lymph system. They are also full of aluminum. I decided to try lemon. I was a little skeptical at first but it works.
Just cut a lemon in 1/2 and put in baggy keep in the fridge. Rub the lemon under each arm, and it will last 24 hours. It is better then deodorants. I will not go back to buying deodorants anymore. Just be sure to tell everyone it's your deodorant so they do not use it as lemonade!
By coville123 from Brockville, Ontario
To make deodorant, mix 1 cup cornstarch and 1 cup baking soda. Add 1 Tablespoon coconut oil. Stir and add more cornstarch or oil until it is the consistency of silly putty. Then cram the mixture in your old deodorant container and refrigerate for about one hour.
This is for an emergency only, such as you go to work and realize you forgot to put any on: rubbing alcohol. Most businesses have it in their medicine chests either in the form of a bottle or sealed wipes. It helps with the odor only.
I found this recipe somewhere on the Internet, from someone who had also tried baking soda alone, with no successes. They eventually found out that the right formula was the one below:
I am seeking a good deodorant recipe; something other than coconut oil, baking soda, or cornstarch. Any thoughts? Thanks.
By VBartlett from Kissimmee, FL
July 29, 2010
0

found this helpful
Witchhazel (will tighten pores), tea tree oil (will thwart bacteria), and a few drops of essential oil, like rosemary/lavender for scent.
October 12, 2011
0

found this helpful
Globalgypsy, what ratio do you use for making your deodorant?
October 30, 2015
0

found this helpful
I use deodorant soap in the shower, then the next morning I wipe my armpits with rubbing alcohol and then use a deodorant "crystal stone" (alum). You have to wet the stone before use. This works for me about 80% of the time. I take a week off and use regular deodorant, then go back to this. If I want to smell good, I put a dab of essential oil on a piece of cotton and put it in my bra. Essential oil can irritate skin so I avoid putting it on directly.
Read More Answers...
I began using baby powder containing corn starch and zinc oxide instead of antiperspirant deodorant. For me, it works even better than the deodorant and I don't have to be concerned about the aluminum from the antiperspirant being absorbed through my skin anymore.
Does anyone have a homemade recipe for the natural, organic, mineral salt rock deodorant? I'd like to make this myself, but without the sodium alum which is still a version of aluminum. It's just not as "bad" as the aluminum chlorohydrate. Is it possible? I'm just over the OTC chemical sticks! Thanks bunches!
March 12, 2009
0

found this helpful
Search for"Homemade Mineral Salt Rock Deodorant recipe"good info there,good luck.
May 19, 2009
0

found this helpful
Instead of Mineral salt rock deodorant I suggest that you put a 1/4-1/2 tsp of baking soda on a cotton Pad (the kind used to remove nail polish). Slightly wet the bk. soda with tap water. Rub this lightly on underarms and it will act as good or better than expensive deodorants. I've been doing this for about 2 weeks and it works like a charm!
March 6, 2011
0

found this helpful
Deodorant Spray
A deodorant spray can be made easily using natural ingredients. The following combination is a simple choice:
½ cup aloe vera gel
½ cup with hazel
½ cup water
1 teaspoon vegetable glycerin
10 drops essential oil
Simply mix the ingredients and pour into a spray bottle.
How do you make homemade deodorant and antiperspirant in one, with natural ingredients?
By Patty Y. from Manila, Philippines
December 2, 2010
0

found this helpful
5-6 Tbsp Coconut oil
1/4 cup baking soda
1/4 cup arrowroot powder or cornstarch
Combine equal portions of baking soda & arrowroot powder. Then slowly add coconut oil and work it in with a spoon until it maintains the substance you desire. It should be about the same texture as the store bought kind, solid but able to be applied easily. You can either scoop this into your old dispensers or place in a small container with lid and apply with fingers with each use. After applying the product, you can just rub the remains into your hands as a lotion! This recipe lasts about 3 months for two people with regular daily use.
From Passionate Homemaking
Extract juice from radishes and combine with glycerin. Pour into a squirt bottle and refrigerate. After bathing, pour mixture into palm of hands and apply under arms.

Can someone recommend a natural underarm deodorant?
Related
© 1997-2016 by Cumuli, Inc. All Rights Reserved. Published by
ThriftyFun
.
Page
generated on August 22, 2016 at 1:30:25 AM on 10.0.1.174 in 4 seconds. Use of this web site constitutes acceptance of ThriftyFun's
Disclaimer
and
Privacy Policy
. If you have any problems or suggestions feel free to
Contact Us
.