You can buy dry shampoo products at the store, but you may have all the ingredients you need to make your own in the kitchen. This page contains dry shampoo recipes.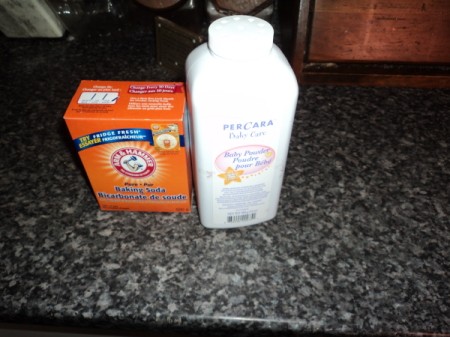 I mix baking soda with baby powder as a great dry shampoo. I recommend the lavender/chamomile baby powder. The baking soda cleans off build up, and the baby powder soaks up the oil. It's absolutely great when you don't have time for a shower, and gives your hair great body!
By Dorinmoz from Sugar Land, TX
Does anyone know how I can make a simple dry shampoo? My hair is very oily and shampooing regularly is a chore and hard on my hair, I think. Thanks.
- Anjeena
---
Most Recent Answer
By guest (Guest Post) Flag
January 20, 2008
Personally I use half cornstarch and half baking soda. Baking soda absorbs odors, and cornstarch helps soaking up the oil. I put some in the palm of my hand and run my natural bristle brush over it and then brush through my hair. Works pretty well!
---
This works well for cleaning your hair when you can't get wet. Mix 1/2 cup cornmeal and 1 tablespoon salt and put it in a shaker. Sprinkle some of it onto your hair and brush it out. As you brush it, it will remove oil and dirt from your hair.

Here's another recipe:

1 tablespoon cornstarch or finely ground oatmeal

This is an effective dry shampoo for when you can't use water. It comes in handy on camping trips. Just apply the cornmeal or oatmeal to your hair and scalp and then brush it out. Depending on how long your hair is it could take 5 to 10 minutes to brush it all out but it will remove a lot of dirt and oil from your hair.
In the 04/25/2012 newsletter, further down the page from the article "Use Baby Powder to Stop Stains" was a related topic, "Make Dry Shampoo with Baking Soda and Baby Powder". By Dorinmoz from Sugar Land, TX
Others had requested the ratio of the two items to use. Was there an answer? This is a cool idea. I want to try it and share it please.
By Jean R.
---
Most Recent Answer
May 2, 2012
At the top of the Thrifty Fun page is an orange bar. Click on "Browse". From there you have lots of options. "Search Thrifty Fun" for past tips or comments on Thrifty fun. They even have helpful tips of how to phrase your search words. Try "dry shampoo" with the quotation marks and it will take you to lots of tips for that. Add more words to the search phrase to narrow down the results, like "dry shampoo baby powder"
---
I need to know the ratio of baby powder and cornstarch so I can mix my own. Thank you.
By PattieJune
---
Most Recent Answer
July 28, 2014
Which hair type is best for cornstarch only? Thanks.
---
By Dacoda Z. 1 5
Here is a picture of the ingredients for dry shampoo: baking soda and baby powder.
By Dacoda Z.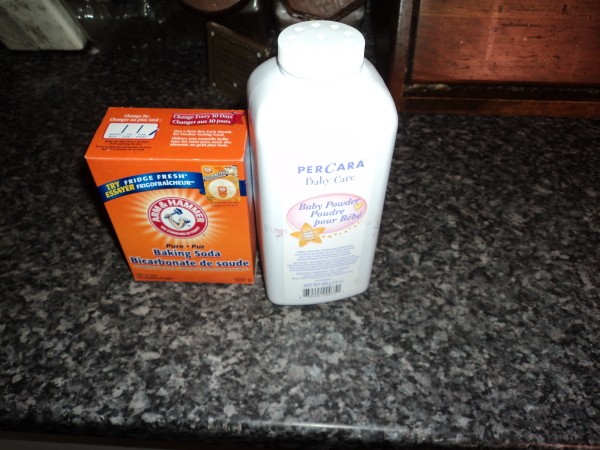 Before companies created the dry shampoo to use when you don't have time to wash your hair, I used baby powder. Just sprinkle sparingly on your head and massage into your scalp. Don't use too much though or you're hair will look gray. This is cheaper than buying dry shampoo, although they work well also.
By Rachel's Mom from Wilkesboro, NC