Saving Money vs. Saving Time
Almost every day a person can find themselves weighing the time vs. money issue. It is important to evaluate whether time or money is most important, especially for tasks such as remodeling your home or repairing your car. This is a guide about
saving money vs. saving time
.
Solutions
Share on ThriftyFunThis guide contains the following solutions. Have something to add? Please share your solution!
September 9, 2004
10

found this helpful
Here's my 2 bits: Sometimes people will tell you it's not worth your time to do various things to be thrifty and frugal. However, whether any given activity is worth it is entirely up to the individual. If you go about frugality with the attitude that your tasks are entertaining to you, or that your work will be good exercise, your whole attitude changes.
Maybe you would rather build your own deck or sew your own dress while listening to the radio than veg out at an expensive movie. Maybe you actually love to cook and it is good therapy for you at the same time. Cleaning your own house can be marvelous exercise, performed at your own pace. Keeping your activities in a positive light really helps. Also be yourself. Don't let our consumerism society change you or make you feel lowly for the things you do.
By Jayne
October 21, 2009
0

found this helpful
My Husband thinks that gardening is a waste of time because if you figure the time spent, the vegetables are more expensive then the ones at the farmers market. But I love to garden - it gets me outside, it's great exercise, and it is also very satisfying to bring in baskets of fresh vegetables all summer long.
October 22, 2009
0

found this helpful
Ahh, yes, attitude is everything. I believe the culture of the world is turning in your direction, where consumption is no longer held in such high esteem. Thanks for your 2 bits.
October 22, 2009
0

found this helpful
Doing it yourself not only saves you money, it yields a sense of accomplishment. This is particularly true if the task is one that has in the past been daunting.
Most DIY revolves around your home. You can make it fit your needs and personality. It really was not that long ago in the larger scheme of things that the task of building an abode was done by the dweller to be.
Regardless the task; landscaping, room decoration, garage organization, try your own hand. It is not as hard as you might think.
October 22, 2009
0

found this helpful
I thank God for being raised up poorer than dirt. I learned so much from watching how Mama would cope. I can get a meal with very little money and sew and fix most things when they break or find a substitute. We were taught to use things up, reuse them, barter them and just in general how to save money. I never felt like I was missing very much. Being poor is not all that bad if you know how to make do.
I know a lot of my friends, we are all poor, are a whole lot happier than Hollywood, who has everything given to them. I actually feel sorry for "rich" folks. They never know the satisfaction of making things with your own hands. "Poor and happy" can go together very well. So take heart if you are poor and just learn everything you can. Learn a new skill every year. Learn to garden even if it is in pots. Learn to sew. Learn to really cook frugally. Learn to decorate from books or videos. Learn to make jewelry or sharpen up skills you already have and sell your wares. Learn to use tools if you are a woman. Start with an electric drill. My favorite gift was one of those drill sets. I am never at the mercy of waiting for a man to do it. LOL I have one, but he is always going to get to it tomorrow. So I learned how to use an electric drill and screwdriver. They come together in a kit. Learn.
June 12, 2013
0

found this helpful
I totally agree that an attitude adjustment can put things in perspective. Ergo-my "adjustment"... I detest housework. Suffice to say, I am NOT wealthy. My time is money... I hire a cleaning crew to come into my home once a month to give my home a through clean... Maintenance is an easy clean as we go...20 minutes a day and my home is in presentable condition. The time I spend at my "real job", is well worth the monetary payoff. Weekends are free for family and friends. Priceless!
November 6, 2004
3

found this helpful
To me, thriftiness is not just about saving money. It's about making the best use of the resources you have. For me, one of my most precious resources is TIME.
Don't get me wrong; I'm a great admirer of frugality and have enjoyed reading and using many of the tips published here. I love finding ways to be more efficient and effective. But while spending hours refinishing furniture and searching the grocery store aisles for the cheapest brand is admirable (and fun), please consider what you're giving up to save a few bucks.
At this point in my life, playing with my kids, and studying to finish my degree are more important than the few cents I'd save searching for the cheapest can of corn. In a few years, my kids will be at an age where they won't want Mom to play with them anymore. And by finishing my degree earlier I'll be able to support my family better that much sooner.
Spending a bit more money now to gain time for family and education is a wise long-term investment, to my way of thinking.
By Lynne from Albuquerque
November 6, 2004
0

found this helpful
I tried to post a reply but received an error message. Forgive me if this is a redundant post.
I understand the point you're making. Please keep in mind, however, that many of us are in dire financial straits and absolutely MUST live frugally just to get by. I personally have to feed my daughter and myself on $10 a week, so saving a few pennies on a can of corn might mean the difference between being able to get the corn or not. I am college educated, and I work full-time, so my only other option to living frugally would be to get a second job - which would take me away from my daughter even more. I far prefer to spend the extra time hanging my laundry with my daughter playing close by. I do admire your priorities (they are mine as well) but when times are rough, you "do what you gotta do" and hope for better days ahead. Fortunately, frugality comes in varying degrees to meet the needs and desires of everyone.
November 6, 2004
0

found this helpful
By using this site you can find the hints on how to make meats or etc. stretch a meal.
My mother was able to stay at home full time and
raise 4 daughters and my dad helped.Grocery shopping was always a fun event carrying the coupon
around was an important job for us kids. We grew up in loving stable home and my mom did use a lot of tips to save money and no one felt deprived of a loving family. I guess it comes down as to what you think a family should be.
We took many vacations and never lacked for anything.
November 6, 2004
0

found this helpful
Sorry about the error, we were testing a couple things and something went haywire. Seems to be working now. I do agree, though. For many a frugal lifestyle isn't an option.
November 6, 2004
0

found this helpful
This recent thread has some related viewpoints:
Adding Up the Savings from a Frugal Life
By guest (Guest Post)
November 7, 2004
0

found this helpful
Hi everyone, I completely understand that everyone comes from a different place financially, and that different measures are needed for different situations. I also fully realize that I'm one of the fortunate ones that has the option of spending a bit more to save time. I guess my point was simply to be aware of the tradeoffs, and perhaps there might be options that save time as well as money.
For example, while clothes certainly need to be clean and unsmelly, as long as they're presentable I save time by choosing to ignore the fact that they're not always spotless and my whites aren't always the whitest. I also only buy clothes that don't need ironing(!). If a table is looking old and grungy, instead of spending hours refinishing it, I find cheap but pretty fabric at the discount section of the fabric store and make a quick drape instead.
I'm sure that my choices will also change as the kids get bigger. When they're older, I can have them participate in the table-refinishing project, teach them how to oxygen-bleach their stains, and make a game out of finding the cheapest can of corn. I hope to instill in them a sense of thriftiness too. To me, that's a value that never goes out of style, and is appropriate no matter how rich you are.
February 7, 2012
0

found this helpful
I so agree with you. At different times in my life, resources have changed. I have done the couponing, thrift shops, and even now I keep my skills sharpened because we never know what's around the corner for any of us.
I was a single mom at one time while also going to university full time. I chose to not work full time so I could spend that extra time with my tween daughter. I was so glad I did. As a military wife, I watched my pennies as well as my $$. My dad told me even as a child I could squeeze Lincoln and make him cry......check your coins for that one. lol
Now I am using those skills used to save money, time etc. to frugally use my personal energy what with age and medical issues these days.
The one thing which strikes is even at my advanced years, I can still learn things when I pop in here. Thanks so much for all you who post. So happy there are so many different ways to be save whatever is necessary at that moment. :)
Dee T.
Kelly Ann Butterbaugh
4

found this helpful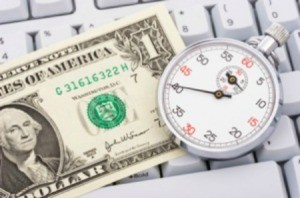 There are some things that money cannot buy, and time is one of them. No matter how much money we save, we struggle to save time. But then, what's more valuable; time or money? Take a break from saving money and save time instead. It might cost you, but it's worth it.
Spend Less to Work Less
Think about your daily routines. You work 8-10 hours a day to earn the money that supports your lifestyle. What if you cut back on that lifestyle a bit? Are you spending more time working to pay for your possessions than you're spending enjoying them? Spend less and you can work a bit less.
Sure, a person could live in an expensive home with fine furnishings, but when twelve hour shifts all week support this lifestyle, it makes one wonder. Is it worth it? The choice of a smaller house and a shorter work day seems to allow more time to enjoy that which we've been working for.
Ask yourself a few questions. Could you live without your cell phone (or at least with less of it) if it meant coming home in time for dinner each night? If you said no to weekend overtime, could you say no to something costly each month? If you answer "yes" to either question you need to shift your priorities to saving time by saving money.
Cut Time Costs
So many activities cost us time. They're addictive, they're popular, and they're time consuming. Avoid the "in" activities that quickly become obligations. Managing social webpages takes too much time without efficient reward. Video games are fun, but set a limit even for adults.
Plan ahead to save time later. So much time is wasted because of poor planning. Try to group errands together and strategically plan your route to save driving time. Likewise, avoid the grocery store during the most crowded time of day because you need dinner supplies. Instead, plan the weekly meals ahead of time and make one well-planned trip.
If necessary, schedule free time into your week. It sounds rash and a bit over-controlling, but like any type of savings, it needs to become a habit. Mark Sundays as "booked" and spend them at home doing something enjoyable. Build in an hour of "cool down" time after work. It's revitalizing and fulfilling to have this time each day.
Sacrifice Some Money for Time
Sometimes it's worth the extra money to save some time. Think of it this way: you can earn more money but you can't make more time. I'm not afraid of hard work, and if I can save some money by assembling something myself I'll do it. However, some things are worth the money to pay to have other people do it for me. My husband and I learned long ago that while we may be able to tackle many home improvement projects, we're not gifted in the art of tiling. When it came time to retile a bathroom floor, it wasn't worth an entire weekend of frustration to save installation money.
Spend Less Time Driving and Pay for Postage
We were in search of a particular item the other week, and we spent most of an afternoon driving from one store to another looking for it. I could have searched the Internet, found the item, comparison shopped, and then had it shipped to me in a fraction of the time. Yes, we would have had to wait for the item to appear at our door, but it would have been worth the money to save the time. In fact, how much money did I spend driving around shopping? Was it really worth it? No, because time is the most valuable asset we have.
July 7, 2009
0

found this helpful
You are right on the money-or should I say on time. You are talking about the very thing my husband and I began living about 2 years ago. It took us a little while to reverse the damage and to reprogram ourselves but life is so good now. No we don't have the big house anymore (but why would an older couple need a big house?), our vehicles are older and not near as much money in savings but you know what....we leave today for 5 days at the beach together. Before there was no way I could have taken 5 days off with my husband. Before it always worked out that he would have a few days off and I couldn't and the other way around. Here is a toast from me to you! This is the good life!
April 2, 2010
0

found this helpful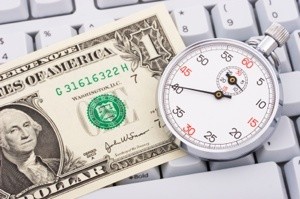 Time is money, or so goes the cliche. There's merit to that well-known phrase and many others. A person can't buy time, another cliche, so why not save it as the greatest resource? After all, if you worry about the business at hand, in due time you'll have time to waste. Save your time by avoiding frivolous items (like cliches) that work so hard to steal away our precious time with little rewards for the time spent.
Face It: Facebook Wastes Time
Yes, it keeps you in contact with old friends and it's a lot of fun, but many people spend hours scrolling through their Facebook pages each day. Couldn't those hours be spent in face to face contact with someone? How productive were those hours?
Measure your actions in value. Rest and quiet time have great value; they reboot your system and keep you mentally and physically healthy. Time spent learning a new skill is beneficial, so is time spent working to create something. Time with friends is important too, if it measures up. Does two hours a day updating Facebook really pay off with two hours of reward? When you get off the page do you feel the same surge that you feel after two hours sitting with a friend? After two hours spent gardening? Make sure it measures up.
Twitterpated
Bambi and his friends found themselves twitterpated in spring when the girls batted cartoon eyelashes their way. However, today's twitterpated society isn't the same. Is it really crucial that you tweet your every move? Add up the minutes a day spent on this task and you might be shocked. Figure on five tweets a day at five minutes each (tweeting and reading other tweets) equaling 25 minutes a day. By the end of a year you'll have spent 152 hours, roughly 19 nights' sleep tweeting. We didn't tweet or blog ten years ago, and we did just fine.
Stay Away from Black Holes
Some websites are black holes. They eat up our time and suck us in. Whether it's a celebrity gossip website or endlessly linked pages of Wikipedia, if you find yourself involved in a website long enough to "lose" an hour or two, don't bookmark it. It's a black hole.
Like any addiction, stay away from those places that pull your time away from you. When you feel the urge to jump on them, have a backup plan like a magazine or a chore to do instead. Break the habit while you can.
Prepare to Debark
Have you ever lost an evening because after the television program you were watching ended the next show pulled you in with its first five minutes? The programmers know this, and they'll catch you with the crime dramas on television. Counter it.
When your television program has a few moments left, have the remote in hand and turn it off immediately before you get pulled in.
Remember, Rome wasn't built in a day, and it wasn't built with only a dollar. The times, they are a changin' and more distractions and time wasting activities pop up every day. Live by the adage "another day, another dollar" and make the most of your time.
April 2, 2010
0

found this helpful
I agree with the Facebook comments. Check it once a week or so for 15 minutes, but otherwise who needs it?
Cooking recipes usually date from the time people did not have to save on energy. Many recipes advise to put eggs, or rice or pasta in the water only once it is boiling to cook them. You can put eggs or rice or pasta or potatoes in the cold water and then start heating it.
Related Content