September 9, 2004
10

found this helpful
Here's my 2 bits: Sometimes people will tell you it's not worth your time to do various things to be thrifty and frugal. However, whether any given activity is worth it is entirely up to the individual. If you go about frugality with the attitude that your tasks are entertaining to you, or that your work will be good exercise, your whole attitude changes.
Maybe you would rather build your own deck or sew your own dress while listening to the radio than veg out at an expensive movie. Maybe you actually love to cook and it is good therapy for you at the same time. Cleaning your own house can be marvelous exercise, performed at your own pace. Keeping your activities in a positive light really helps. Also be yourself. Don't let our consumerism society change you or make you feel lowly for the things you do.
By Jayne
October 22, 2009
0

found this helpful
I thank God for being raised up poorer than dirt. I learned so much from watching how Mama would cope. I can get a meal with very little money and sew and fix most things when they break or find a substitute. We were taught to use things up, reuse them, barter them and just in general how to save money. I never felt like I was missing very much. Being poor is not all that bad if you know how to make do.
I know a lot of my friends, we are all poor, are a whole lot happier than Hollywood, who has everything given to them. I actually feel sorry for "rich" folks. They never know the satisfaction of making things with your own hands. "Poor and happy" can go together very well. So take heart if you are poor and just learn everything you can. Learn a new skill every year. Learn to garden even if it is in pots. Learn to sew. Learn to really cook frugally. Learn to decorate from books or videos. Learn to make jewelry or sharpen up skills you already have and sell your wares. Learn to use tools if you are a woman. Start with an electric drill. My favorite gift was one of those drill sets. I am never at the mercy of waiting for a man to do it. LOL I have one, but he is always going to get to it tomorrow. So I learned how to use an electric drill and screwdriver. They come together in a kit. Learn.
Read More Comments
Kelly Ann Butterbaugh
4

found this helpful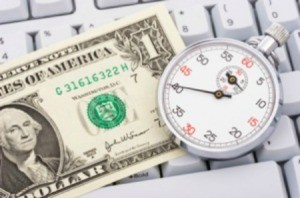 There are some things that money cannot buy, and time is one of them. No matter how much money we save, we struggle to save time. But then, what's more valuable; time or money? Take a break from saving money and save time instead. It might cost you, but it's worth it.
Spend Less to Work Less
Think about your daily routines. You work 8-10 hours a day to earn the money that supports your lifestyle. What if you cut back on that lifestyle a bit? Are you spending more time working to pay for your possessions than you're spending enjoying them? Spend less and you can work a bit less.
Sure, a person could live in an expensive home with fine furnishings, but when twelve hour shifts all week support this lifestyle, it makes one wonder. Is it worth it? The choice of a smaller house and a shorter work day seems to allow more time to enjoy that which we've been working for.
Ask yourself a few questions. Could you live without your cell phone (or at least with less of it) if it meant coming home in time for dinner each night? If you said no to weekend overtime, could you say no to something costly each month? If you answer "yes" to either question you need to shift your priorities to saving time by saving money.
Cut Time Costs
So many activities cost us time. They're addictive, they're popular, and they're time consuming. Avoid the "in" activities that quickly become obligations. Managing social webpages takes too much time without efficient reward. Video games are fun, but set a limit even for adults.
Plan ahead to save time later. So much time is wasted because of poor planning. Try to group errands together and strategically plan your route to save driving time. Likewise, avoid the grocery store during the most crowded time of day because you need dinner supplies. Instead, plan the weekly meals ahead of time and make one well-planned trip.
If necessary, schedule free time into your week. It sounds rash and a bit over-controlling, but like any type of savings, it needs to become a habit. Mark Sundays as "booked" and spend them at home doing something enjoyable. Build in an hour of "cool down" time after work. It's revitalizing and fulfilling to have this time each day.
Sacrifice Some Money for Time
Sometimes it's worth the extra money to save some time. Think of it this way: you can earn more money but you can't make more time. I'm not afraid of hard work, and if I can save some money by assembling something myself I'll do it. However, some things are worth the money to pay to have other people do it for me. My husband and I learned long ago that while we may be able to tackle many home improvement projects, we're not gifted in the art of tiling. When it came time to retile a bathroom floor, it wasn't worth an entire weekend of frustration to save installation money.
Spend Less Time Driving and Pay for Postage
We were in search of a particular item the other week, and we spent most of an afternoon driving from one store to another looking for it. I could have searched the Internet, found the item, comparison shopped, and then had it shipped to me in a fraction of the time. Yes, we would have had to wait for the item to appear at our door, but it would have been worth the money to save the time. In fact, how much money did I spend driving around shopping? Was it really worth it? No, because time is the most valuable asset we have.
July 7, 2009
0

found this helpful
You are right on the money-or should I say on time. You are talking about the very thing my husband and I began living about 2 years ago. It took us a little while to reverse the damage and to reprogram ourselves but life is so good now. No we don't have the big house anymore (but why would an older couple need a big house?), our vehicles are older and not near as much money in savings but you know what....we leave today for 5 days at the beach together. Before there was no way I could have taken 5 days off with my husband. Before it always worked out that he would have a few days off and I couldn't and the other way around. Here is a toast from me to you! This is the good life!