Here's my 2 bits: Sometimes people will tell you it's not worth your time to do various things to be thrifty and frugal. However, whether any given activity is worth it is entirely up to the individual. If you go about frugality with the attitude that your tasks are entertaining to you, or that your work will be good exercise, your whole attitude changes.
Maybe you would rather build your own deck or sew your own dress while listening to the radio than veg out at an expensive movie. Maybe you actually love to cook and it is good therapy for you at the same time. Cleaning your own house can be marvelous exercise, performed at your own pace. Keeping your activities in a positive light really helps. Also be yourself. Don't let our consumerism society change you or make you feel lowly for the things you do.
By Jayne
October 22, 2009
0

found this helpful
I thank God for being raised up poorer than dirt. I learned so much from watching how Mama would cope. I can get a meal with very little money and sew and fix most things when they break or find a substitute. We were taught to use things up, reuse them, barter them and just in general how to save money. I never felt like I was missing very much. Being poor is not all that bad if you know how to make do.
I know a lot of my friends, we are all poor, are a whole lot happier than Hollywood, who has everything given to them. I actually feel sorry for "rich" folks. They never know the satisfaction of making things with your own hands. "Poor and happy" can go together very well. So take heart if you are poor and just learn everything you can. Learn a new skill every year. Learn to garden even if it is in pots. Learn to sew. Learn to really cook frugally. Learn to decorate from books or videos. Learn to make jewelry or sharpen up skills you already have and sell your wares. Learn to use tools if you are a woman. Start with an electric drill. My favorite gift was one of those drill sets. I am never at the mercy of waiting for a man to do it. LOL I have one, but he is always going to get to it tomorrow. So I learned how to use an electric drill and screwdriver. They come together in a kit. Learn.
Read More Comments
To me, thriftiness is not just about saving money. It's about making the best use of the resources you have. For me, one of my most precious resources is TIME.

Don't get me wrong; I'm a great admirer of frugality and have enjoyed reading and using many of the tips published here. I love finding ways to be more efficient and effective. But while spending hours refinishing furniture and searching the grocery store aisles for the cheapest brand is admirable (and fun), please consider what you're giving up to save a few bucks.

At this point in my life, playing with my kids, and studying to finish my degree are more important than the few cents I'd save searching for the cheapest can of corn. In a few years, my kids will be at an age where they won't want Mom to play with them anymore. And by finishing my degree earlier I'll be able to support my family better that much sooner.
Related Content
(article continues below)
Spending a bit more money now to gain time for family and education is a wise long-term investment, to my way of thinking.
By Lynne from Albuquerque
By guest (Guest Post)
Flag
November 7, 2004
0

found this helpful
Hi everyone, I completely understand that everyone comes from a different place financially, and that different measures are needed for different situations. I also fully realize that I'm one of the fortunate ones that has the option of spending a bit more to save time. I guess my point was simply to be aware of the tradeoffs, and perhaps there might be options that save time as well as money.
For example, while clothes certainly need to be clean and unsmelly, as long as they're presentable I save time by choosing to ignore the fact that they're not always spotless and my whites aren't always the whitest. I also only buy clothes that don't need ironing(!). If a table is looking old and grungy, instead of spending hours refinishing it, I find cheap but pretty fabric at the discount section of the fabric store and make a quick drape instead.
I'm sure that my choices will also change as the kids get bigger. When they're older, I can have them participate in the table-refinishing project, teach them how to oxygen-bleach their stains, and make a game out of finding the cheapest can of corn. I hope to instill in them a sense of thriftiness too. To me, that's a value that never goes out of style, and is appropriate no matter how rich you are.
Read More Comments
Kelly Ann Butterbaugh
4

found this helpful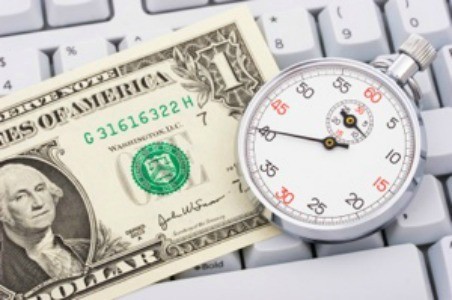 There are some things that money cannot buy, and time is one of them. No matter how much money we save, we struggle to save time. But then, what's more valuable; time or money?
Read More...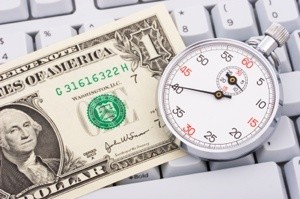 Time is money, or so goes the cliche. There's merit to that well-known phrase and many others. A person can't buy time, another cliche, so why not save it as the greatest resource? After all, if you worry about the business at hand, in due time you'll have time to waste.
Read More...