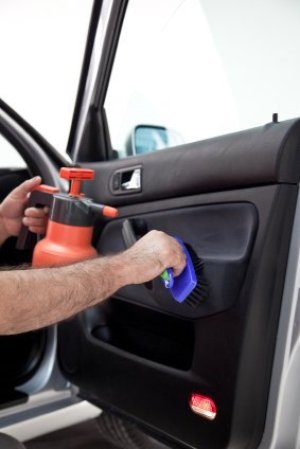 Keeping your car's interior clean is a great way to maintain it's appearance. Even if it has gotten to be messy it just takes a little work to get your car looking good again. This is a guide about cleaning your car's interior.
Ad
---
Solutions: Cleaning Your Car's Interior
Read and rate the best solutions below by giving them a "thumbs up".
Most vehicles have a pocket on the back of the front seats and I keep a package of disposable wipes meant for car upholstery there. Whenever I am in my car and waiting for some reason for a few minutes, kids at school, highway construction or whatever, I grab one and take a wipe at my dash and door.
If I don't get it all done, I keep that one in the corner of my windshield until next time I stop for an extended period of time. Or when the kids get in the car, they will us it to wipe the other side and their door. When I get home from shopping, I use one of the wipes. Then my car is clean and ready for my next trip.
I have kept a rag sprayed with dusting solution in a ziploc bag in my car at times, but the disposable ones can be purchased pretty cheaply now.
By Ann W. from Loup City, NE
Mr. Clean Eraser cleans dashboards and doors with ease!
By Nancy N. from Longview, TX
To keep your car interior smelling sweet, place potpourri in the ashtrays. It can last longer than some air fresheners.

By truerblue
Give a "thumbs up" to the solution that worked the best! Do you have a better solution? Click here to share it!
Questions
Here are questions related to Cleaning Your Car's Interior.
Tips for cleaning your car's interior. Post your ideas.
Ad
---
---
Most Recent Answer

By Completely Annoyed by Stains (Guest Post)11/26/2007
I need help getting stains out of my back seat. It had carseats on it for awhile, and the kids didn't tell me that they spilt juice. Would some kind of carpet cleaner work? I'm not sure....HELP ME!!
What can I use to clean the dashboard and interior door handles that doesn't dry out everything?
By Sharon Y.
Ad
---
---
Most Recent Answer

By linda [8]07/30/2011
Armor All. Cleans and keeps interior nice at the same time.
How do I clean and/or remove the sticky interior of a VW Jetta 2003. It is disgusting in its appearance and feel. Any help would be greatly appreciated!
Thank you.
By Martha
---
Most Recent Answer

By marthamartin04/28/2012
The surface is a fake leather looking vinyl. It appears like there is a layer of something peeling off and that is what gives the gummy texture. A car dealer said it was something that was applied to 2003 Jetta as a protection but after a while started to get gummy and peel. Unfortunately, he had no suggestions on how to deal with it.

Thank you!
MM
How do I remove gum from a truck seat that is cloth?

Marie from Waynesboro, VA
---
Most Recent Answer

By Cindy Bishop (Guest Post)11/03/2006
Try rubbing alcohol. I use it on fabrics and it works great.
Tips for cleaning the interior of your car. Post your ideas.
---
Most Recent Answer

By Claudia (Guest Post)06/14/2005
I also use baby wipe- I keep them in the glove box and do a little dashboard cleanup while stopped at a stoplight. I find that I don't get so impatient waiting for the light to change and I don't have to put aside extra time for this chore.

Multi-Tasking Rules !
How do you get a soda stain out of the cloth headliner of my car?
By DCW
My dog is very nervous when left alone. She has licked the roof lining in the car above the windshield. The liner is now stained brown and resists cleaning. The stain is resistant to soap and common spray cleaners. Suggestions would be welcome.
By Ross from Deep River, ON