Keeping the Inside of Your Car Clean
Solutions
Share on ThriftyFunThis guide contains the following solutions. Have something to add? Please share your solution!
As I walk into the grocery store, I always grab the free sanitizing wipes for the shopping cart handle. On the way out of the store, I grab another to wipe down my car door handles, the steering wheel, gear shift, and my children's cars seats. It can't hurt!
By Quilt Till You Wilt from Vancouver, WA
Cleaning your car, especially any dirt and grime, and keeping it clean can be a very daunting task. Usually it involves a significant time, and often, money expense. Due to Ubering, which I discussed earlier, I have found a need to keep my car as clean as possible in as easy and inexpensive a way as possible.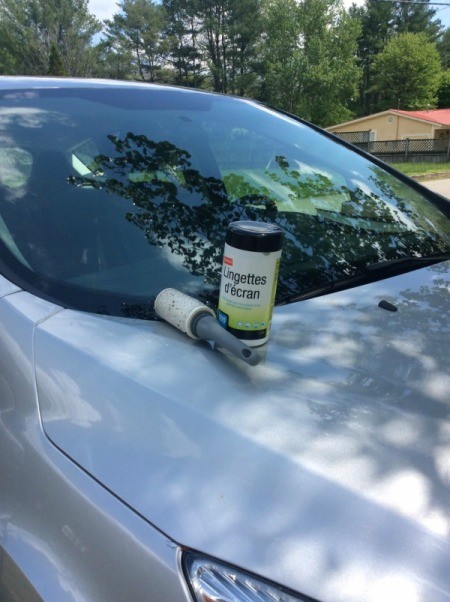 A simple lint roller, when used aggressively, can replace a good vacuuming or detailing job, for at least a little while. It's amazing how much a lint roller can pick up when you put your mind to it. Eventually you will need to vacuum the car out, but being able to lint roll the upholstery, rugs, and floor of your car makes a huge difference, especially between rides
A simple package of handy wipes from the grocery store or office supply or dollar store can help you wipe any dust, grime, or stains from the dashboard or any other hard surface in your car, in particular the area around the cup holders. If you keep a set in the car near the lint roller and every time you enter your car you make a habit to wipe things down, you'll be all set.
Complimentary window washing service at the gas pump can take care of your entire exterior, especially if a bird has left you a gift on your car. Simply take the scrubby end of the squeegee and scrub over the troubled area, or the entire car if needed. For the entire car, though, i would recommend spending the extra $7 to go through the car wash, especially since many places offer a gas discount if you buy a car wash. But if you are in a terrific hurry and you have to deal with an emergency mess, the squeegee works well.
If you make a habit of these three simple things, and, of course, eliminating all trash and unread mail regularly, people will believe you professionally have your car detailed!
September 9, 2008
4

found this helpful
Store a small bag of car cleaning supplies in your trunk, such as empty bags for litter, car interior wipes, and even a roll of paper towel and window cleaner. I find tidying the car a good use of time when I am waiting on a passenger during an appointment. Those of us who share the family car with our teen drivers know how easily clutter accumulates!
By Kathy from Western Pennsylvania
May 14, 2004
3

found this helpful
I keep a container of baby wipes in the car for quick cleanups -- the dust that accumulates on the dash board, spilled juice, muddy puppy paws. Saves on time and stress (from constantly looking at a dirty car interior). - Marcia Passos Duffy
Read More...
When my daughter was small and still in a car seat, I purchased one of those nap mats used in kindergarten to place under the car seat in my car. It helped protect the car from spills, dropped food, spit up or what ever.
Read More...
August 12, 2011
4

found this helpful
Keeping the inside of your car clean can be a chore, especially if you have kids. Dirt, crumbs, and toys can build up pretty quickly. Here are some tips to help keep your car clean:
Read More...
Susan Sanders-Kinzel
1

found this helpful
Keeping your car in tip top condition adds to its value in the long run. Here are some simple tips for keeping your car in tip top shape.
Read More...
October 6, 2004
0

found this helpful
Keep a can of disinfectant in your car to spray the shopping cart. You can even buy a sample size one for your purse. Helps to keep the little ones safe from germy germs while shopping!
Read More...
Related Content