Windshield Washers Not Spraying
When your windshield washers won't spray, there are some steps you can take to troubleshoot the cause and repair options. This is a guide about windshield washers not spraying.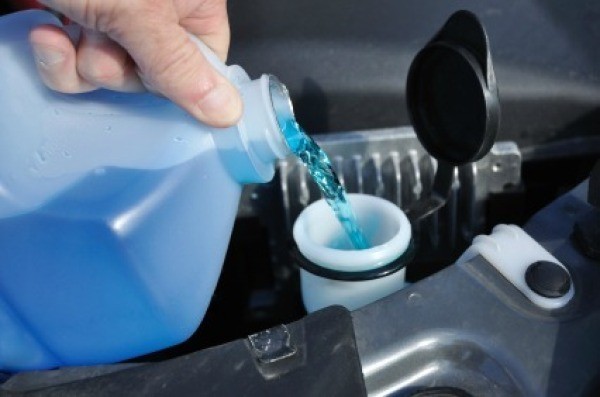 Filter

: All Articles
Sort

: Relevance
I have a 1989 240 DL Volvo wagon. The washer fluid does not spray. I have changed the fuse, filled the washer fluid tank, and have tentatively poked the nozzles with a needle. Still nothing. Anyone with any ideas?
June 19, 2016
1

found this helpful
My wife ran the washer fluid tank dry on her 2008 Ford Escape and informed me a week or two later. I filled the tank and nothing but a few sprinkles would come out of the sprayers every 5 or 10 seconds. I could hear the motors so knew it wasn't the motors. I traced where the hose hooked up at the bottom of the tank and unplugged it. There is a small screen filter between the hose and tank that had coagulated washer fluid of some sort. Used a toothbrush to clean the screen and hooked it back up. Worked instantly. Good luck.
August 17, 2016
0

found this helpful
That's fantastic I am having exactly the same and yes mine ran out a couple weeks ago to thanks I'll try all that x
September 12, 2016
0

found this helpful
water in tank but a little water coming out
My windshield washer doesn't spray. How can I fix that to were it does?
March 2, 2016
0

found this helpful
My windscreen washer does not spray but the wipers do!
May 9, 2016
0

found this helpful
Clean nozzles
Nd lines
August 5, 2016
0

found this helpful
Windshield washer only squirts a tiny amount of water not squirting out tried with toothpick to see any blockages nothing happened advise please
I have a 2006 Honda CRV. The windshield washer spray only dribbles out when activated. If I release the hood latch, it works great. The nozzles seem to be clearing the hood, no water on hood. Is there a ground involved here?
By Bob
November 28, 2014
0

found this helpful
I have the same vehicle but it's a 2000. Same issue also except mine doesn't work with hood open. Sounds like there is something kinking the line when your hood is closed. Check the line, follow it from reservoir to nozzle, should see a dent or some sign of being closed off. What I am going to try is using a compressed air sprayer (as in electronic duster, just air in s can) & disconnect nozzle & should see bubbling in reservoir (fill 1st) if clears line. If not few other things t try b4 replacing lines. Oh ya, 1st off make sure you hear pump running. In your case pump seems to be running. Hope this helps!
July 22, 2016
0

found this helpful
Did you ever fix this Bob? it's the most bizarre thing. Mine works fine when hood open...95% shut...98% shut...but when hood is shut it slows to a dribble. No obvious sign of the hood interfering with tubing. A mystery!
I have a 2008 Ford Edge and both of the front washers will not spray, but the back one will. Does anyone know why this would happen or what I need to do to fix it?
By Ashley
February 15, 2015
0

found this helpful
It's possible they're clogged with dust/dirt (happens frequently here in the desert). Try inserting the sharp end of a needle or small safety pin into the hole of each. Wiggle the needle/pin very gently, wipe away any debris, and then try spraying again.
If you wiggle the needle/pin too hard, you could change the direction of the spray or possibly break it.
I just picked up my truck from having the power steering cooler, radiator, steering shaft, and ball joints fixed. Now, my dashboard shows the wipers' indicator on. The wipers work, but the fluid won't pump out. I filled it up to the brim to make sure I had fluid, still nothing. Did the technician do something accidentally that can be fixed easily on my own? Should I bring it back only to find out something else is "faulty"?
By Joseph
November 22, 2013
0

found this helpful
You paid good money to have all those repairs done to your car - bring it back! Don't try to find out what the problem might be. That is part of the problem - no one is held accountable for their workmanship.
December 9, 2013
0

found this helpful
By all means take it back and ask, although I think it is unlikely that the pump was damaged by the other repairs; I suspect it was time for it to die.
I have a 2011 VW Jetta S. My wipers work fine on all settings. But when I pull the wiper stem (on steering column) to get washer fluid to spray, nothing comes out. The wipers don't move or even try. I hear no sound or anything. Please help.
By Dylan
February 21, 2014
0

found this helpful
You have checked the reservoir to see that there is fluid in it, right? Sometimes the nozzles get pointed in some direction other than at the windshield. You could check that, but I would think that you would have noticed this. There is a little pump that pumps the washer fluid; perhaps it is worn out, in which case you need to take it to a shop and have it repaired.
May 25, 2015
0

found this helpful
Hi Dylan, did you get a solution to this problem? I am having the same issue with my 2011 Jetta. I thought it was low on fluid but when I pull the trigger for washer fluid I get no fluid and wipers don't activate either. I'm hoping it's a fuse. I just wondered what your solution was if you don't mind sharing.
Robin
robin311 AT comcast.net
How do I clean the nozzle?
By Wheat H.
October 21, 2014
0

found this helpful
Locate the nozzle and be sure it is pointed in the correct direction. If the holes are clogged, you can just poke them out with a needle or something similar.
My windshield washer fluid is not spraying on the windshield, but puddling out on the ground. It is not a leak, but when I push the button in the car to spray you hear the pump and then see the fluid on the ground under the car.
Read More...
My 2010 Cadillac CTS wipers work, but no wiper fluid will come out.
Read More...
Related
© 1997-2016 by Cumuli, Inc. All Rights Reserved. Published by
ThriftyFun
.
Page
generated on September 24, 2016 at 5:31:34 AM on 10.0.1.46 in 4 seconds. Use of this web site constitutes acceptance of ThriftyFun's
Disclaimer
and
Privacy Policy
. If you have any problems or suggestions feel free to
Contact Us
.