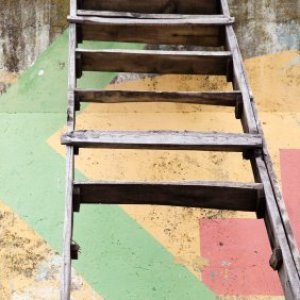 Removing paint from concrete can be difficult. Whether you are removing old paint on a concrete porch and stairs or graffiti on a wall, there are several methods you can try. This is a guide about removing paint from concrete.
Ad
---
Questions
Here are questions related to Removing Paint from Concrete.
I was painting my kitchen chairs outside and put newspapers around so the paint wouldn't stain the cement but there are a few drops here and there. Is there something that can take it out?
Can anyone recommend a home remedy to remove or at least fade and make less noticeable white spray painted words on my concrete steps? They are not "bad" words, thank goodness, lol, but it does make the exterior of my home trashy-looking. I've tried bleach and Goof-Off for Graffiti. Any suggestions? I will try! Thanks.
By phillygal70
AnswerWas this interesting? Yes No
Ad
---
---
Most Recent Answer
By Louise B. 6 2,539 04/15/20150 people found this helpful
I do not know how you would remove paint, so I would paint over it. I believe the only way to remove it properly would be with sandblasting.
What is the best way to remove old paint from a driveway and what is best to replace it with? Stain? It's a very hot, Florida location that's in the sun most of the day. Thanks.
By Robert
How do I get old paint off of concrete stoops? I began with a pressure washer. I tried paint stripper and the pressure washer. I still cannot get the remainder of paint off. I am not 100% sure, but I believe the paint is latex.
By Kay from Nashville, TN
Solutions: Removing Paint from Concrete
Do you have knowledge about this guide topic? Feel free to share a solution!
Archives
Thrifty Fun has been around so long that many of our pages have been reset several times. Archives are older versions of the page and the comments that were provided then.
I attempted to remove very old paint from my concrete steps with a pressure washer with very little success. I only have one or two coats of paint to remove, and the paint has even worn off in places just from age. However, I increased the pressure on the nozzle as much as I could without damaging the concrete, but still only a very small amount of paint came off. Am I doing something wrong or is there a better method to remove paint from the concrete, like paint remover or some other chemical? I should add that these steps have a rough not smooth texture to the concrete. Please help! Thank you!
Truerblue from PA
---
RE: Removing Paint From Concrete
You might try calling a paint store or a concrete place if you don't find an answer on here that works. Good luck (06/29/2007)
By jillian357
RE: Removing Paint From Concrete
My guess would be that the pressure of the washer isn't strong enough to take the paint off. Most of the home-type pressure washers aren't strong enough to take anything major off of anything. We had one and it didn't work well at all. We purchased a new industrial strength washer last year and trust me, if you aren't careful, you'll be pointing at wood/concrete one sec and air the next. lol It will eat it up quick. Paint is gone in a few seconds no matter what it's on. (06/29/2007)
By Bama_Jypsy1
How do you remove paint from a concrete driveway?
Tom from Sun City, AZ
---
RE: Removing Paint From Concrete
You can purchase a rubbing stone from a hardware store. They are used in smoothing rough concrete. If you have a painted concrete slab and want to repair warn or flaking spots, rent a concrete grinder and it will remove scaling paint and bonded paint. Then follow the instructions for proper etching/sealer and then apply a new coat of colored topcoat. Most people forget to read the prep instructions until the hard work they have done fails to last. (03/26/2008)
By Steve
***
*** How can I remove old paint from a driveway?
By Jim from TN
---
RE: Removing Paint From Concrete
Sand blasting is the cleanest, cheapest, and fastest way. Many rental companies rent sand blasters or you can hire it done. It requires no chemicals and you only sweep to clean it up. (10/27/2009)
I painted my front concrete porch a few years ago. I would like to now take the paint off, but don't know what to use? Could you help out?
By Frank from Coatesville, PA
---
RE: Removing Paint From Concrete
Have your concrete power washed and see how that works. If it doesn't come off completely, try a biodegradeable chemical paint remover. (06/13/2010)
By rrboling