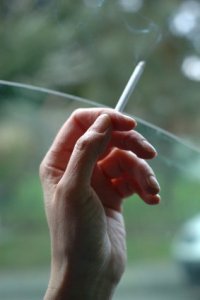 Cigarette smoke permeates many materials of a car's interior, making it a challenge to remove the smell. This guide is about removing cigarette smoke odor from a car.
Ad
---
Product Recomendation
Where to Buy OdoBan Odor Eliminator
Eliminate cigarette smoke and other offensive odors with OdoBan Odor Eliminator!
Questions
Here are questions related to Removing Cigarette Smoke Odors from a Car.
My husband and I just bought a truck and it reeks of cigarettes. We have tried everything we know of, and can't get the odor out. I sprinkled baking soda into the carpet, and even went as far as spraying my favorite perfume into the A/C vents. While this helped some, and the perfume makes the air smell nice, it hasn't eliminated it. I really need some advice.
By Steph.W from Albemarle, NC
AnswerWas this interesting? Yes No
Ad
---
---
Most Recent Answer
By bev 1 09/07/20090 people found this helpful
I had the some problem, first I took the mats(vinyl) out and washed them with hot soapy and bleach water and left them in the sun to dry, I then vacuumed , washed the entire interior with a Murphy's oil soap solution (use directions on bottle if you don't feel comfortable without measuring) even slightly swiping the cloth seats,this took about 2 hours,also taking special care to double clean the windshield as this is where most of the nicotine collects. After all this I took about a cup of unused coffee grounds and spread them in an aluminum pie pan then let the car set the rest of the afternoon in the hot sun! Talk about smelling heavenly and clean, unless of course you don"t like the undertone of coffee.
---
My brother-in-law just got a work van that smells of cigarette smoke really bad. How can he get rid of the smell? There is no carpeting in it.

Donna J.
AnswerWas this interesting? Yes No
Ad
---
---
Most Recent Answer
By CAROL 2 2 02/17/20050 people found this helpful
i use ODOBAN -which i get at sams. it works on all odors. eliminates odors --doesn't mask them. use it for fire damaged homes and it works great. will get any smell out and it doesn't return. great for litter box too. Eucalyptus and wildflower smell. nice clean sent
---
I would like information on removing the smell of cigarette smoke in a caravan. Thank you.
By Mieke
AnswerWas this interesting? Yes No
---
Most Recent Answer
By Shelly Elsner 4 17 01/06/20120 people found this helpful
I used to smoke quite heavily and my car smelled like an overflowing ash tray. When I quit, I put lots of baking soda in the ash tray. When not in use, I left the car windows closed so the baking soda could do its magic. Change the baking soda frequently. Took about two weeks but it really worked
---
How do I get cigarette smoke smell out of my car?
By Robin
AnswerWas this interesting? Yes No
---
Most Recent Answer
By Paula Jo C. 24 252 05/31/20150 people found this helpful
Set a small pint jar half full of white vinegar, close up the windows and leave that all night ... the vinegar will absorb any and all bad smells no matter where you find them, I promise.

I do this all the time in my home leaving several small jars of vinegar set in different areas of our house UNSEEN as this helps control cooking odors too (like the cooking cabbage smells).
My interior truck heater caught fire causing smoke damage inside. The fire department put it out with foam. What is the best way to clean interior hard surfaces? How can I clean the upholstered seats and remove the smoke odor?
By Linda from Hendersonville, NC
AnswerWas this interesting? Yes No
---
Most Recent Answer
By Daran 1 04/24/20110 people found this helpful
Most of the suggestions I have viewed below 'may' work, with the exception of using bread as an odor sponge. However, if you are looking to take an approach that will in fact *work*, then the process is simple.

Get a can of Scotchgard Fabric & Upholstery Cleaner

Follow the instructions on the label. Repeat the process again after 7 days, if necessary, depending on how bad the smoke damage is/was, you may need to apply a 3rd application after 14 days. Once you have rid yourself of the smoke smell, then it's suggested that you invest in a fabric sealer by 3M which does an excellent job at enhancing the Scotchgard Fabric & Upholstery Cleaner's sealer protection.

Armor All any plastic trim in your vehicle to augment the upholstery cleaning you have done over the past two weeks. This process will ensure a smoke free vehicle smell either for your personal use or if you plan to sell your car.

Also, an inexpensive air freshener to use if you plan to leave your car sealed and unused for an extended period of time would be to wrap some Bounce laundry softener sheets to the underside of both the driver/passenger seats and under the dash with a paper clip or by tying it into a knot around a wire (careful not to disconnect a wire if you chose one, you don't need a lot of pressure to tie them).

Best of luck!
Solutions: Removing Cigarette Smoke Odors from a Car
Do you have knowledge about this guide topic? Feel free to share a solution!
Archives
Thrifty Fun has been around so long that many of our pages have been reset several times. Archives are older versions of the page and the comments that were provided then.
How to remove cigar smell from automobile interior?
Derick from MI

---
RE: Removing Smoke Smell From a Car
Go to a bakery or bake a loaf of bread yourself. You need to have the bread right out of the oven. Cut the loaf like you would if you were going to make a sandwich. Place the loaf of freshly baked bread in your car for 24 hours. The bread will absorb odors and will actually leave a pleasant scent instead. (06/10/2008)
By Matt
RE: Removing Smoke Smell From a Car
You will have to clean everywhere the smoke touches. Ozone gets out a lot of odors, but it can dry rubber out and there is a lot of rubber in car interiors. Back when I was a mechanic, we would detail the interior. Change the cabin air filter if there was one. We would use a smoke neutralizer "Get The Smoke Out". Mist it throughout the interior. Close the windows and put the HVAC blower on high and spray the "Get the Smoke Out" into the air intake below the windshield. Shut the car off and let it sit for a few hours. It would work most of the time. (10/01/2008)
By Tim
RE: Removing Smoke Smell From a Car
Eucalyptus. Bought a beautiful used BMW 528i, except a smoker had previously owned it. My mechanic said to use "fresh" eucalyptus leaves (4-5 sprigs). Over a period of +/-3 months of changing them every 3 weeks or so, there was no detectable odor of smoke remaining at all. But use only fresh sprigs. The next owner was never aware that a smoker had ever owned the car. I use a sprig or two occasionally in my brand new car just to keep it fresh. Good luck. John (10/06/2008)
By John
RE: Removing Smoke Smell From a Car
Today a car salesman called looking for my business. Unfortunately for him I had bought a car a month ago. I mentioned to him that I was trying to get the smoke smell out of it. He told me that 40 years ago they would put simmering onions in a pot of water in the car and leave it for several hours. Back then they used a hot plate, but today a crock pot could be used. I intend to try it. He swore it works and nothing to gain by telling me. (10/08/2008)
By Janine
RE: Removing Smoke Smell From a Car
I just had this problem with a used car I just bought for my teenager. The people we bought it from did a good job of temporarily getting rid of the smell because we didn't notice it until after we bought the car and took it home for a few days. There is a product at the pet store called Nature's Miracle. It is for removing pet odors, but works for just about any odor. Get a big bottle of it with a sprayer.
I bought a small spray bottle and ended using two of them. Test for color fastness first, there should be no problem. Then really drench the fabric in the car. You need deep penetration of the chemical. Of course you want to get the ceiling really good. You don't wipe you just let it dry. The next weekend I repeated. You will be amazed. I think the odor is permanently gone. (10/11/2008)
By Ron
RE: Removing Smoke Smell From a Car
There is a product called "Perky Pucks". These are porous ceramic discs that do a fantastic job of absorbing odors. Home Depot carries them.
I used them in a refrigerator that had a burnt mild odor that would not come out no matter what we tried, baking soda, charcoal, detergent, nothing worked. Then we tried Perky pucks. They worked like a charm. And they are reusable forever. I have just bought a used car that has the smoke problem. I plan to use the Perky Pucks. (12/26/2008)
By Burford
RE: Removing Smoke Smell From a Car
I put about 1/3 cup vinegar in a cup in the car, and leave it over night, then remove. The smell will dissipate as well as the smoke smell. Also, one can use scented dryer sheets. (01/06/2009)
By imaqt1962
RE: Removing Smoke Smell From a Car
I haven't tried this in a car, but mixing vanilla extract with hot water and sponging down all surfaces gets almost any odor out of anything. Great for dirty refrigerators. (01/31/2009)
By Alani
Can someone tell me how to get the cigarette smell out of a car?
By niteagle77 from East Hampton, NY
---
RE: Removing Smoke Smell From a Car
I firmly believe in Febreeze for getting out smells. I did a foolish thing not realizing it could possibly have hurt my pet. At the time I was desperate. My dog got "skunked" and no washing, tomato juice, or anything took the smell away. I sprayed her with Febreeze while covering her mouth and nostrils. The smell disappeared entirely. I would then spray the car's seats and floors and anywhere that is padded with Febreeze. (09/26/2009)
By nanamack8
RE: Removing Smoke Smell From a Car
I have a truck that my son used over the summer, working at a golf course mowing, and the truck reeks of body odor. I poured baking soda on the seat bottoms, and leaned the seats all the way back, and covered the backs as well. I even put it on the carpets. As I already had a second auto, I left the baking soda on it for 5 days. Then I took it to the car wash, and vacuumed out the baking soda. It helped wonderfully! (09/27/2009)
RE: Removing Smoke Smell From a Car
The car's interior smells not because of the air, but because of dirty/smokey surfaces which, in turn, make the air smell. The only real solution is a thorough, labor-intensive cleaning/detailing to get rid of the contaminants. This will probably have to to be done more than once for 100% satisfaction, but, you will notice an improvement after each cleaning.
Unfortunately, tobacco smoke has a great affinity for plastic, and there's a lot of plastic inside a car. The best product I've found for removing smoke deposits from plastic is good old-fashioned Sunlight soap. (The bar soap, not the powdered laundry detergent.)
You'll need lots of water, as hot as you can stand it, which will have to be renewed often. You'll also need an arsenal of simple cleaning tools: fingernail scrubbers, toothbrushes, Q-tip swabs, nylon pot scrubbers, "Magic Erasers," etc. It can literally take an entire weekend to really clean a car this way, and you'll be doing a lot of stooping, crouching, kneeling.
For soft surfaces, like fuzzy headliners, seats and carpets, multiple sessions with one of those "dry foam and vacuum afterward" upholstery shampoos will eventually get things pure and fresh.
I really don't put much faith in these "air freshener" solutions, whether they come from chemical spray bottles, boiling onions, or whatever. At best, they will provide only temporary relief. You need to remove the source of the odors, not just mask them. (01/21/2010)
By Evil-i
How does one remove an acute smoke contamination from a car that was in storage for 4 to 5 years?