Whether new or vintage, porcelain can look very dingy if not cleaned and cared for properly. Here are tips to help you keep your tub looking and feeling squeaky clean. This is a guide to cleaning porcelain bathtubs.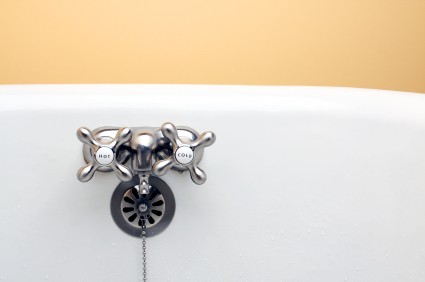 I have a very old, pitted porcelain bath tub that I can't afford to refinish or replace. It collects a lot dirt in the pits and I cannot get it clean. it no longer shines at all! It isn't stained, just has hard to remove dirt. I have done the bleach thing, Comet, various cleaners, even some from the janitorial supply house, throughout the years but nothing seems to work (scrubbing bubbles is the best) I have tendonitis in my arm and cannot scrub for long periods of time. If I do get it clean is there an economical finish or wax that I can use on it so it stays cleaner longer? Thank You!!!

Sas-E-Sheri
---
Most Recent Answer
By Not_ur Momma 1 Flag
January 14, 2016
Mark, what type of Holloway House Quick Shine did you use?
---
By trudyjones 1 2
Use the Clean King, it's for scrubbing copper pans. It got my bathtub so white.
By TrudyJones from CA
Do you dread cleaning your cast iron tub? An easier way is to spray the tub with your Oven Cleaner, follow instructions and let it sit. Wipe gently and your have a brand new looking, sparkling clean tub without breaking your back.
By cipi2000
By happy.now 2 50
I have an old, big, solid tub with blue and green stains where the water pours out. It is not rust and I do not know how or what to use to clean it. Does anyone have any ideas? Thanks.
---
Most Recent Answer
By Louise B. 6 2,509 Flag
July 2, 2015
The blue and green stains are likely copper from your pipes dissolved in lime from hard water. Vinegar may remove the stains, or any product advertised for cleaning up lime residue, such as CLR or the CLR Tub and Tile cleaner.
---
By hawaiihibou 5 4
I too have had problems cleaning, here in Hawaii, my porcelain tub. I have been researching it for a month now. I have come across some very good cleaning agents for your porcelain, old or new. It is Boraxo or Limeaway
I've tried Lime-A-Way and it works. Lately I've found different kinds of stains on my old porcelain sink and will try Boraxo next. The sites I've found say they work great. The taste of water in Hawaii has changed and there are green stains on my plumbing which suggests minerals in the water, thus the stains on the sink. Good luck and great cleaning! Thanks.
Source: http://limeaway.com/ and http://www.ehow.com/
By Krissttina I. from Honolulu, HI
By Nora Gimm 1
How do you remove accumulated calcium stains or lime stains from a porcelain tub?
By Nora from Lake Ozark, MO
---
Most Recent Answer
January 4, 2011
A bottle of Lime Away should do it. It is sold everywhere.
---
I have a stain in a porcelain tub, which I can't remove. The stain appears to be in the tub itself. Please help.
Thank you.
By Janet from Albany, NY
---
Most Recent Answer
October 7, 2010
I had one in my kitchen sink. When my sister-in-law saw it, she suggested that I put the sink stopper in, pour 3-4 cups of Chlorox in it (enough to cover the bottom), add a couple inches of water and let it sit over night.
It worked. The sink was sparkling white when I drained it out the next morning. I've done the same thing every few months when I notice it getting stains in it. Chlorox definitely pulls the stains cleanser doesn't.
If you don't want to pour a whole container of Chlorox in your tub, possibly soaking an old rag in it and put the rag dripping wet (do not wring it out) on your stain and leaving it overnight might work.
By patricia 5
Coffee cups stained with coffee? Make a thick paste with simple table salt and warm water and use a soft rag and wipe the coffee cup inside and out with the salt paste. Sparking new!