If your bathtub is stained it stands out and can be embarrassing, especially if you are having guests over. Getting the tub clean will help make your whole bathroom look better. This is a guide about cleaning a stained bathtub.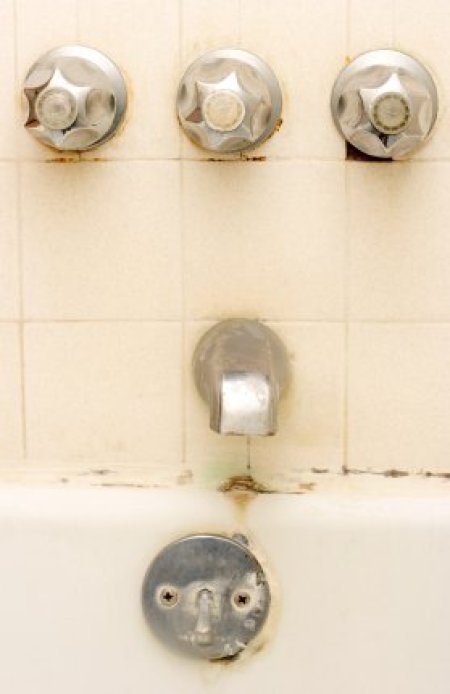 By MACEE 1
I'm in the process of moving into an old historic home and boy, does it need work! The porcelain bathtub was disgusting, years worth of stains. For three days, I tried every "soap scum, mildew remover, etc." you could think of. Nothing worked (cue freak out) until I came across two lifesaving products.
Pumie Pumice Scouring Stick from Lowe's. $2.83 each. I used 4=$11.32. This is safe on porcelain, not enamel. Just wet the stick and scrub. It immediately started really removing stains. Once I ran out, I didn't feel like getting back in car so thought I would give the next product a try.

Bar Keepers Friend Cleanser, $2.50, local grocery store, Wal-Mart, Lowe's, etc. This stuff is amazing! I let it sit for a few minutes and scrubbed and it took everything nasty right off. I will never use another cleaning product! It's cheap and can also be used on so much more than just the bathroom.
So, including some scrub brushes from Dollar Tree, I spent around $16 and it looks like I bought a new tub! (The pink bottle in corner is just a cleaner I already had to wipe down tile.) I was so thrilled with outcome, I wanted to share with everyone! Hope this helps!
P.S. I forgot to take a legit "before pic". This before pic is right after I had started using the pumice stick. You can tell where it's been used on the right of pic.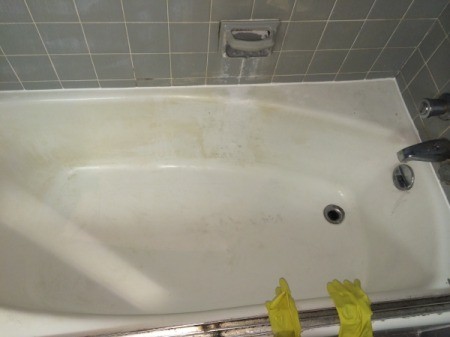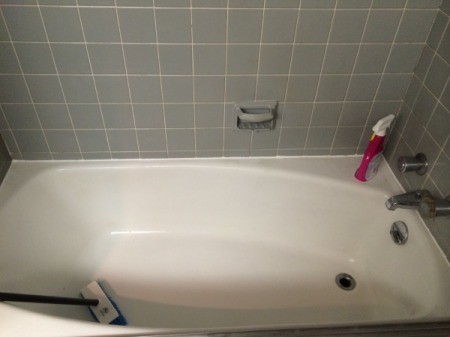 By Debbie G. 47 1
I don't like to use chemicals that have an odor. I found using a laundry soap powder works great! Fill the tub with hot water. Leave it in for about 10-15 minutes. Then drain. Put the laundry powder on the stains and ring around the tub. Push to kind of make a paste. Let sit overnight. Take a scrub brush the next day and rinse with hot water.
What can I use to get rid of those horrible dark (I guess mildew and soap scum) stains in my tub?
By Ronnie S.
---
Most Recent Answer
thr522587 Flag
August 2, 2011
I feel the need to add something else here. Frugalsunnie has a very, very good point and I NEVER use anything that contains chlorine bleach anymore because I am one of those who have lung damage because of having used it. In saying that, it was my mistake to not mention to you that you should not use comet with bleach. The company does sell it without the bleach. Also, Frugalsunnie is referring to chlorinated bleach. Non chlorine bleach is safe and is usually on the same store shelf right next to chlorine bleach :-)
---
How can I get stains out of an old bathroom tub? It may or may not be made out of porcelain.
By Alan from Ludlow, KY
---
Most Recent Answer
By kerly87 21 193 Flag
June 21, 2011
Our upstairs tub in a huge old porcelain tub. I had an ugly rust stain running down the front of it that was there when we purchased our home. One day I was cleaning the toilet with toilet cleaner liquid I purchased from the Dollar Tree store. I was amazed at how it cleaned up the rust stain in the bowl. I decided to try it on the tub, I figured it couldn't make it any worse. To my surprised it removed the stain instantly. You may want to try a tiny bit with a q-tip of something to make sure it won't damage it.
---
By Ronnie 1
I have a beige colored tub. I used Kaboom cleaner on it and unfortunately there are now purplish stains in the corners of my tub. I had those plastic shower caddies in those corners. Even though I rinsed the tub I am wondering if the cleaner caused these stains. Is there any way to get rid of the stains without ruining the tub?
By Ronnie from Lowell, IN
---
Most Recent Answer
What is the best way to remove bath tub stains?
By Melissa from Lake Charles, LA
---
Most Recent Answer
June 19, 2010
http://www.greased-lightning.com/products/Products.aspx?ProductId=1
Greased Lightening can be purchased from either Dollar General or Family Dollar. It's does a great job in removing mold, mildew, soap scum, stains, etc. A 40-oz. bottle cost $3.00. You can even print off a $1.00 coupon on the coupon websites.
Be sure to follow the instructions by wearing rubber gloves and having good ventilation.
By Julie L. 1
I live in a manufactured home. How do I clean it so it doesn't have yellow stains?
By prancermcc 1
I always have consoled myself that the ring was not from me, but from the soaking of basket weave reeds in the tub. Whether that is true or not I have no idea. Is that a possibility? I would not mind getting rid of it if anyone has a suggestion. It has been there for years and I have scrubbed it as though it were a regular ring, but to no avail.

How do I remove stains left behind by drain cleaners such as Draino or Liquid Fire?

By Buck R. from Danville, IL
By geka atencio 1 1
I was dyeing my hair with Kool Aid and when I washed it out it staned my bathtub. How do I get it out; it's dark red.
By Geka
My boyfriend and I are renovating a really old house. The lady who lived there before us was there for 7 years. She was a chain smoker, had arthritis, and had several baths a day! As far as we can tell the tub had never been cleaned. This residue has formed into a thick, hard yellow/green surface. I have tried several methods including CLR, Comet, and other cleaning products and no luck. Is there anything I can do?
By Rikia
How do I get white Jif cleaner stains out of my bath?
By Judi G
How do I remove stains from a ceramic bathtub?
By SharonaH. from Rockville, MD
Feedback:
RE: Removing Stains from a Bathtub
I use Cascade and hot water with a brush or scrubby sponge. You can let it soak a bit depending how bad it is. (09/05/2009)

By Tracy
RE: Removing Stains from a Bathtub
CLR works great. (09/06/2009)

By emmamamie
My sewer backed-up into the bath tub. How do I clean and sanitize the black and dark brown stain from the tub?
By Ron from Roswell, NM
Feedback:
RE: Removing Stains from a Bathtub
Try filling the tub with hot water and dissolving dishwasher detergent in it. Let it sit over night. If that doesn't work, try scrubbing with denture cleaner. Dissolve the tablets in hot water and spread it on the stains. Let it soak a couple of hours and scrub it off. (12/21/2009)

By catastrofy