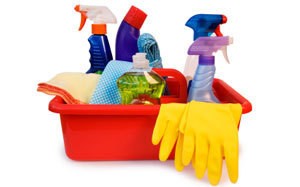 Fiberglass bathroom fixtures are common in our homes. Care needs to be taken when cleaning them to avoid scratching the finish. This is a guide about how to remove soap scum from fiberglass.
Ad
---
Solutions: Remove Soap Scum from Fiberglass
Read and rate the best solutions below by giving them a "thumbs up".
Bathtub, shower stalls, and doors are quickly and easily cleaned using an SOS pad. They eliminate a lot of elbow grease, but cut through grime and soap scum. No scrubbing or soaking. Even the off brand pads work just as well as the name brand. Just rub the SOS pad over the entire tub surface and rinse clean with the shower head or use a cup to shower it off.
By KellyEJ from AL
To remove soap scum from your fiberglass fixtures, apply a paste of baking soda to the entire surface. Allow it sit for several hours before rinsing.

By Billie Joiner
Give a "thumbs up" to the solution that worked the best! Do you have a better solution? Click here to share it!
Questions
Here are questions related to Remove Soap Scum from Fiberglass.
How can I clean built up soap scum from a fiberglass tub and shower?
By Jo from Atlanta, GA
AnswerWas this interesting? Yes No
Ad
---
---
Most Recent Answer
By Janette [91] 07/14/20100 people found this helpful
I have two solutions for you. The first one is to use regular hand sanitizer on a miracle sponge. The other one is a product called Totally Awesome. You can get it at the Dollar Tree and Dollar General. This product is something else. I dont delute it at all. I even used it to remove old varnish on the base boards in my house. It is a wonderful product. A best kept secret is what I say. Hope this helps. ~Janette~
Archives
Thrifty Fun has been around so long that many of our pages have been reset several times. Archives are older versions of the page and the comments that were provided then.
What is the best way to clean years of soap scum from a fiberglass bathtub? Thanks in advance for suggestions.
Marlene from TX
---
RE: Soap Scum on Fiberglass
One of the best products I've found for soap scum, is called The Works. The product has changed over the years, and I don't think it's as good as it used to be, but still works pretty good. Spray it on and give it a few minutes to soak in, but don't let it begin to dry on the tub or it's harder to get off. There are several different "The Works" products on the market, so look for the one for tub and tile. I don't know where you are located, but most groceries around here (Fl) carry it. Good luck. (02/12/2006)
By wendymaree
RE: Soap Scum on Fiberglass
Try liquid dishwasher detergent. I used it once in a pinch and have used it ever since! Any brand will do and it works great. (02/13/2006)
By chima0692
RE: Soap Scum on Fiberglass
A product I swear by from years of cleaning military housing for inspection, Kaboom. It does soap scum, hard water build up, calcium and lime deposits, and rust stains. It also smells good.
Karen (02/13/2006)
By hairyjoe
RE: Soap Scum on Fiberglass
Try regular white vinegar, full strength. Spray it on. Let it soak. Scrub, respray, resoak, rescrub. It works especially well if you can let is soak through the scrubbing agent (I use a scrubbing wand used for dishsoap and hold it upside down to let the vinegar come out.) It works great and is cheap. Smells not so great, but once clean, all you have to do is squeegee daily and you won't ever have to clean up that fiberglass again. (02/13/2006)
By sueey
RE: Soap Scum on Fiberglass
I use Tilex. It works quickly on the fiberglass and comes in lemon scent. The spray nozzle gives you the option of spray or foam spray. I hope it is available everywhere. I buy ours at Target. We live in California. (02/13/2006)
By peneilope
RE: Soap Scum on Fiberglass
Try using a "Magic Eraser". I haven't used it on soap scum buildup, but it works very well on most everything. Don't use anything abrasive or you will damage the finish and make future cleaning even worse. A suggestion, if you lightly spray your tub or shower with Shower Shine as soon as you get out, you won't get soap scum buildup. Works very well for me! (02/13/2006)
By mousie
RE: Soap Scum on Fiberglass
Two suggestions:
Try using Calgon Bouquet bath salts to dissolve the mineral deposits.
Change from soap to one of the liquid body washes (which I believe are detergent rather than soap.) It will really cut the tub clean-up time.
(02/14/2006)
By Claudia from MD