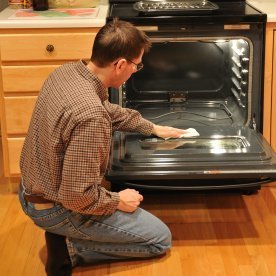 Oven cleaners can be very noxious and require caution when using. Homemade oven cleaners allow you to decide how caustic the ingredients you use are. This page contains homemade oven cleaner recipes.
Ad
---
Solutions: Homemade Oven Cleaner Recipes
Read and rate the best solutions below by giving them a "thumbs up".
I had been using conventional oven cleaner for years and then discovered the way my granny probably cleaned hers. It's a tip for young people and some old like myself who got stuck into the habit of thinking you have to buy everything. It's the best way to clean out the oven. I think it's a no brainer to use natural ingredients in something you use to cook food. And it works so good on my oven. It even cleans and freshens the washing cloth you use to clean it with so you can reuse that again.
Supplies:
3/4 cup baking soda
2 Tbsp lemon juice
1/4 cup vinegar, enough to make a paste
scrubbing pad
cleaning cloth
Ad
---
Steps:
Make paste and spread on the entire area to clean.
Leave paste on for at least 1 to 2 hours.
Start with the scrubbing pad and it should come off easily; if it doesn't add more baking soda to make more it more abrasive.
Then wash off with clear clean water, wipe with cloth, and finish off with a paper towel, if you like.
Give a "thumbs up" to the solution that worked the best! Do you have a better solution? Click here to share it!
Questions
Here are questions related to Homemade Oven Cleaner Recipes.
I need to remove built up fat on the stove knobs and I need a good recipe for oven cleaner.
By Eunice
AnswerWas this interesting? Yes No
Ad
---
---
Most Recent Answer
By norma carlyon 57 02/09/20110 people found this helpful
I have not idea, but be careful you don't clean too hard and erase the numbers of the oven knob. I did that, and had to buy a new one, I could have bought a new stove (not really, but close) cheaper. They wanted $45 dollars for a replacement. I ended up buying an oven thermometer ($15). And used it to mark the 200, 300, 400 etc on the knob. Use an indelible thin marker, and use the thermometer to get to the in between temps. Pain in the butt.
---
Do you have a recipe for homemade oven cleaner?

By Karen
AnswerWas this interesting? Yes No
---
Most Recent Answer
By suz123 2 33 05/01/20120 people found this helpful
No one will believe this, till it's tried.

Without going into (past job of selling whole house water systems) and reverse osmosis, I'll tell you one of the secrets of PURE good water - and how well it cleans anything.

Pure water (even bottled water) does not contain any of the minerals or chlorine that our spigot tap water has.

So (use bottled water/any brand, or Reverse Osmosis water for this, and you'll see, it works as well as any oven cleaner no matter how caked on the
grease and food in the oven it may be. Also works for knobs on the outside.

Lay 3-4 paper towels together on the bottom inside of your oven (any where that needs cleaned). You want to use several paper towels together
so they stay saturated longer. One paper towel on a grungy spot in the oven will dry out too fast.

For the sides: tape several paper towels together to the sides where it
needs cleaned.
Then fill a spray bottle with (bottled water) or reverse osmosis water and spray the paper towels till they're completely saturated with your "good water" (bottled), or reverse osmosis water.

Make sure you check every 30 minutes to be sure the paper towels are still saturated. They must stay wet. If they dry out, then it will take longer.

After approx 4 hours, just wipe it out using the paper towels you've sprayed. The baked on grunge and grime will lift and wipe off like you've never seen before, or imagined it could!

That's it. Don't use soap mixed with the bottled water, nothing (just the pure water).

IF you use tap water out of your spigot, this will NOT work at all. You must use either bottled water or reverse osmosis water, because bottled water is so pure, or reverse osmosis water, it will break up *anything* even a baked on mess in the oven, no matter how long it's been baked on or how bad it is.

If the oven is incredibly grungy, you might need to keep saturating the
paper towels longer.

To clean knobs, submerge them into a container filled with bottled
water. No soap.

No soap is needed till all baked on grease is completely cleaned off of
either in the inside of the oven or the knobs. Then if you want to use
soap, use it.

This is such and impressive way to clean an oven, you'll never go back
to using chemicals again for the job.
---
What's the best thing you can use to clean an oven?
By Janssen G from Gadsden, SC
AnswerWas this interesting? Yes No
---
Most Recent Answer
Archives
Thrifty Fun has been around so long that many of our pages have been reset several times. Archives are older versions of the page and the comments that were provided then.
Does anyone know of any home remedies to use to clean an oven? I cooked chicken and all the grease ran off the pan to the bottom and smoked the whole house. Needless to say the oven is a mess and I don't have any oven cleaner.
Laura from Orland Hills, IL
Answers:
RE: Homemade Oven Cleaners
Heat the oven; a relatively low temperature is fine. Switch off! Now put a saucer of ammonia inside and leave overnight. The next morning you should be able to clean the oven with dishwashing liquid in hot water. Also wash the shelves in hot water with ammonia added. Be sure to ventilate well. (08/27/2006)

By Willem
RE: Homemade Oven Cleaners
Sprinkle baking soda inside the oven, then use a spray bottle to spritz some water. You want the baking soda slightly wet, but not too wet. Leave on for a couple of hours. Then you can scrub the oven with a scrubbie, and it will take a lot of it out. (08/30/2006)

By Sbaker
RE: Homemade Oven Cleaners
If not too heavy and long baked on, try straight Coke overnight on "warm", like the army used to clean their ovens. This is why Coke is too strong to be drinking, catching up with folks after it's too late. (09/05/2006)

By Lynda
I am looking for a quick and easy homemade oven cleaner.

Begger from Atlanta, GA
Feedback:
RE: Homemade Oven Cleaners
This is for electric ovens only: I've been told to put a cup of ammonia in a cold oven over night and it will wipe clean the next day. Hope it works!
(11/11/2006)

By Debbie
RE: Homemade Oven Cleaners
If you can't find a homemade recipe and you don't have oven cleaner use Scrubbing Bubbles; it's great and doesn't have a strong smell. You can also use this on doors. (02/07/2007)