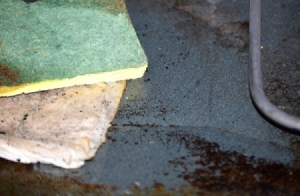 This picture below is of the bottom of "my" grimy oven. You can see the clean spot that I used the folded up paper towels and bottled water on, and you can see the burnt-on areas I've not gotten to yet. I laid bottled water saturated paper towels on the burnt-on stuff in the bottom of the oven for an hour or less (didn't time it) and then used my scrubby to wipe it off.
The bottled water is now being used in place of any kind of oven cleaners, or anything else. I can use a scrubby on the oven. It scrubbed off very easily too, really easy in the oven actually, and I used nothing BUT bottled water in place of any cleaner to loosen up the burnt-on grime.
If you don't want to heat your oven up, you can simply fold up some paper towels, then lay them in the oven. Here's what you do.
Heat up a 1/2 cup of the bottled water in the microwave.
Then carefully pour that hot water on top of the folded paper
towels, and then let that sit for 30 - 60 minutes. That way, you don't haveto heat up the entire oven for "spots" in your oven that you want clean.
And like I mentioned, you can heat up 1/2 cup or so of the bottled water in the microwave and pour that on top of your folded paper towels and let that sit on the icky areas. You don't really even have to heat your oven doing it this way.
And, if you've just got done baking, and you've turned off your oven, when it cools enough (not completely) where saturated paper towels won't steam away because the oven is too hot, then that's a good time to use this method too.
For an oven door (the inside glass) if grease is basically baked on
like an enamel, then heat/warm your oven first, then turn it off, and soak your paper towels with bottled water, and lay that on an area, moving the paper towel pad as you go along, and that too will come right off with a scrubby.
The bottom line is: NO chemicals, nothing, just bottled water to do the job, and it does it just as well as anything with a brand name on it.