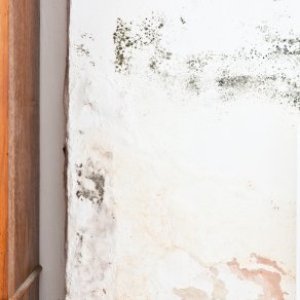 Mold can thrive in damp poorly ventilated areas of your home. While there are many types of mold, black mold is one of the more toxic ones to humans. Getting rid of mold can be difficult depending on where it is located and the cause for its growth. This is a guide about getting rid of black mold.
Ad
---
Solutions: Getting Rid of Black Mold
Read and rate the best solutions below by giving them a "thumbs up".
Home Depot sells a spray called Mold Armor that works great in 5 minutes and takes away the mold. It has a strong bleach smell.
By JillF [1]
Give a "thumbs up" to the solution that worked the best! Do you have a better solution? Click here to share it!
Questions
Here are questions related to Getting Rid of Black Mold.
Our bathroom is growing nasty black mold and I'm not sure what to do. There is hardly any ventilation only a small window at shoulder height which we open as much as we can. Has anyone else had this problem? How did you resolve it? If anyone can offer any advice - even about a good way to get rid of this yucky mess I'd be so grateful. Many thanks in advance.
AnswerWas this interesting? Yes No
Ad
---
---
Most Recent Answer
By MsZ (Guest Post) 07/08/20080 people found this helpful
I used a mixture of bleach and water and scrubbed down the wall and window area. The mold disappeared. I hope that it does not come back.
---
Recently with all the rain and dampness in San Diego, I just noticed black mold and mice feces on my leaky enclosed back porch. I am at my wits end, as I cannot afford to have my house tented, and I have a 2 yr old dog that follows me out there. It's got 1975 indoor-outdoor carpeting which is a wreck.

Is there any solutions I can use out there to get rid of the mold and make it a hostile environment for mice?

Hearts1 from San Diego
AnswerWas this interesting? Yes No
Ad
---
---
Most Recent Answer
By Dean (Guest Post) 02/21/20080 people found this helpful
Make a mixture of one part bleach and two parts water and paint or spray the bleach mixture on the mold. If the black is mold it will disappear in minutes. Toss the carpet. You can buy mouse traps at Wal Mart that trap the mouse but you won't have to see it. I would not use pesticides such as D-Con because your dog could eat the stuff. Also wear eye protection when using the bleach. Vent the pouch to prevent mold.
---
I have a gross mold problem on the frames of most of my windows. I rent the house, so I don't want to spend a lot of money. But it is driving me crazy. It is nasty. Any ideas on how I can get it off or prevent it in the future would be appreciated. It is so bad it is causing some of the paint to peel.

Thanks so much for any help,

Wendy
AnswerWas this interesting? Yes No
---
Most Recent Answer
By gbk 45 368 02/26/20090 people found this helpful
Tell your landlord to get rid of it because it is their job and their house. They already know I'll bet.
---
We have wet wood under the sink cabinet and in the corner cabinet from the dishwasher. It stinks! The contractor removed the bottom floor panel and it was black and very wet. He sprayed all around with bleach. He told us to put fan to it so that it would dry. However it is very wet still. I worry about mold. The house is a rental. We do not know how wet it is under the wood of the sink and other cabinets What can we do or ask?
By J Page
AnswerWas this interesting? Yes No
---
Most Recent Answer
By Louise B. 6 2,531 09/02/20140 people found this helpful
The beauty of renting is that this sort of thing is not your problem. Call your landlord, and insist that he deal with it.
---
I have a side porch which sits on a cement slab. The roof (aluminum) and the vinyl walls have developed this mold. I do not have the ability to spray wash the house. Is there a way to make a paste of the bleach so that it does not fall on me as I try to reach the ceiling with a mop? It would almost have to be like paint so that I might rinse it off in the same manner. Thank you.
By Merry D from central FL