Stuffed animals can be cleaned up and refurbished for a new life with a loving child. This is a guide about refurbishing stuffed animals.
Debra Frick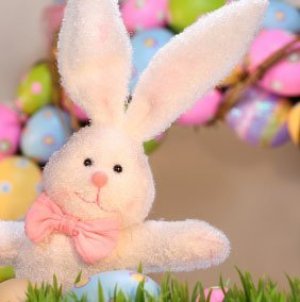 This year, a lot of us will be shopping the thrift stores and yard sales for Bunnies to fill our Easter Baskets. There is nothing in the world like seeing a child on Easter morning hugging that sweet Easter bunny. So I am going to give you some ideas on how to clean up those Easter Rabbits that you find at your favorite thrift store or yard sale.
As any one of you knows that read my articles regularly, I am a big fan of helping others in need. Again at this time of year, there will be a lot of kids that won't be getting an Easter basket. I firmly believe that our teenagers should be taught about community service young and that helping out should be a habit, not just something we do on special occasions like Christmas and Easter, but this would be a great project for a Girl Scout group or a church youth group to do. Everyone loves Easter baskets and Easter baskets could even be made up for a senior center or community center. There is nothing like spreading the joy, believe me. Also this is the time to contact your local community center or Senior Center about making up baskets, They will be able to tell you just how many to make and you will have enough time to make them.
Light Cleaning
I try to buy bunnies that won't need much rehab so that it makes my job easier. If your bunny just needs a light cleaning, then here are some ways to clean them without putting them in the washer. You can clean spots of your bunnies with a little dish soap and water. Wet a washcloth and scrub the spot and then just air dry. For smells that you can smell like cigarette smoke, a little Febreeze can work wonders. I then take a look at the over all look of the bunny. If it looks just a little tired, I replace bows and decorate it some. You can add hats to the bunnies that you can buy at Michael's very cheaply or I dress her up with a dress and a necklace that I string from old beads or just use an old necklace that I picked up at the thrift store. I buy old necklaces all the time as I love to bead but sometimes, in my rush, I have been known to buy beads that the beads are fused to the string and can not be restrung. These are the ones I use to decorate my bunnies and other stuffed animals. For boy bunnies, I try to find a newborn tee shirt that has a cute saying on it and dress him in this. You can also find the little newborn baseball caps that can be hot glued right on. Now with 8 grandsons, finding newborn baby clothes is not a problem but if you explain what you are doing to some new moms, I bet they would be will to give you a shirt or two for your special project.
Machine Washing
If you plan on washing your bunny in the washer you will need to get a sweater bag for your washer. You can find these at Walmart for about $3.00. These bags help to keep the more furry bunnies from matting up. All stuff animals should be washed in COLD water as this will also help in not shrinking the fibers that our bunnies are made of. I use Gain detergent when the bunnies are really dirty but, most of the times, I can get by with something a lot gentler, like Woolite. I use only the gentlest cycle. Before washing, I remove ribbons and bows if I can. Sometimes the bunnies are completely washable but are decorated with ribbons and bows that are not safe to wash as they will bleed color onto white or colored bunnies. So I don't take any chances, I just remove them. If the ribbon bows are dirty and can not be washed, I replace them. Wired ribbon is pretty cheap at the Walmart and it makes wonderful bows.
Drying
When it comes to drying the bunnies, I will dry them in my dryer only if I can do so safely. I start them off in the dryer and then check on them to see if the heat is affecting the fibers. If the bunnies are plush, usually I can dry them completely in the dryer. If they are furry with the longer hair, I have to pull them out of the dryer about halfway through. I dry them in the same sweater bag that I washed them in and I do sometimes throw an old tennis ball in the dry with them just as I would if I was drying something that was made with down. This helps to dry them more quickly as it beats out some of the water.
I hope this gives you some great ideas on how you can save money on your bunnies. I wish you all a wonderful Easter with lots of egg hunts and beautiful weather.
Where can I take an old stuffed monkey that I want to get "reclothed"? The cloth is old, and he needs to be patched up.

Libby from Colorado Springs, Colorado
---
Most Recent Answer
August 5, 2007
Try a tailor or a dressmaker. If it's an antique, leave it alone because the value will drop significantly if it is altered.
If it's just an old favorite stuffed toy whose only value is sentimental, then you could always go to a cloth shop and peruse the pattern books.
---
My granddaughter's favorite teddy bear was left wet in a plastic bag. It is now green and black with mold. How can I save it for her?
By Sue from Collierville, TN
---
Most Recent Answer
By vicki hood 4 563 Flag
February 21, 2011
Natures miracle the dog spot remover. It took the mold out of a heavy drape I had. Good luck. Nice that you care.
---
By Barbara 1
I have a stuffed bear that when the paw is pressed it sang a song. This no longer works. The batteries have been changed and tested so it is not the batteries. I would like to find someone who can fix this musical feature of the bear. This is not the only one that I have that is broken.
By Barbara from Lakewood Ranch, FL
---
Most Recent Answer
February 19, 2010
Does the bear still have the makers tag on it? If you can locate the company they may be able to give you a solution to it or send you a replacement. My niece had a talking doll that stopped talking and the company that made it replaced it for free.
---
I was wondering if you could tell me where I could get a stuffed dog's back legs, both. This dog has "hard jointed bone" under his stuffing. The legs use to bend and he could stand up. I am trying to fix my daughter's favorite "friend" and his legs are broken and about to fall off. I can not send it to a doll hospital to be fixed she cannot be without him.
Do you know where to purchase them?
Thank you.

---
Most Recent Answer
June 30, 2015
You may have to find a similar toy and perform a transplant operation.
If you can find a brand new version of the exact same animal, this could work as well, if you have the right story. When I was little, my mom purchased more than one copy of my favorite stuffed toy, unbeknownst to me. When she wanted to switch out my old, faded, worn toy, she'd tell me that Kitten was going to the spa and she'd come back as good as new.
She'd take the old toy and later the same day introduce the new one.
If your child is not familiar with the miraculous properties of the health spa, you could use the term "hospital."
Good luck.