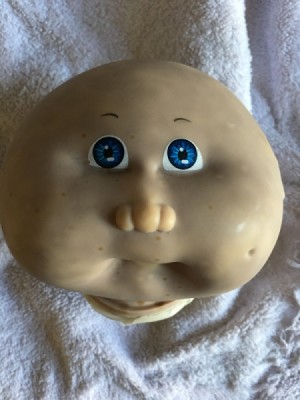 I have a Cabbage Patch Kid that is from 1986. The face is mottled a dark brown/purplish color and it has some pox which I will use acne cream on, but how do I get rid of the mottling of the skin and get it back to its original color? Thanks to any who answer.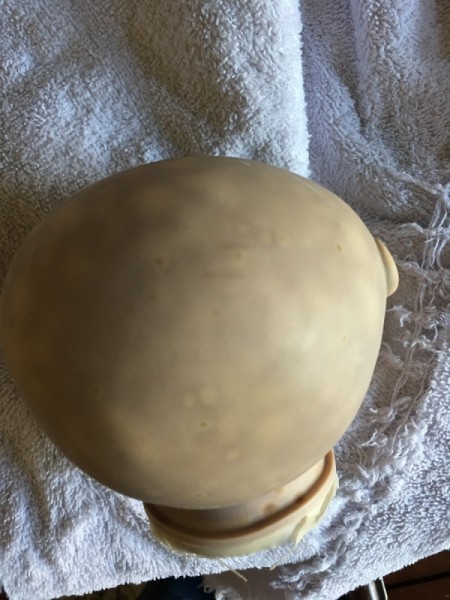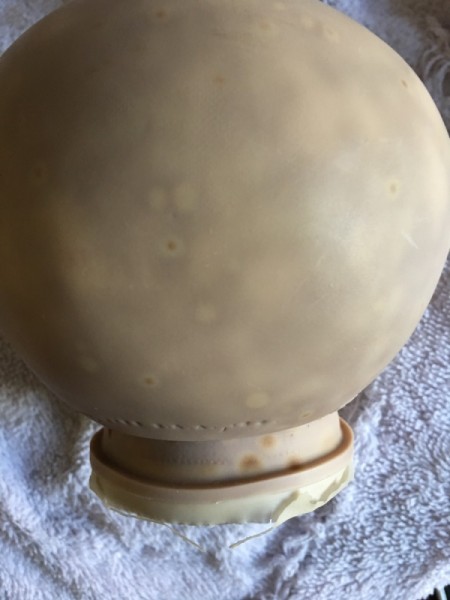 Answers

coville123
Silver Post Medal for All Time! 433 Posts
October 22, 2017
3

found this helpful
Best Answer
Cleaning cabbage patch doll.
Step 1
Using a cloth with dish soap. Wash the doll all over, do not dunk in water until you know what the doll is worth. Sometimes you may have to do this 3 or 4 times.
Step 2
For stains on the body add spot remover and scrub with a nail brush.
Step 3
Wash hair, if any, with baby shampoo.
Step 4
Use soft soap and a scrubby brush on head and face. You can use also use a magic eraser.
Step 5
Then rinse your doll in a bath and squeeze out as much water as you can. Hang to air dry.
Step 6
Then you can use acne cream on the face if stains won't come out make sure it has Benzoyl Peroxide in it. Put it on the dolls face leave in sun for a day, and then wash.
Answer

this Question
My old Cabbage Patch preemie has a blue stained face, probably due to materials, blankets, sweat, etc. It has bald head. I soaked it in Clorox, used Ajax, used a scrub sponge, and even tried an SOS pad. It's lighter, but the blue stain won't come off around cheeks, mouth, and nose.
Is there anything out there I can try? Her face is just fine after all the cleaning. Ink would be easier to get rid of, believe me. My poor daughter had her 22 years and I wanted to clean her up and get new clothes and a nice clean face. It's not happening. Any pointers? Please.
By Kaymarie
Answers

June 18, 2012
0

found this helpful
I have had great success with acne cream that comes in a tube. You can use the cheap store brand one. Put it on the stain and walk away. Leave it on for about a week and let it get real dry. After a week wash it off. If there is still a stain there do it again. Sometimes it takes a couple tries, but most times it is gone after the first application. I have used it on ink, and black marker.

June 18, 2012
0

found this helpful
This may seem drastic...but when I went gluten free, my hot flashes diminished significantly. I also cut coffee out of my diet.

June 18, 2012
0

found this helpful
I use liquid dishwasher detergent on most everything. I can't guarantee it, but I believe if you buy the liquid, it is easier to dissolve and don't be afraid to use plenty with water soak until the stain is gone.

June 18, 2012
0

found this helpful
Use inexpensive generic liquid dishwasher detergent and water. Soak until stain is gone. I am generous with the detergent.

June 18, 2012
0

found this helpful
If you can't get the blue out, try adding just a bit of rouge. It will look like she has a lavender tint to her and perhaps you can keep the color theme going with the clothes.
I hope this helps.

June 22, 2012
0

found this helpful
Have you tried a Magic Eraser sponge? I use them for almost everything that nothing else will work on!

October 22, 2017
0

found this helpful
Baking Soda ~ make a paste, gently lay it on and let it sit a bit. Rinse gently, baking soda can be an abrasive if you rub it off. It works wonders on stains.

September 2, 2023
0

found this helpful
I put the oxy 10 cream on my cabbage patch doll face. It was sunny on Thursday.. wipe it off and half the dye came out.
Reply more on yesterday. Did put some on tonight. How long do you have to leave it on.
Answer

this Question