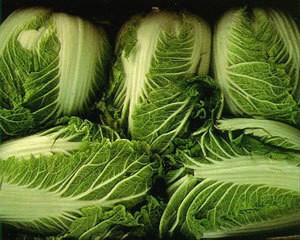 Botanical Name:
Brassicas rapa var. pekinensis
Description:
Chinese cabbage is an Asian variety of cabbage with long, crisp, mild-flavored, pale-green to white leaves. It is also known as napa or celery cabbage and bok choy.
Planting Time:
Ideally, Chinese cabbage should be planted so that it grows and matures during cool weather-year-round in tropical zones, winter through spring in warm zones and spring through summer in cooler zones.
Exposure:
full sun, but tolerates partial shade; protect from cold winds and frost
Soil:
deep, well-drained, nutrient-rich soil with a pH of 6.5 to 7.
Planting:
Sow seeds directly into the soil thinly and at a depth of 1/3 of an inch.
Watering:
Frequent watering will help plants mature faster, taste better and help prevent them from going to seed (bolting) during dry spells. Avoid watering leaves directly to reduce the likelihood of fungal disease.
Maintenance:
Seedlings should be thinned to 5 to 8 inches apart once they form two true leaves. Cabbage love fertile soil so side dressing with compost or an organic fertilizer is recommended.
Harvesting & Storage:
Cut the heads to the ground during dry weather, usually 2-3 months after planting, before the appearance of seed stalks. They will stay fresh for a couple of weeks in the refrigerator.
Diseases and Pests:
All members of the cabbage family are subject to a variety of diseases. The best defense is crop rotation and good cultivation practices.
Tips to Success:
As the heads reach maturity, bind the leaves around the heads and secure them with string or rubber bands or cover the entire plant with an open-ended box. This will blanch the inner leaves and keep them tender and white.