I'm looking for as much information as I can get with the end goal being to sell this doll to the right person that will appreciate it.

Answers
December 2, 2018
2

found this helpful
These dolls were very collectible. I would be looking on eBay every day for a few weeks. See what the doll sells for, not the asking price.
December 2, 2018
2

found this helpful
Interesting this one is one of the few that has held the value. People are asking big bucks for similar ones on eBay, so if you watch those it will give you today's current market value of.
In the eBay search type bear overall cabbage patch to see what is listed. Remember, this is asking price. Watch for selling price because you can't put a value on something until someone pays for it.
The overall alone sells in the high teen range:
www.ebay.com/.../i.html?_from=R40&_nkw=cabbage+patch...
Sometimes boxes and certificates sell so if you can't get a good amount as is, you may be able to sell off the clothes, box, certificate and doll separately and make more money than the whole. Study the market to decide the best way to make the most of the sale!
Post back if you decide to sell and how much he fetches!
December 2, 2018
1

found this helpful
Edit:. If it sells that is how you get the current value. Never use asking price to set values. Sold have green prices under the sold tab.
December 2, 2018
0

found this helpful
A doll like yours recently sold on eBay but they accepted a "buy it now" price so we do not know what they actually sold it for. The asking price was $29.99 plus $9.85 shipping.
Your doll has the light colored overalls and this the rarest one so I think you could ask $50 or more but you may not get a quick sale.
This doll had a lot of issues where your doll still looks to be in excellent condition. I do not know about elastic or if the clothing has any issues but the condition of the box may turn someone off.
Here is a link to the sold doll. Read the description as it has a lot of information about the doll.
www.ebay.com/.../142918142930?hash=item214695cbd2...
If you decide to sell, I would recommend removing him from the box and just say you have the box but it is not in good condition.
December 3, 2018
0

found this helpful
thank you this was very helpful and I will let you know what happens
December 3, 2018
0

found this helpful
I was told the red hair one's like mine are more valuable is this true and thank you for your help
December 3, 2018
0

found this helpful
There are some styles that seem to sell better than others but it does not always hold true.
Red hair is usually more rare and will many times be worth more money but this requires research for that particular doll and cannot usually be verified on short notice.
Boy dolls will many times be more valuable as they do not usually make as many boy dolls as girl dolls (same with redheads).
Different color outfits can be more valuable (such as your doll's light colored overall's) usually because it is not a favorite "in style" color when dolls are produced.
Different sizes will sometimes make a doll more valuable (many times the large/24" and above) but they also cost more in the beginning and they are very difficult to ship.
You have several things going for your doll but I'm not sure it will make it go over the $50-$75 mark. Dolls of all kinds are usually very slow sellers but November and first week of December are traditionally the best selling times for dolls even-though dolls are not on very many little girl's wanted lists anymore - mothers/grandmothers/aunts still buy them hoping it will spark an interest.
You will find out a lot more if you post your question on the doll forum site (but you will need a better picture and a better description - color hair/size for sure.
December 3, 2018
0

found this helpful
Can't wait to hear how your sale goes!!
You are correct about red haired dolls usually fetching a little more. That is usually true.
The only flaw evident in my zoom is the box has some wear. That will detract a bit from the value. Be sure to include the certificate if you have it and any other paperwork it came with. Make sure everything is clean also. If you aren't washing the clothing, be sure to point out any flaws up front. Yes, it may drop the price a tad, but it will save you from getting negative feedback.
December 4, 2018
0

found this helpful
thank you
January 4, 2019
0

found this helpful
I have 4 girls and one boy, all signed on there bottom... I have 3 made im the 70's.
I would like to sell them asap.. They are used but still in good condition..
Read More Answers
I have 4 Cabbage Patch dolls all stamped '84, '85, '86 one stamped in black with no date. Does anyone know the value and where I can sell them?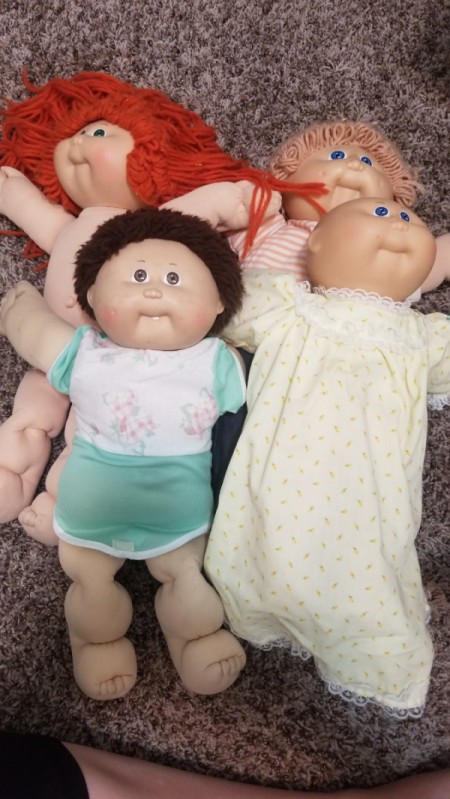 Answers
August 7, 2018
0

found this helpful
Check eBay. Unless yours is an original edition or signed it is probably worth $50 or less
August 7, 2018
1

found this helpful
They are all signed on the bum
August 7, 2018
0

found this helpful
I finally parted with all of mine, which were the ones that were the signed on the bum variety. I had one in the original box and birth certificates and original clothing and I got less than $5 for him after eBay and Paypal fees. The others had no boxes and certificates and I got less than $3 after fees.
You are best off to sell them off as a lot and you may get a little more. If you have the boxes and birth certificates that are in good shape, you may get $8-10 (after fees) each.
This lot sold for $30 for 4 dolls (7.50 each before fees): www.ebay.com/.../163176382386?hash=item25fe11ffb2...
The red haired one seems to be a little more desirable than the others (I only had blonde ones), so you may get a little more.
What was worth more than the dolls are the original clothing...I sold off a bunch of clothing items for in the high $20s. That was surprising.
This was NOT the lot I sold, but you can see it fetched around $40 (and was twice the size of my lot) www.ebay.com/.../302827914806?hash=item4681f34636...
Hope this helps you with your valuing/selling. Sorry the news isn't better.
There are a few rare CPK that are still worth a lot...www.ebay.com/.../i.html?_from=R40&_nkw=CABBAGE+PATCH...
In all of my years I have never seen any of these ones that fetch the big bucks!! I wish I knew where they hid out!!
August 9, 2018
0

found this helpful
Sadly, the Cabbage Patch dolls have gone the way of the Beanie Babies, Barbies, and most all brands of dolls and are now in the least sought after categories and bring very low prices as well as how long it may take to sell any one of these items (months and months sometimes).
You have neat dolls but I believe these sell better on local sites as people really like to see dolls "in person" and this also saves with no shipping cost.
It might be a good idea to check out each doll on eBay before thinking about selling them - just so you know something more about the babies.
If it were me, I would list them individually on places like Craigslist, IOffer, Let Go, offerUp, Facebook Marketplace, as these usually have links in most large cities and they are all popular sites (there are more if you Google for your zip code).
I would start the prices at $50 and reduce them if you receive no response in a month or so.
Dolls do sell better at Christmas time so think about that also.
I know this can be a big disappointment but sometimes these things happen. Good luck.
August 9, 2018
0

found this helpful
When my daughter was young she had to have these dolls. Back then it was hard to find them and when you did they were quite expensive. I guess when she was older she sold off all her dolls and everything she had for them at a yard sale. She ended up netting around $150 for all she sold.
Unfortunately, today they aren't worth much at all. You might be able to get $5 to $15 for each one of them. BTW she kept the horse and still has it today. She refuses to get rid of the horse for some reason and she is now in her 40s.
Answer

this Question

...
I have a vintage Cabbage Patch doll from 1978, autographed by Xavier Roberts. It is in excellent condition, has been very well taken care of, and is super clean. He comes with original clothing and pamper. I found its value at $900 in the condition it's in, but am not sure where I can sell it. Of course I would be reasonable on pricing.

Answers
April 23, 2019
1

found this helpful
I love CPK!! They are fun!
When you say autographed, do you mean it has the standard signature that came with all dolls or that XR actually autographed (like in person signed) your doll?
If it is the latter, you will want to seek out an auction house for it and have them help you sell it. I have never seen one like that, so that is my best advice on that scenario.
If it is the standard signature that came with all dolls, eBay is the best place to sell this.
This little one is a good seller, and sells consistently, however, I have not seen one like this sell for more than $25. I would love to know where one sold for $900 if it is just a regular doll. That would be awesome!!
Post back with more info and how your sale goes!! Blessings and all good wishes!!
PS you can look through this link to see the sold ones with brown hair vs. those that are blond or bald:
Read More Answers